SOLEIL MOON : THE MAGIC OF THE AOR/WESTCOAST SOUND IS BACK ON FRONTIERS IN NOVEMBER:
Frontiers Records is pleased to announce the international release of On The Way to Everything, Soleil Moon's second album, on November 2 in Europe and November 5 in North America.
Formed by singer Larry King (whose talents did not pass unnoticed on Michael Thompson Band's last outing  "Future Past") and John Blasucci (currently the keyboard player of ex STYX singer Dennis DeYoung), Soleil Moon debuted in 1999 with the independently released album "Worlds Apart". That album also included the song "I'd Die For You", later covered by Michael Kiske's Place Vendome second cd "Streets of Fire". The album made originally a big impact on Adult Contemporary radio with "Willingly," "Never Say Goodbye," and the title track, all of which ranked high on the national radio charts inside the top 10?
The follow up came about a few years after and it is called On the Way to Everything. This record features such musicians as Michael Thompson and Chris Siebold on guitar, Dave Hiltebrandt and Leland Sklar on bass and Khari Parker (plus Vinnie Colaiuta on one song) on drums. "Soleil Moon is a culmination of the best studio musicians in Chicago" says singer Larry King. "We all work together on a regular basis for other peoples projects and "On The Way To Everything" is ours. This album takes the listener on a sonic journey through modern life. Each song tells its own story and the album evokes every stage of emotion from concern, pain and reflection to love and elation. This project has been a labor of love that we are truly proud of".

The first single, "History Repeats Its Pages" has been working its way up the US National Adult Contemporary Charts and is now poised at number 8. There is also a videoclip which can be enjoyed following this link: www.youtube.com/watch?v=RovZiCPRLKo&.
The album also gathered some independent reviews internationally including such statements as "Go and get it" from Melodicrock.it or "Highest class, melody and technique" on Hardsounds.it.
"My love of AOR I'm sure shines through in most of my productions" tells Larry King "I'm a product of the 70's and that era brought forth music that was creatively free. I'm a fan of combining as many styles of music as possible into one production that appropriately paints the picture of the story that I'm telling. I'm fortunate enough to work with musicians that provide me with a limitless locker full of musical options to choose from, which has been a dream come true as a producer".
"On The Way to Everything" is now getting a worldwide and proper release on Frontiers Records and will also feature 3 bonus tracks taken from the album "Worlds Apart", which never had an official release outside North America, including the most sought-after original version of "I'd Die For You". "This release through Frontiers is an amazing opportunity for Soleil Moon to be exposed to a larger global audience. The mighty Frontiers releases new music from the finest musicians on the planet and its an honor to be included in this arsenal of extreme talent", concludes King.

On The Way to Everything includes the following songs: History Repeats Its Pages, Love The Way You Love, On The Way to Everything; Blackbird; Goodnight Irene; Freedom; Burn; Down; Colorado; Move On; Here I Am; Ohio (bonus track); Calling On The World (bonus track); I'd Die For You (Incl. Orchestral Introduction) (bonus track)- History Repeats Its Pages (bonus videoclip).
You can enjoy the streaming of the first single History Repeats Its Pages on the Frontiers Records webradio now. Tune in at www.frontiers.it/webradio.

Soleil Moon will appear live at :
October 5th - Millennium Club, Ann Arbor, MI
October 25th - Callahans Music Hall, Auburn Hills, MI 
More SOLEIL MOON live appearances are in the works. On The Way to Everything: a true monster of an AOR album!


xx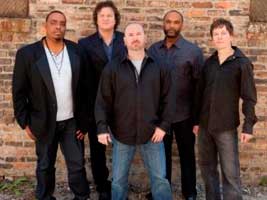 RNR HALL OF FAME DESPERATELY TRIES TO HANG ONTO SOME ROCK N ROLL CRED:
It only took them a decade and a half, but finally the Rock N Roll Hall Of Fame has seen to give some credit to 3 classic rock artists - Deep Purple, Rush and Heart are all nominated to be inducted to the Hall Of Fame in 2013. Of course, these 3 iconic acts couldn't be included without several more completely irrelevant and pointless names (N.W.A. for God's sake!!!! Plus Public Enemy and Kraftwerk among others). Isn't this the ROCK Hall Of Fame? Ah, who cares...there is still about 50 other acts being ignored, so I'll leave it at that.

From Rolling Stone: "This year's nominees for the Rock and Roll Hall of Fame are one of the most diverse lots yet. In addition to classic rock acts such as Rush, Deep Purple and Procol Harum, the list also includes two seminal rap groups (Public Enemy and N.W.A.), two definitive disco hitmakers (Chic and Donna Summer) and two great blues acts (Albert King, the Paul Butterfield Blues Band). The nominees are rounded out by Motown's Marvelettes, the sister act Heart, tough-as-nails crew Joan Jett and the Blackhearts, the masterful L.A. songwriter Randy Newman, New Orleans funk architects the Meters and the pioneering German electronic group Kraftwerk. Read on for more on each of this year's nominees."

Nominees for the 2013 Rock & Roll Hall Of Fame
• Albert King
• Chic
• Deep Purple
• Donna Summer
• Heart
• Joan Jett & the Balckhearts
• Kraftwerk
• The Marvelettes
• The Meters
• N.W.A.
• Paul Butterfield Blues Band
• Procol Harum
• Public Enemy
• Randy Newman
• Rush

FNA RECORDS - NEWS UPDATE:
Press Release / "The Godz!!! Some of you say you never heard of them, yet others hail and revere the band like they were and are...Godz! If you ask anyone around Columbus, Ohio, who The Godz are, their response would leave you thinking as if you had mentioned the Beatles in Liverpool. They are that legendary and more so to those who know them on a first name basis. In their path lies a wake of destruction, deflowered women, and asses kicked from over-the-top live shows. Bullet-holes, broken beer bottles, motorcycle gangs, and plenty of titties are the norm when in the presence of The Godz. However, if you ask frontman Eric Moore to best describe himself amongst his gang of outlaws, he will simply say, "I am an old hippie, a hillbilly that can shoot straight."
Still you say, I haven't heard of them and what makes them stand out from the rest? Well, do you think Metallica would just take anyone out on the road? Well, let's not also forget that they have also shared the stages with Cheap Trick, Judas Priest (1st U.S. Tour),The Babys, Iggy Pop, Angel, Triumph, The Outlaws, Budgie, Nazareth, Foghat, Blue Oyster Cult and many others. The Godz are known the world over, albeit in little pockets here and there, and are held in highest regard by some of rock-n-rolls finest.
The Godz were formed around 1976 in Columbus, Ohio. Rough and Rugged touring and great fan support led to the band being signed to Casablanca Records alongside labelmates Kiss, Angel, and Donna Summer. Godz fans were loyal and devout and even went by their own moniker of 'The Machines'. The band was out there kicking ass and taking names one by one; but it was one of their labelmates that would soon strike a chord with the masses. That band was Kiss and wherever Kiss went, so did the labels money. The band didn't fail, but with little funding and support, the guys were left to do it on their own. The critics never really liked The Godz, radio wouldn't play them, but middle America - they couldn't get enough!!!
The continuance of time would soon usher in a new decade and the band went on in many forms. Always the uphill battle, founding member and only original member, Eric Moore, held the band together be it with scotch tape, duct tape, glue, or plain 'ol spit and vinegar. By the Mid 80's it was evident, that through the guidance of Moore, the band was starting to shed their 70's influence. A newly reinvigorated group of guys, with new songs reminiscent of what 'hard rock eighties" was about emerged. And the result was Mongolians, the bands hardest rocking and most solid release to date.

Mongolians....where do we start? Well, if you have been looking for this hard to find gem and have been led to eBay or Amazon only to see the staggering asking price of $70.00, and then seeing it sell for that much, then you know what people think its worth. Leave it to FnA Records (www.fnarecords.net), to come in and rescue this cult release from oblivion. FnA Records has inked a deal with Eric Moore (The Godz) to release this cult album along with a bunch of never released Godz material from the vaults and even a long-awaited DVD.
Mongolians is composed of 7 tracks from the import-only album I'll Get You Rockin' (released only in Europe) and includes three new tracks (Criminal Minds, Mongolians, Burning Bridges). The original Mongolians came out in 1987 on a small indie label. What should have been destined to be an American hard rock classic only wormed its way to cult status with little label support. That's one of many reasons sellers can demand the high dollar price for it. Stealing and swapping inferior copies, which has hurt the industry, caused Eric Moore (The Godz) to come forth and re-release the project. He signed with FnA Records, who then took the album and remastered it, allowing the Mongolians to be sonically enhanced, bigger, and brighter. One fan calls Mongolians "a true recipe for rock-n-roll; a dash of boogie, a pinch of blues, a 1/3 cup of metal, and a fistful rock! Mix it all together and you have a delicious masterpiece." [says Pete L. Thompson jr.]. Mongolians is true to its meaning, "an album that rides hard and plays hard, and captures essence of gritty, gravely, Midwest rock-n-roll.
The Mongolians package is available through FnA Records (fnarecords.net) and fine retailers all around the world. Fan packages are available directly from the label website which include a t-shirt, autographed cd, and a sticker. There is also a super fan package available that will blow your mind (and wallet) - check out the site to see what it entails.

If you are unfamiliar with The Godz, check out their long, rough and tumble history that has led them to reaching cult status over the years. Check out their story at www.thegodz.us.
If there ever was a rock n roll hall of fame for the decadent society, you'd better be sure that the Godz would be there at the top of the mountain with a brew in one hand and an arm around some metal bitch, half clothed, and on the ride of her life!"
FnA Records is the home to: The Godz, Tora Tora, Dirty Looks, Roxy Blue, Roxx Gang, Gypsy Rose, D'Molls, Rock City Angels, Witch, Creature and many other awesome 80's hard rock acts. www.fnarecords.net.




KEITH SEMPLE ADDRESSES FANS:
Departing 7th heaven vocalist Keith Semple has posted a message to fans on his site. It reads:

"To my fans,
I would like to take a moment to personally inform all of you about a decision I have made regarding my musical career. After much thought and incredibly careful consideration, I have decided to resign as the lead singer of 7th Heaven. I have offered to finish out the year with the band so my last public show will take place on December 31st, 2012. I realize this announcement comes as a surprise to many of you, and it most definitely is not one I have come to lightly.

It is important to me to show my gratitude towards the people I have worked with for the last 6 years, so I would like to start out by thanking everyone involved in the foundation that is 7th Heaven. Our staff, past and present: you guys have not only made my life easier over the last several years, but everyone else in the band as well, and I'm sure I speak for the guys when I say, "Thank you for all that you have done and will continue to do." The band: It has been an honor and a privilege to play with some of the best musicians in Chicago. I have enjoyed every second of our time together, and I will always be proud of the accomplishments we achieved as a band. Mark- your likeability and performance as a bass player are one of the greatest around, and I always enjoyed the random little riffs you would come up with on stage. Michael- your creativity behind the kit and meticulousness for your performance make you an incredible drummer and I enjoyed writing together. Nick- I have always loved your style of playing and admired your talent and perfectionism. Richie- your passion and dedication for what you do is highly admirable. I would like to thank you for extending an offer to me to join your band 6 years ago and giving me opportunities I could not otherwise have back home.

The 7th Heaven family as a whole has been a huge part of my life, and I will always be grateful and thankful for the times we shared together. Everybody was always nice to me and helpful in getting me on my feet when I first moved here. We have all created many fun and exciting memories to look back on that I know I will never forget.

As it stands, the plans that I envision for the future of my career have drifted from the vision of 7th Heaven. I am now 31 years old, and it is incredibly important to me to move forward in achieving my dream of notoriety and mainstream dissemination of my music that I set out to do when moving to the U.S. Although I am proud of our collective achievements the past six years, my personal aspirations are taking me down a new path. My own music has always been my priority, and for 6 years, it has only occupied my spare time. I am excited to bring this goal back to the forefront. Between May and September, it is nearly impossible for me to work on my music due to the hectic schedule. Further, since moving here I have gained a close network of friends and family. I am humbled by 7th Heaven's popularity, yet the sheer volume of our shows prevents me from participating in personal events. This is something I have taken for granted in my life the last few years.

I have selected a group of musicians to be the new members of my band, Semple, and during the next few months I will introduce each member. Since we've started practicing together, I have had the chance to hear many of my songs performed live for the first time, and it has only solidified my desire to let my music be heard. It has also given me a sense of elation and contentment that I have been missing for too long. My musical style is a departure from what we are performing as 7th Heaven, and it is time for me to look in a new direction.

Working with my new band has been a refreshing change of pace. They are four nice people who are highly talented at what they do, collaborative, and open to constructive criticism. With my own band, I empower my career and what ultimately happens to me. Yet we have a common goal and mutual determination that is fueling us. Thus, we share and listen to ideas, we take initiative and when needed, we compromise.

I am confident that all of the fans will love my new band; not only for their impeccable musical talents, but also for their personalities, style, passion and drive to succeed. I am incredibly excited to share my new adventure with the world. If anyone has come out to an unplugged show over the years and has seen me perform any of my original songs, then you know firsthand how passionate I am about my music. This is my dream and I am finally in a position to make it come true. Everybody in life at some point has a dream, whether it's to be an actor or an athlete or even a doctor. For one reason or another, our dreams often slip away from us. I have worked my whole life to make mine a reality and I am determined to pursue it. I love playing the Chicago scene – should the future dictate my success is limited to this region I will be comfortable with that. Knowing I tried my absolute hardest, and did everything I possibly could to achieve the success I want provides that comfort. And knowing that from here on out, I will be playing my music the way that I want it to be played will make all the struggles worth it.

There will be many big announcements and lots of information coming out over the next 3 months. So if you are not already a fan of mine on Facebook and would like to be kept in the loop, please go to my page and "like" me - www.facebook.com/sempleband - as you will no longer be able to keep track of my career through the 7th Heaven sites. The best way, though, to stay informed and up to date on what I will be doing from here on out is to join my fan club at www.keithsemple.net. The basic membership is free and will get you on the mailing list to receive notifications and information pertaining to the launch of my new band, Semple. The platinum membership is a yearly fee of $19.95 and it will give you access to VIP events, presale tickets, early access to shows, and many other exclusive events with me as well as with Semple.

I hope everyone is as excited as I am! I can't wait to finally share my own original music and creative liberation with everyone. I look forward to finishing out the remainder of the year with 7th Heaven and seeing all of your faces in the crowd singing along to the medley and all of your other favorite songs. I will then turn to 2013, when I can finally show the world the truest definition of my being.

Thank you all for your love and support, and I cannot wait to see you at the first Semple show next year!
Love, Keith Semple."

DREAM THEATER REFLECT ON THE END OF THEIR TOUR:
The latest Dream Theater newsletter features comments from all band members on the conclusion of their latest tour. I thought the comments were interesting enough to warrant being printed here in full. They read as follows:

110 shows and 34 countries...what a Dramatic Tour of Events it's been! Another top 10 Billboard debut as well as many #1 international debuts for ADTOE, our first ever Grammy nomination and trip to the Grammy Awards Ceremony, shining revues from fans and critics alike, and it's been humbling to find ourselves in the #1 spot on so many reader's polls and journalist picks lists. Wow!! Amazing!!

Personal Message From James LaBrie:

14 months later and its a wrap. Can't help but think how true the following words describe who and what we were becoming, but against all odds, admirably managed to transcend... "divided we falter, united we conquer."
ADTOE was incredibly rewarding as a band ,individually and last and definitely not least musically. On tour we all upped our game and the band was better than ever. The band was more powerful, tight, soulful and spiritually renewed. I personally was reminded of who I once was as a singer and why I dreamt of doing this as a kid. The entire band each and every night displayed conviction and confidence that was palpable. The synergy and camaraderie was unprecedented and the fans worldwide were always eager to comment with such positive praise. The unyielding support and faith from the fans has never been taken for granted. No words truly describe how grateful and honoured we are to be recipients of such fortune and benevolence.
Our behind the scenes heroes... Manager: Frank Solomon, Business Manager: Rob Shore, Booking Agents: Steve Martin, Derek Kemp, Tour Manager: Rikk Feulner, Crew/Technicians, first name basis... TJ, Roe, Johnathan, Nigel, Maddie, Eric, Zocco, Gianluca, Brian, E-rock, Johnny, Benton, Glen, Steve. Also to the other various techs who were a part of the team at some point throughout the world tour. Thank you all for your tireless, invaluable contributions.
To my four Rock Bruthas, John, John, Jordan and Mike. As great as the last 14 months have proven it is only the first chapter of an incredible read still yet to be penned.
Lastly, my family. Karen, Chloe and Chance who keep me focused and grounded.
- James LaBrie

Personal Message From John Petrucci:

It does feel good to be home after such a busy tour and such a busy year, especially when I know that we were able to deliver the goods every night for all of you! Some of my favorite things about touring the world is getting to meet so many nice people who have the same love and passion for progressive music that we do.
We've enjoyed many great meals, glasses of wine and late night bus ride story telling sessions together as a band while on the road! It's especially been fun to have my wife Rena and three kids come out and join me a couple of times as well.
I'll never forget our trip to Rome! Even had my son Reny work for the band on our first European run. He had a blast!
We have the most incredible crew on the planet, hands down. All of those guys worked tirelessly over the last 14 months to not only ensure that we presented a polished and professional DT show every night, but that all of us were comfortable, healthy, safe and ready to rock!
I've received more complements on the live sound as well as the light and video presentation and I am so appreciative and thankful for all of the creativity, dedication and commitment our technicians have shown and shared with us each and every night.
I'll certainly miss the rush of performing on stage for all of you and all of the awesome on-stage guitar rig soundcheck "tweak time" as well! I'm such a tone addict.
What I will not miss is being away from my beautiful family! "We each pay a fabulous price for our visions of paradise".
Said so well by Neil Peart, it really sums up the sacrifice all of us make to live out our dreams.
I think what I will remember the most about this tour was how gracious and welcoming all of our fans were everywhere around the world as we introduced DT with our new drummer Mike Mangini each night, and all of the support and faith you showed us right from the beginning.
Our fans are just amazing! Loud, loud, loud and full of enthusiasm! There were some memorable moments for sure...The couple who dressed in full unicyclist garb stand out as well as those who held up score cards at one gig after we played the LNF unison. You guys are just hilarious!
I'll always remember the smiles in the crowd, the hands in the air and the defeating chants of support that filled the venues. I met so many DT fans that have been to 10, 20, 30+ shows who told me that this was the best they've seen the band yet. That means so much to me!
It was inspiring to meet people along the way who were eager to share how our music helped them through a difficult time or to deal with loss and tragedy. The healing power of music just blows me away.
I'll will never forget those stories and want everyone to know that greater things are still to come!
Thank you to my family, Rena, Sami, Reny and Kiki for always being there for me and making this life possible.
Thanks to everyone at Roadrunner Records, to our awesome manager Frank Solomon, our booking agents the great Steve Martin and Derek Kemp, our fearless tour manager Rikk Feulner, the-great-one Rob Shore and to our incredible team who works behind the scenes. Thank you to my amazing guitar tech Maddi for always having my back and most of all, thank you to everyone who came out to the shows and joined us for this crazy, awesome and Dramatic Tour of Events!!
- John Petrucci

Personal Message From John Myung:

I really enjoyed the time and energy we spent night after night in different cities around the world bringing our latest release ADTOE to life, it was simply awesome! My gratitude goes out to our amazing fans that made this all possible!
A big thank you goes out to our professional and tireless crew that looked out for us night after night making sure that we were at our very best.
Now it's time to enjoy some very much needed quality time back at home. Looking forward to the next chapter.
Be well and stay healthy!
- JM

Personal Message From Jordan Rudess:

The last 14 months have taken us all around the world and it's been an amazing adventure! We have played in a lot of familiar places but also made new friends in countries that we had never been before! As a lot of you know, I like to go out whenever possible and explore the places we visit. Walking around Jakarta Indonesia and San Jose, Costa Rica are still fresh on my mind! To me- the actual playing of the show is wonderful, but understanding who all of you are as people and experiencing the places you live is just as important!Thank you all for your incredible support. This last album and tour was so important for us because we had our latest family member Mr Mike Mangini join us on drums. It was gratifying hearing everyone scream out his name every night and feel the overwhelming joy in your hearts that you have for Dream Theater! So now it is time to decompress from a whole lot of airplane travel and hotel rooms and get my studio chops going again and most importantly, reunite with my amazing girls at home, Danielle, Ariana and Kayla!
I plan to create some new music on my own and then reunite with the boys for the next DT recording!
I'm sure you will see me on youtube/twitter/facebook etc and I know I will see all of you soon enough ON THE ROAD again!
- Jordan Rudess

Personal Message From Mike Mangini:

The close of the Dramatic Tour of Events left me with thinking of one word; Wow! My memory of it is multilayered: from receiving the invitation to audition through my gear preparation for the record, the recording, all kinds of venues, and the fans' hands in the air during the tour. My overall feeling about it stems from one thing: the fans' acceptance of me from show #1 in Rome through the last show in Brasilia.
I believe very strongly that the drummer audition documentary single-handedly communicated the entire band's true intentions that happen to perfectly match the fans' needs: for Dream Theater to continue to exist and to continue making music. Personally, I put everything on the table for all to see. Normally, I would not plan to be emotional in front of millions of people, but it was the truth. If I weren't writing this right now, I'd simply submit any picture of me behind the drums at any show and say "just look at my face and you'll know how I feel."
Performing the shows as proficiently as possible was hard work. The challenge of performing each show so the songs sounded like the recordings was evident in my inner dialog while playing. I talked to myself all night, every night with phrases like, "here comes the five thing, then the short verse" in order to remember my way through the songs. A DT show is a mental challenge far beyond what I could have imagined, but because the music feels natural to me and because the whole band would communicate onstage so much, it provided the greatest joy of my career.
Some different kinds of a challenges appeared. Managing a wrist injury meant I couldn't do extra signings or shake hands sometimes. Staying in touch with friends pretty much disappeared, but they all understood. Video calling technology was a huge help as it single-handedly allowed my family to not feel so far away.
One of the surprises of the tour was the use of the time signature tests done at the audition. Being around a group of musicians that could adapt so quickly as a unit meant that new ideas were pouring out of us at sound checks and during warm ups for shows. Seeing the guys work around a riff, drum beat or a sung melody with such direction was very satisfying and helpful to me.
Finally, I can't express my gratitude enough to any fan, anyone in the DT organization, any kind of fate, family and endorsement company support, friendships or anything that has to do with my ending up as the drummer in a band with four of the greatest human beings. One could not ever dream up working with better people on and off the stage. The entire DT organization is like this. I'm telling you this from first-hand experience after experience just continuing to be professional, pleasant and simply focused on our making more and more music that is interesting, melodic, and relentlessly "Dream Theater." The intentions of the band are so "good" that it is no wonder that music just pours out of us the second we can get to our instruments, or good times occur each time an opportunity to eat dinner together arises no matter how tired we all are.
- Mike Mangini

ACCEPT INTERVIEW ONLINE:
Accept guitarist Wolf Hoffmann recently spoke with the From Out Of Nowhere Podcast about the latest Accept album Stalingrad, Wolf's career as a photographer and dealing with the English language early in their career. "Our first lyrics were terrible, just disastrously bad. Udo didn't really participate much because he didn't learn English in school. That's why after we hooked up with Gaby she started writing most of the lyrics."
The entire interview can be heard at: fromoutofnowheremedia.tumblr.com/post/32809547540/episode-69-smu-with-special-guest-accept / Link for player embed: www.podtrac.com/pts/redirect.mp3/www.fromoutofnowhere.com/Episode69.mp3.

PHOENIX RISING ADD 2 NEW MEMBERS:
Phoenix Rising, the new sensational melodic rock band formed by Titta Tani (Voice) and Paolo Caucci (Guitars) after the release of their first mini cd called Give It A Name, they get a very successful feedback from the critics as well as from the fans all over the world.
Now they announce the arrival of two new members as Fabio Capulli on bass and Maurizio Boco on drums. Both has been very busy on the italian musical scene of the last 20 years, Fabio Capulli has been a member of italian cult bands like Maskim and Mindscape while Maurizio Boco has a really rich musical background (from pop music to rock), he has been played tons of clinics releasing also instructional DVDs working at the same time with artists like Amii Stewart and Derek Sherinian to name a few! www.maurizioboco.com.
Give It A Name EP is available on iTunes & CDBaby / www.phoenixrisingband.net.