CLASSIC ROCK MAGAZINE ANNOUNCES DETAILS OF ISSUE 5:
Sunset Strip superstars Mötley Crüe grace the cover of issue No.5 of Classic Rock Presents AOR.
In an AOR world exclusive, we've got all-new interviews with all four Crüe members – Nikki Sixx, Vince Neil, Mick Mars and Tommy Lee. They consider the band's longevity and their final legacy – when not indulging in internal squabbles, airing beefs with other rock bands and evading the press. Nice to see some things don't ever change… Plus we name the Crüe's Top 10 Most Melodic Moments. And we tell the tale of Dr Feelgood, the 1989 breakthrough album that propelled the band into the big time.
We've also got a sensational 15-track free CD, titled AORmania, featuring all-new tracks from Houston, Fiona, Grand Illusion, Fate, Reckless Love, Mecca and more.
Elsewhere in the issue, we talk to Norwegian melodic rock goddess Issa about her sublime new album, The Storm.
Former Skid Row frontman Sebastian Bach comes clean about loving power ballads, starring on Broadway and the tensions caused by being the hottest guy in your band.
There's a revealing chat with the legendary David Crosby. Having lost his lover to a car crash and his mind to an ever-more-wild cocktail of illicit substances, in 1970 the former Byrd retreated to the studio and distilled these miseries into his haunted, transcendent, Vatican-approved solo album, If Only I Could Remember My Name.
That's not all. There are further features on Shy, Y&T, Lindsey Buckingham, Tokyo, Doogie White, Davy Vain, Le Roux, Starship… and a six-page review of Firefest, the UK AOR scene's live event of the year, starring Jimi Jamison, W.E.T., Jeff Scott Soto, Steve Augeri, Strangeways, Newman, Coney Hatch, White Widdow, Mitch Malloy, Unruly Child…
All this, plus reviews of all the latest AOR albums and live reviews of Def Leppard, Heart, the Electric Boys, The Union, Bret Michaels and more.
Finally, we deliver our verdict on the controversial Rock Of Ages hair-metal musical – did we love it, or did we loathe it? Find out in issue No.5 of AOR!
Onsale link active from November 30 - will be posted right here.



Firefest 2011 REVIEW:
UK MR fan Mark Donnelly wrote a very comprehensive review of the recent Firefest event, and I'm pleased to share it with you here via a PDF download. The introduction from Mark is below, followed by a link to the file.

"This was the seventh Firefest that I had attended but the first year that I decided to go to all three days and I have to say that it was one of the best decisions of my life. As I was very fortunate to go on holiday a few days after the festival, it has taken me longer than usual to write the review of the weekend. As a result, there may be a few errors in terms of songs played and definitely in their running orders. Please accept my apologies for any inaccuracies. This was the eighth Firefest and had by far the best organisation and sound of any of the other previous seven. Indeed, the organisation was so good that it was virtually impossible to take time between any of the bands to go and take on much needed sustenance. Most people chose which bands to miss each day in order to go and get something to eat, however, I managed to catch all eighteen bands over the weekend and only missed the opening tracks of a couple of the sets.
Prior to the announcement of the full line-up I only predicted four of the bands that would actually play this weekend and one of those were only added at the last minute! Just goes to show what I know...
The camaraderie between the fellow festival goers, originating from over twenty countries throughout the world, is second to none and one of the main reasons why Firefest has managed to continue over the years. If only the world could be like this all of the time...
I have heard recently that this may be the last time that Firefest will be held at Nottingham's Rock City. I personally have mixed feelings about the latter; coming from Sheffield it is very easy for me to travel to and the stage provides an excellent view of the bands plus there are reasonably priced hotels in the near vicinity; on the other hand the sound is never the best in Rock City and there is virtually nowhere for us aged rockers to sit and relax in between bands. No doubt I will travel to wherever it is held but I do hope that it maintains a central location or even a Northern one as opposed to moving to the capital.
I hope those that read this review either relive the great weekend or come to some understanding of why I am so obsessed about this genre of music. Please do not be put off by the number of pages as there are a lot of pictures and set-lists.
Please enjoy... Download: Firefest 2011 - Review by Mark Donnelly - Including full set lists for each artist.

G3 BRINGS VAI, SATCH AND LUKE DOWNUNDER:
Initial dates have been announced for the 2012 version of Joe Satriani's G3 Tour project. In addition to Satriani, the featured guitarists will be Steve Lukather and Steve Vai. Lukather is reported to be doing an opening set of solo tunes and then joining the other two guitarists towards the end of the main set. Tour dates are:

March 24 Michael Fowler Centre Wellington, New Zealand
March 25 Logan Campbell Centre Greenlane Auckland, New Zealand
March 27 Royal Theatre Canberra, Australia
March 30 Hordern Pavillion Sydney, Australia
March 31 Palais Theatre St. Kilda, Victoria, Australia
April 3 Festival Theatre Adelaide, South Australia, Australia
April 5 Convention Centre Brisbane, Queensland, Australia
April 6 Byron Bay Bluesfest Byron Bay, Australia
WebLink: www.satriani.com/G3.



INTRODUCING X-UFO:
Early 2011 saw the beginning of a great new classic rock band. Well, we say new, in fact these guys have played with some of the biggest names in rock history. Now working together to bring to life some true classic tracks with a playing pedigree that most can only dream of, 2011 is the year X-UFO come out to play. The band features card-carrying UFO members Laurence Archer, Danny Peyronel and Clive Edwards, with Rocky Newton, from UFO spin-off MSG.
Laurence (Guitar & Vocals), also played with Phil Lynott's Grandslam, Stampede and Tarzen; Danny (Lead Vocals), the original UFO keyboardsman/vocalist, with the Heavy Metal Kids and Tarzen; Clive (drums), with Wild Horses, Pat Travers, Uli Jon Roth and Lionheart and Rocky (Bass & Vocals), with the Michael Schenker Group, Royal Blood (w/Alex Masi) and Lionheart. Between them, these boys' track records range from writing hits for UFO, Thin Lizzy, MSG, Meatloaf and even David Gilmour, to singing vocal harmonies on Def Leppard's mega-classics "Pyromania" and "Hysteria". As you can see the bands' pedigree is in no doubt and as for the show you can expect some great classics based around the UFO album "Lights Out In Tokyo" and "No Heavy Petting" and spanning the ultra-classic UFO years.
The band are fired up and ready to go, so prepare yourselves for a cracker of a show with X-UFO!
X-UFO recently played superb and well received sets at both the Aero Rock Festival in Bulgaria and at the Hard Rock Hell Festival in Ibiza as well as a sold out show in Milano a few weekends ago and are just about to release a new Live CD, recorded in Hannover, Germany with legendary Producer, Steve Mann, which will be available very soon. This includes blistering new recordings of UFO classics Lights Out, Only You Can Rock Me, Rock Bottom, Doctor Doctor and more!
The CD can be pre-ordered from: nigel.hart@bt.com. The band are also busy writing new material for a studio CD early in 2012.
YouTube Promo: www.youtube.com/watch?v=OH8uvsbg0fY.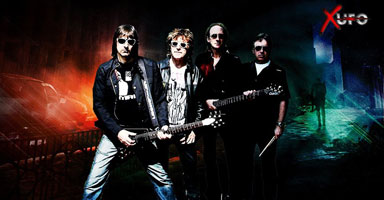 WALLNER/VAIN TO RELEASE DEBUT ALBUM IN FEBRUARY 2012:
Los Angeles based hard rock artists Will Wallner (Guitarist) & Vivien Vain (Vocalist) will release their debut album on February 1st 2012. The release and promotion will be handled by Los Angeles based company 'Metal Assault'. The album will feature guest musicians including Carmine Appice, Vinny Appice, Brian Tichy, Rudy Sarzo, Tony Franklin, Jimmy Bain, Derek Sherinian and Tony Carey providing an all-star backing. The album was recorded in Los Angeles throughout 2011 and mixed by Gary Tole in New York. Mastering was completed in September 2011 by Graham Goldman at Masterdisk.
Both in their early twenties, Will Wallner and Vivien Vain came to America from Europe to pursue a career in music. After a year of performing locally in Los Angeles they had a chance meeting with Carmine Appice and Vinny Appice at the Rainbow Bar & Grill on the Sunset Strip in 2010. Both agreed to perform drums for their album and since that first meeting the project evolved featuring several other guest session musicians with Will Wallner and Vivien Vain performing all guitars and vocals respectively. Their debut features nine original songs written and produced by Wallner/Vain.
The album cover features Wallner/Vain photographed by Glen La Ferman. A music video for the song 'Streets Of Rage' will be released with the album, which was produced in Hollywood in September 2011. Wallner/Vain will announce live dates to promote their album release in the next couple of months. For more information go to www.wallnervain.com.
Here's a link to a preview of the music video: www.youtube.com/watch?v=EkUhO8QXuTk&feature=channel_video_title.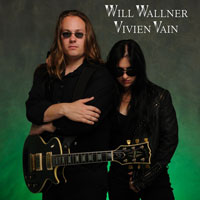 MELODIC BRIEFS:
In a new 3-part exclusive Video Interview, Shockwaves host Bob Nalbandian interviews Anvil's Steve "Lips" Kudlow as he delves deep into the early days of Anvil up through the present and gives perhaps his most revealing interview ever about the history of Anvil and the back story behind the critically acclaimed The Story Of Anvil movie. To view all the Shockwaves VideoCast video interviews, please visit our YouTube Channel at: YouTube.com/bnalbandian.

MelodicRock readers are invited to sample John Pratt's entire album Turn The Page at it's new YouTube homepage. The songs are full length and of the highest audio quality afforded by that portal. www.youtube.com/user/JohnPrattTurnThePage.

Jim Gilmour from Saga will have a eye surgery (saga-germany.de/content/). He was replaced during the German Tour by Thomas Elsenbruch and Hans-Willi Carl form the German Saga-Cover-Band: "The Chapters".

John Waite performed in November during his east coast 'Rough and Tumble tour'' to promote the new album several times on USA TV. Here you can watch the videos a.o Missing You and If You Ever Get Lonely (acoustic) Plus some pictures and an interview: www.johnwaitethesinger.com.

Adrian Weiss (guitarist of Forces At Work) now finally releases his full length instrumental solo debut album entitled Big Time featuring 14 guest musicians including Victor Smolski (Rage) and many others! The album contains 11 songs ranging from melodic rock to progressive power Metal. For more information: www.adrianweissmusic.de.

Video Shooting done by BeRock Radio & Radar Rock Magazine for Greek melodic Rockers Wild Rose's Event at Bat City Rock Club on 29 October 2011. www.youtube.com/watch?v=JQsVV6GMbuQ&feature=colike.

INTRODUCING PHOENIX RISING:
Coming out from the ashes of the underground melodic scene, Rockshots Music Management & Promotion Agency is proud to present Phoenix Rising, a new sensational AOR band from Rome/Italy presenting its first self-titled demo tape. Here you can find 6 songs of high quality AOR – melodic rock reminiscent of the great bands of the genre such as Journey, Giant, Boston, Pride Of Lions just to name a few with a very personal songwriting and taste of writing melodies. Catchy refrains since the very first listening and outstanding sense of melody are the trademarks of these 6 demo tracks.
The Phoenix Rising project was created in 2008 by Titta Tani (ex-DGM, Daemonia, Goblin, Ashent) and Andrea Gentili, the duo worked hard on the new material which can be found on this demo tape but the project was moved aside for a period of time due to personal circumstances and studio engagements. But now the time has come!!! Today Phoenix Rising is a real and full-time band which with its sound and music wishes to create something fresh and interesting in the AOR / Melodic Rock scene.
Led by Titta Tani (who also took care of all the lyrics and the drums on the demo) on vocals and background vocals and by the very talented guitar player Andrea Gentili, the band is also made up of Francesco Di Battista on drums, Gilles Boscolo (Ashent) on keyboards and Alessandro Jacobi (Burning Black) on bass. Two of the songs included on this demo tape, Believe (Feeling Forever) and Fade Away have been written, played and arranged by Andrea Maddalone, the guitar player of the Italian progsters legends New Trolls (and well known session player for many other important acts). After having released these 6 songs demo tape, the band is once again in the studio writing new material which will be released pretty soon in a full length album followed by a tour.
Phoenix Rising are represented (booking, discography and promotion) by: Rockshots Music Management & Promotion Agency - www.rockshots.eu.
WebLink: www.phoenixrisingband.net



MULTI-PLATINUM ROCKERS DROWNING POOL TO PART WAYS WITH SINGER:
New York, NY– All-American anthemic rockers Drowning Pool announced today that they will be parting ways with their current singer, Ryan McCombs. The hard working Texas band, who has worked with 3 singers in their 10 year career, issued the following statement:

"We have always been a band who has gained success despite having multiple singers...maybe we suffer from reverse 'lead singer's disease," said C.J. Pierce. "Changing things up has not always been easy, but the band has become re-energized time and time again. We are looking to find a new singer who will give both us and, and most importantly our fans, the new adrenaline shot they deserve." He went on to say, "We do wish Ryan great success in his future endeavors." McCombs, who had been part of the band since 2006, replaced singer Jason Jones, who joined Drowning Pool following the tragic passing of Dave Williams.
Drowning Pool turned the world into believers with their breakthrough single "Bodies" in 2001. Ten years, three singers and four albums later, they're giving fans a new reason to believe. "Feel Like I Do," the lead single from their self-titled fourth studio release [Eleven Seven Music], became the band's biggest radio hit to date, reaching No. 2 at Active Rock Radio, and remaining in the Top 5 for 12-weeks. With2009's "37 Stitches" off of Full Circle reaching #4 at Active Rock and "Feel Like I Do," the band had 2 consecutive Top 5 Active Rock smashes and cemented their place as one of the top hard rock acts today. The band's sophomore album, Desensitized with second singer Jason Jones spawned a Top 10 hit with "Step Up." Recent successes have paved the way for unique opportunities such as presenting the Lane Evans Mental Health Care Reform to then-senator Barack Obama on Capitol Hill, performing for our troops all over the world and partnering with organizations like The Wounded Warrior Project and the G.I. Film Festival.
Drowning Pool is currently looking to find a suitable replacement for McCombs. In the meantime, they have already begun writing their 5th studio album in their hometown of Dallas.
Drowning Pool is C.J. Pierce – guitar/ vocals, Stevie Benton – bass/vocals, and Mike Luce – drums/vocals."

TEENAGE CASKET COMPANY RELEASE THEIR BEST KEPT SECRET:
Nottingham UK Power Pop Rockers Teenage Casket Company are proud to announce the long awaited release of their new album 'Best Kept Secret'. Released through Jamsync Music in the US and available worldwide, the 11 track CD comprises the most popular songs from their first 2 releases, 2005's 'Dial It Up' and the 2006 follow up EP 'Eat Your Heart Out', along with the band's recent single 'Best Friend Is My Radio' - all tracks have been remastered and the album features stunning artwork and exclusive liner notes from Hardrock Haven's Derric Miller.
Bassist Rob Lane commented on the album's conception:
'When Jamsync approached us to re-release our first 2 CDs in the US it made for the perfect opportunity to create a brand new album of our favourite songs and give us a real solid introduction to people in the US who may have missed us first time around when we were working things totally on our own. So, whilst it may seem a little odd for an underground band to release a 'Best Of' it just seemed a great chance for us to kickstart Chapter 2 of TCC!'
Best Kept Secret is available through all popular music retailers - Amazon / Play.Com / HMV / iTunes or direct from the Jamsync Music Website at www.jamsyncmusic.com/?product=secret.
"For a statement of intent and re-birth then you don't get much better - immediate, hook-heavy and will stay with you after just a single listen. Musically you have to sit back and wonder how these guys failed to catch a ride to the A-list first time around. Perfect 80s infused pop rock that hints at everyone from Cheap Trick and The Ramones to Marvelous 3. It's personally hard for me to pick favourites here as the collection is so solid." Rockpit.net
"A lethal combination of driving guitars, hooks, soaring choruses and pure addictiveness. Whilst the songs capture a snapshot in time, if new track 'Best Thing Is My Radio' is any indication, arguably the most infectious song the band has written and recorded, TCC will be a Best Kept Secret for not much longer." Maytherockbewithyou.com
Teenage Casket Company will follow up the release of the album with a brand new single and video 'Without You' scheduled for release early 2012 and a new EP shortly afterwards.
For more information visit www.teenagecasketcompany.co.uk.

AMBIENT PROGRESSIVE METAL BAND, OCEANS OF NIGHT, RELEASE NEW CD, DOMAIN:
Domain is the second CD release from progressive metal band, Oceans of Night. Mixed and mastered by Joey Vera (Fates Warning, Armored Saint, Engine) Domain features a refined focus on the staples of the Oceans of Night sound: soaring vocal melodies, evocative guitar solos, sophisticated rhythm structures, and dynamic song arrangements wrapped in a tapestry of percolating ambience. Epic and cutting edge, this is music that makes a bold and powerful statement.
Track Listing: 1. Domain: 17:39 2. Don't Look to Me: 5:10 3. So Near Yet So Far: 5:28 4. Dreams in Artificial Sunlight: 3:32 5. Divisions of Time: 5:17 6. Seven Days of Rain: 6:12 7. The View to You: 8:28 8. Instruments of Fear: 4:14 9. The Future Remembered: 4:20 10. Ghosts of the Past: 4:25.
Rising from the ashes of the eponymous solo band lead by musical mastermind Scott Mosher, from 1996 through 2004, Oceans of Night also features vocal powerhouse Scott Oliva and the drum mastery of the talented Alan Smithee. Oceans of Night released their crushing debut CD, The Shadowheart Mirror, in 2009.
Through the course of 6 CD's, multi-instrumentalist Scott Mosher has bridged the worlds of progressive metal, melodic hard rock and ambient sounds to create an experimental yet complimentary style of music that is at once as subtle as it is powerful, aggressive as it is dynamic and timeless as it is modern. Scott Oliva continues to perform in legendary NY Iron Maiden tribute band, Live After Death and The Nightmare Stage. He has also written, performed and recorded with Wind Wraith and Inner Strength. The Scott's had first worked together on Mr. Mosher's 4th CD release, Deep Horizon, in 2006.
For more information, visit: www.oceansofnight.com and www.cdbaby.com/Artist/OceansofNight.

FLOOR JANSEN RETURNS STAGE, SET TO JOIN PAGAN'S MIND FOR AMSTERDAM SHOW:
Dutch singer extraordinaire Floor Jansen, formerly with After Forever, currently fronting her own band REVAMP, is set to return to stage in her homeland joining Pagan's Mind in Amsterdam's legendary venue Melkweg on December 16. This will mark her first Dutch live appearance since her burn-out earlier this year, which forced her to put on hold band activities until further notice.
Floor Jansen says: "As some of you might know, this is not the first time I join Pagan's Mind on stage, and this is a great chance for me to slowly work myself back where I want to be. I just tried out a bit joining Mayan on stage in Brazil, but singing with my Norwegian friends in Amsterdam will be special for me. Not only will it be the first show in a long time in my home country, but having the chance to sing with such a talented band again will be a special treat. I hope to see many of my Dutch friends in Amsterdam."
Jorn Viggo Lofstad, guitar player and producer for Pagan's Mind, adds: "We met Floor for the first time when we jammed at the ProgPower festival in Atlanta in 2007, and we immediately established a friendship, which not only lead to Floor joining us on stage later that year, but also to a creative process between myself and her, resulting in a yet to be completed rock album that one day will surprise you all. Seeing how the business side of things eventually took its toll on Floor, we are very happy that her situation is improving and look forward to have her as our guest when closing 2011, which has been a great year for Pagan's Mind."

Pagan's Mind live 2011
15.12. NL-Tilburg - 013
16.12. NL-Amsterdam - Melkweg
17.12. B-Vosselaar - Biebob
18.12. NL-Zwolle – Hedon
WebLinks: www.pagansmind.com / www.spv.de.

NIJI ENTERTAINMENT GROUP ANNOUNCES COLLECTIBLE DIO RELEASES:
Without question, Ronnie James Dio was one of the greatest vocalists in hard rock/heavy metal history, who built a fanatical and devoted following during his multi-decade career. And in the coming months, Dio collectors will have the opportunity to pick up some truly one-of-a-kind releases ­ a limited edition picture disc of Elf's self-titled debut album, a deluxe picture disc of the Dio release 'Master of the Moon,' and a limited edition and deluxe numbered super secret Picture Disc that will make HISTORY for Record Store Day 2012! As a reminder, just released is the amazing, "And Before Elf....... There Were Elves" featuring both live in the studio and live on stage tracks from 1971 from The Elves featuring a young Ronnie James Dio on vocals! The packaging is spectacular! The CD comes housed in a digi pack with a custom Lenticular cover! When you turn the cover to the right, you see an image and when you turn it to the right, you see a completely different image! This CD is in stores now! December 13th will see the release of the very first Elf album, as a deluxe numbered picture disc. Originally issued in 1972, the album shows off Dio's vast vocal talents, as he handles honky tonk, blues, and rock, rather than the mega decibel rock that would later become his trademark. This release will be issued in the USA only, and each LP will be individually numbered from 1-2,500.
The next release, the 'Master of the Moon' deluxe numbered picture disc, will be released on March 13, 2012. The album was originally issued in 2004, was Dio's tenth studio solo effort overall, and featured such renowned rock names as Simon Wright on drums, Craig Goldy on guitar, Scott Warren on keyboards, and Jeff Pilson on bass. Unlike the other two aforementioned releases, the 'Master of the Moon' deluxe picture disc will not be a limited edition release. And lastly, on Record Store Day 2012 (April 16, 2012, to be exact), The Niji Entertainment Group has something very special that will sell out instantly! We don't want to give it away yet, but trust us, fans will be waiting in line at participating Record Store Day locations to scoop this release up! Dio fans will be the first to know about it, so join the Official Ronnie James Dio Fan Page On Facebook!
Also recently launched is the Official Dio Store, where fans can buy shirts, CD's, DVD's, Blu-rays and more from Dio, Heaven & Hell and other artists signed to the label: officialronniejamesdiowebstore.com/content/
Don't wait long to pick up these three beautifully assembled Dio releases! These releases will be sold in local record stores across the US as well as online music retailers like Amazon.com and the Official Dio Web Store! The Official Dio Fan Page on Facebook gets over 25,000,000 visitors a month, and once the word is spread about this project, fans will be waiting in line overnight to get their copies. Get ready for some vintage Dio rock…with a sleek new look!

FORMER TANGO DOWN SINGER ALEX BARBIERI RETURNS WITH ANGELS & DEVILS:
Stamford, CT, November 2011: Singer Alex Barbieri, who is known in hard rock circles for his vocal performance on Tango Down's "Damage Control" album, has announced that he is putting a new all-star band together called Angels & Devils. The band will play classic rock covers, along with bluesy hard rock originals.
Barbieri says, "I am very excited to share this news with my friends in the rock world. After Tango Down, I took a year or so off to regroup and figure out what I wanted to do next, musically. I really didn't know for a long time. I was happy hanging out with my girlfriend and learning to play golf. But recently, I sang with a friend's band, and was reminded of how much I love it. That rush of performing live. My voice feels very strong, thank God, so I knew it was time to get back out there—and for the right reasons: the joy of singing and love of performing."
On the name, Angels & Devils, Barbieri explains, "The name came to me in the shower one morning—Angels & Devils—I thought, that's it! The name of my new band. It's so simple, but meaningful at the same time. We all have angels and devils inside of us … good and bad, light and dark. It's the human condition—the balance of life."
Barbieri says the concept of Angels & Devils is to have a band of top-notch, professional musicians playing the greatest classic rock songs of our time. "I really want to get back to that rich, bluesy style of singing that I love and grew up listening to—that David Coverdale/Paul Rodgers sound. So, this band is going to be all about the blues-based rock that is just so timeless and great to listen and sing along to, especially live. I'm talking about AC/DC, Bad Company, Black Crowes, Dio-era Sabbath, Thin Lizzy, Rainbow, Foreigner, Journey, Zeppelin, Whitesnake, you get the idea. We'll also do some songs people won't expect, like Duran Duran and INXS, Fleetwood Mac to Foo Fighters. Classic rock is no longer a dirty word. Even young kids—who are bombarded with entertainment choices—realize that this music is the shit. It's real, organic, full of emotion and sexuality, and just plain rocks."
When asked if Angels & Devils will do originals, Barbieri replied, "Absolutely, I would love to. Once we get rolling, I am definitely open to writing original material and working them into the set. But our songs will have to stand up side-by-side with some great classic rock, so the quality will have to be very high."
It's also very important to Barbieri that Angels & Devils be a top-notch lineup. "I'm back and I'm not playing around. I want this band to be like an all-star baseball team, where every player rocks their position and brings it every game … so that I'm inspired and the rock fans who come see Angels & Devils get a great evening of classic rock that's worth their time and effort to come out to the gig."
Barbieri says he is not ready to announce the official lineup of Angels & Devils just yet, but hopes to in the next month or two. "I'm talking to some very talented and accomplished musicians, and feeling very thankful that things are falling into place. I appreciate your interest, and will be sharing more information soon!"
Friend Angels & Devils on Facebook at: www.facebook.com/alexbthecopywriter?ref=tn_tnmn#!/AngelsandDevilsband?sk=wall / To contact Alex Barbieri about Angels & Devils, email abarbieri70@aol.com.