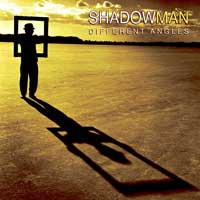 Shadowman: Steve Overland's Jouney Up The AOR Ladder


Steve, nice to have the opportunity to throw some questions at one of Britain's most respected rock vocalists. Is it nice to be a busy man again after some time away from the scene...
Hi Andrew, it's nice to talk to you. In answer to your question it's always nice to be busy & although I guess I've been out of the public eye for a while. I've been busy with writing projects & sessions.
But it's nice that people can see that I'm still alive!

From where you sit now, Shadowman and The Ladder signify a new creative path for you after year's of work with FM. But neither is too far musically away from where your heart lies, correct?
Yes you're right about the direction of Shadowman & The Ladder being where my heart lies. I had a period where I wanted to move away from the blues rock kind of thing (i.e The S.O album) but it's what people know me for & I guess you always go back to what you do best.

Let's talk Shadowman first - you have obviously been in contact with Khalil of Escape for sometime. What convinced you to launch into this new project?
Khalil called me out of the blue one day to do a session (Tribute To Boston). I went to the studio & Steve Morris was producing the session, we got chatting & got on really well. Khalil asked if I would be interested on working on an album with Steve, he sent me some of his song ideas, and went on from there.

Tell us about working with Steve and the chemistry between you two.
Steve is a great guitar player and a good idea's man. He tends to get a backing track together, sends it to me & we write a song around it. We get along great. I have the same idea's on where we want each album to go

The debut was straight British AOR with a bluesy tinge, but this time around I think the roles are reversed. This is more soulful blues with an AOR twist. Would you agree?
I think the second Shadowman album has definitely moved on from the first. We've had more time to develop the direction of the band & it offers much more variation in the song writing. That's not to say the next album may not be different again.

And why the slight change of approach?
We didn't make a conscious change of approach on the second album, it was just the way the writing seemed to go.



You possibly couldn't get a better rhythm section than Thunder duo Harry James and Chris Childs - tell me about working with those guys...
Harry and Chris are two of the best rhythm section around. They are so solid and great guys to work with.

Is there any current music that influences your writing and singing, or is it all drawn from a lifetime of experience?
I listen to all different styles of music & although you draw influences from everything you listen to, a lot of the stuff you write is drawn from past experience

Would the more soulful style be a precursor for the future direction of Shadowman? I presume you would enjoy to continue the project?
The more soulful style on the second Shadowman album is just the way the album was written & performed. There will definitely be more Shadowman albums as long as people still want to listen to this kind of music.

Over to The Ladder. The debut was made up of old unreleased FM songs. Would you have used the FM name had Merv been interested at that stage?
I don't think we would have used FM name on the Ladder project even if Merv had been involved. We would never put out an FM album without it being one of the full original line ups of the band

And will you continue using up the archive of FM material in order to deliver more Ladder records, or will there be fresh material written for the second record - which I think could be out later this year right?
The second Ladder album is all brand new songs. The first album was basically for the fans, as most of the songs had only been heard at live gigs & had never been recorded properly or released before. The new album is different direction & we are really pleased with the way the songs have turned out.

Escape has worked on a couple of very nice FM re-issues - more proof there is a market there for the band.
The two FM re-issue albums have a great packaging & once again some materials that fans previously didn't have. I hope they have completed people's collections & thank you to everybody for sticking by us in everything we've done.

And I guess that question always permeates into the inevitable question of a possible FM reformation! Is that on the cards in any way, shape or form?
When FM parted we never said we wouldn't at the same point work together again. We are all still good mates, and although there are no plans at the moment, Never Say Never! If we did reform it would be because we wanted to and not because we had to.

Do you appreciate the strong desire by a great number of fans for a new FM record - even after all this time?
It's great that the Fans are still there for us after all this time. The problem we have is that if we did another album, we would want it to be FM at there best and the writing process would take time. At the moment everybody is very busy doing other projects.

I heard a whisper that you and Merv had collaborated for an American blues artist. Can that be spoke of at this date?
Merv and myself are working together on few things at the moment & it's great working with him again.

There is a lot of love out there for the band! Do you think the band has unfinished business?
As I said the support for FM after all this time away is fantastic & if we did get back together it would have to be the right time and with a great album. We'll have to wait & See.

Any chance of seeing Steve Overland performing live in 2006 - either as Shadowman, or even FM ;)
There are no dates planned at the moment but we have spoken about it. I would love to do some dates with the full Shadowman line up & various things have been offered, but to get the band in a rehearsal room all at the same time isn't easy, as everyone doe's so many different things!

Anything you would like to add Steve?
Thanks for the interview Andrew & I would just like to say once more THANK YOU to everyone that has stuck with us down the years & I'll do my best to keep making albums, hopefully that they'll enjoy!!

Thanks for taking the time to do this interview.
Thank you.