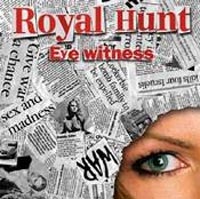 Royal Hunt: A new record, a tougher sound.


Andre Andersen talks about the new Eye Witness album and playing The Gods 2003.

How did you enjoy The Gods performance this year and how would you rate it?
The festival was great - very well organized. The actual show was pretty good - the sound (or lights) will never be perfect in a situation like this, but it was god and we played fine and reaction from the people was great.

Sorry I didn't get to meet you all in person - I didn't see you guys backstage at all!
The whole area was pretty crowded, so we went in and out rather quickly.

How do you find playing the UK over other places in Europe?
It was nice. We were very surprised that people knew the words of most of the songs - after all, it was our first show in UK.

Has the dynamic of the band changed at over the years?
We seem to be busier every year, so it kind of hard to notice the actual dynamics...

How about the recording process - you are a few albums in now with John West - have things changed in the studio? Is it easier, harder?
Much easier. John's so musical... Extremely diverse, so there's stuff there to discover in years to come. He didn't peak yet - far from it.

Is it still to early to rate this album again the others you have recorded?
Yeah, a bit. But presales are promising.

I noticed the sound on this one was a little tougher - maybe the production on it was a little fuller. Was this an intentional move?
Absolutely. The Mission was all Sci-Fi, digital and all, so on this one we went for an analog, full and warm sound.

How do you keep in good shape - especially on the road?
Lots and lots of Jack Daniels - good old snake oil.

What do you like best about touring - how do you rate the importance of being seen live and meeting fans when possible?
We still love touring - after all those years. Studio's fun too, but nothing beats that adrenalin rush you're getting on stage.

Do you get any funny/strange incidents from fans?
What about this guy on the signing session, waiting for almost half an hour for everybody to get their CD's signed and than - when almost everybody's left - asking me "which band are you in?".

How about the album itself - tell us about the concept behind it?
It's like "Headline News" - you're getting some bits and pieces presented to you, different - and very current - issues, all compressed to approx. 45 minutes.

Once again, I'd love a few comments on the songs themselves if possible!
Hunted - Great opener - fast and catchy

Can't Let Go - My favorite - sounds like a war machine

The Prayer - One of John's best performances

The Edge Of The World - Nasty - almost new rock sound, great lyrics

Burning The Sun - Typical RH - fast and melodic

Wicked Lounge - Try to mention another rock band doing a jazz tune on their album - and still sound like themselves.

Fifth Element - No RH album without an instrumental - it's the law!

Help Us G-D - Very emotional song - great combination of sadness and rage.

Game Of Fear - Fast and angry - the heaviest track on the album

Eye Witness - Jackyl and Hide - first half's unplugged, almost dreamy but the second half rocks.

Martial Arts* (Special Version) - Always in our live - set

Follow Me* (Live acoustic) - Unusual - audience won't let us go after 4th encore, so we played this one (but didn't have a piano that night), so we did it in a "alternative version" - with the Hammond.

Anything you would like to add?
Hope to be back in UK soon, playing, but for now - enjoy the album, we'll see you all soon.