---


Rick was born Richard Springthorpe, in Sydney Australia in 1949.
His father was a career soldier, with Rick growing up on army bases around the country.
He received a guitar for his thirteenth birthday, and described his love of playing as 'as hard core as you get at sixteen'.
His first band 'The Jordy Boys' played regularly in the rough pubs of Melbourne, leading him to leave school and join his first full time rock band 'Rock House'.
They earned a reputation strong enough to be invited to play to troops in Vietnam, during the late 60's.
Back in Australia, Rick moved into the now legendary pioneering Australian rock act 'Zoot'. He joined with Beeb B, who went onto join Little River Band, and Daryl Cotton, who went onto form the also now legendary Sherbet.
Zoot soon became one of the biggest acts in Australia, and had a top 10 single with a cover of 'Eleanor Rigby', styled in the bands' unique relentless pop/rock style.
Rick subsequently won awards for the country's best guitarist and composer.

"I am about due for a trip back home. Matter of fact Daryl Cotton was over here from Zoot, the other day. He brought his family over for a vacation, and they came over to see us.
We talked out doing a Zoot reunion thing".

I still have this great picture of you in a pink jump suit with lovely bell-bottoms!
"Oh my God, scary!"



Rick's debut solo single Speak To The Sky, hit #1 in Australia in 1971, prompting record company interest from the States. He was subsequently signed to the Capitol label, which sent him to London to record his debut album 'Beginnings'.
Originally released during 1971 in Australia, the album was released the following year in the United States, from which a remix of Speak To The Sky reached the top 15.


Rick said at the time, "I raced over there thinking this is it! But things didn't quite work out that way." He went on to describe the next few years as the worst of his life, mainly because he wasn't in control of his direction. The record label was trying to mold Rick into the next David Cassidy.

"Yeah, 'Speak to The Sky' was a hit over here, but it didn't really translate to the album. The album was a bit different, you know marketing me as a teen idol, when the stuff on the record was not what teen idols were doing at the time".

It was a little bit deeper than your average teen idol.
"Yeah, it was a different type of music too".

There was actually a lot more to Rick than your teen idol, as he was not exactly mainstream pop.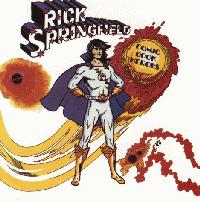 The 1973 album 'Comic Book Heroes' proved that. It was critically acclaimed, but commercially did not live up to expectations.
The cover art to 'Comic Book Heroes' remains as legendary today as when it was first released. It featured Rick in a white 'Super Hero' outfit, with a gatefold sleeve that has comic book art for each song title.

Where did the cover concept come from?
"I had always loved comic book artwork. I saw something like that in a magazine and thought I would look good on the album.
It was a little confusing for some people though, cause some people didn't quite get it".



Unfortunately there was also problems with immigration officials, and unhelpful management.
One of those questionable decisions made by management and the label was to take Rick's Comic Book Heroes cover concept and turn it into an animated TV series. Starring Springfield as himself, 'Mission Magic' featured him as a sort of crime fighting super hero, complete with musical soundtrack.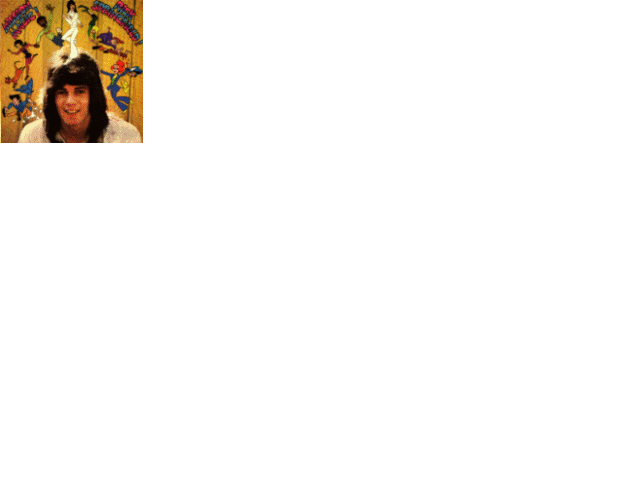 That subsequent soundtrack album 'Mission Magic' was released in 1974.
In keeping with the times, the lead song was titled 'We're Gonna Have A Good Time'.



"Yeah, that was a mistake! Ha ha ha!
I don't know. They started out with all these great ideas of Yellow Submarine, and ended up a Xeroxed version of every other cartoon show on the air. So it was fairly unadventurous and a little disappointing. But it was an exercise for me as far as a writing exercise, a new song every week.
I played myself. It was a very bizarre concept".

I have ever seen it down here.
"It's was played down there actually, strangely enough!"

Was it really? Late night TV or something?!
"I don't know. I got residuals from it for quite a while. It was really strange".

This is where Rick decided he had to get off. Fighting for release from his record label and management contract took two years out of his career.

"Yeah, I took one of my infamous breaks. For about three or four years I was sorting out contractual problems, trying to get out of my contract. I signed everything away when I first came here. I was pretty green. I got taken advantage of in certain ways, signed my life away, then when I wanted to leave it was very difficult.
There was nothing I wanted to do, so I just took the time off.
I kind of made that a habit, a couple of years between albums".



It was a financially strained period, in which Rick was for the best part flat broke.
He continued writing and recording and in 1976 released an album 'Wait For Night' for the Chelsea Records label.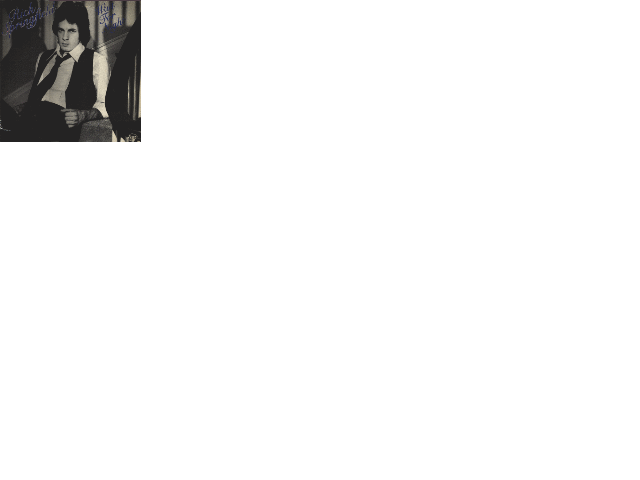 In a bizarre twist, upon the release of the album the label promptly went bankrupt and prematurely closed down his musical career once again.
This time the gap between albums was not to be his own doing.

How did you feel about that whole situation?
"It was pretty traumatic, but I think I was already working on some new stuff, so as long as I am working on new stuff, I have a focus. There were certainly no tell tale signs of it going under, it was a like a complete surprise".

How did you survive during those hard years?
"Err, Girlfriends!"

Really?!
"Yeah, actually strangely enough, Mission Magic supported me for a decent amount of that time. Residuals from Australia, from the 'Mission Magic' show.
I remember being broke and getting a couple of checks every now and then. That saved my butt. So there is a reason for everything".

At this point Rick began to pursue acting, and was coached by people such as Vincent Chase and Malcolm McDowell.
With a friend he rented a tiny theater in Hollywood to present plays for friends and relatives and anyone else who was interested.
Springfield created sets, costumes and worked out lighting for the plays. A representative of Universal was convinced by one of these plays and singed the actor to a two year contract. What followed was an endless round of guest character appearances on shows like 'Six Million Dollar Man', 'Rockford Files', 'Incredible Hulk', 'Nancy Drew' and 'Wonder Woman'.
At this point Rick was actually faring better as an actor, than as a musician.

Another set of recordings led to further trauma in Rick's life. 'Beautiful Feelings' was originally recorded in 1978. It didn't see the light of day until 1982, when it was released without Rick's approval, or his involvement, excepting the vocals.

"That was an album we couldn't get a deal on. It was the manager I was with.
The next album I did was Working Class Dog then I separated from them and they put that out as kinda, 'Well, we've still got this!'
They took everything off, except for the vocals.
It was some old songs and they just added the horrible Hollywood studio crap".

Continuing with his acting, Rick landed his biggest acting break by becoming a regular on the hit daytime soapie General Hospital, as Dr. Noah Drake.

You were on there for a few years weren't you?
"No, about a year and a half, but it was at a time when it was a really successful show".

Never giving up on music, Rick wrote and recorded new songs, mainly for the reason he needed new material to play live and tour with.
A tape of those songs found it's way to RCA.

"Actually the boss at RCA had always like Comic Book Heroes, it was an album that he had liked. No one wanted to sign me at that point, and they kinda thought about it for a year. And said well, okay let's try it!
I had written a bunch of songs, cause I was getting ready to go out and play 'em, and those songs became the album".

The debut album for RCA, was Working Class Dog, released in 1981.
What was to follow was nothing short of stunning. That year saw Rick's first US number one single in Jessie's Girl, double platinum result for the album, a sold out US tour and a Grammy award for best male vocal.

On the eve of 'Working Class Dog', did you have any idea what was about to happen?
"No, I thought it would go in and out again like the all my other albums. That's why I signed on to Karol (Rick's manager). I was pretty much convinced that it would go on the charts for six weeks in the low one hundreds, and then drop out again, and I would go onto the next album. So it was a big surprise, when it all took off".



You had a quantum leap in the quality of song writing with Working Class Dog.
"Yeah, I did take a leap, and I am not quite sure, I think it did take the pressure off having to write a hit song, that I had been putting myself under that pressure.
At that point, I wrote that album so I could have some songs to go out and play in the clubs.
You know, songs that I could just play the guitar on. We didn't have strings, or big gigantic arrangements, just stripped down pop songs, and I think that is when I began to find a direction that worked for me publicly. I have always been a catchy songwriter. I have always focused on a hook, but it hasn't always necessarily worked publicly".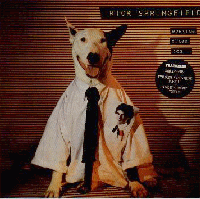 To me, your songs have hooks galore. There have always been choruses, bridges and layers of melody. It keeps you coming back.
"A lot of my stuff is seen for the surface that it is, not really writing about it on a true level".

However 1981 was not without it's lows. For on the eve of Rick Springfield winning the Grammy for 'Jessie's Girl', Rick's father died back home in Australia.
Norman James Springthorpe gave Rick his first guitar and encouraged and supported Rick through out his career, helping him through the lows of the past few years. It was a blow that would and still does haunt Rick.

More hit singles and a sold out tour started a roller coaster ride that would last four years without a break.
The heavy workload was carried into the recording of the follow up album 'Success Hasn't Spoilt Me Yet'.

"It was a good pop album. It could have been a lot stronger, but I was doing a TV show and touring of a weekend, so I was doing that album at night by running into the studio.
I didn't have the control over that album that I wanted to have, but it had some good songs on it. I think the instrumental direction wasn't quite what I was going for, because I didn't have the input I had previously.
It was probably my least personally involved album, after I had written everything. I played the least amount of instruments on it and I was there for the least amount of time in mixing".

Despite this, the album maintained the high song quality of Working Class Dog, and again spawned more hit singles. 'Don't Talk To Strangers', 'I Get Excited' and 'How Do You Talk To Girls' were all over the radio. Keith Olsen, who had previously worked on 'Jessie's Girl', produced the album.
Because of Rick's heavy commitments, the album featured a couple of covers, a Chas Sandford track, the seventies hit 'Black Is Black' and a new tune written by the hit making machine of Steinberg-Kelly, who have written hits for Pat Benatar and Heart.
Kristina was an original rocker co-written by Rick and long time Bryan Adams writing partner Jim Vallance.
'Success Hasn't Spoilt Me Yet' was another double platinum selling record, and gave Rick a further Grammy nomination.



Always with a tongue in cheek, the record cover featured Rick's dog Ron, who made his debut in a shirt and tie on the 'Working Class Dog' cover. This time around, he sat in the back of a limousine, flanked by two French Poodles.

"I had Ronnie my dog, I just found him. I would go for walks in the neighborhood and women loved him, so I thought I'd put him on the album cover".

And did Ron have a good innings?
"Yeah, he lived till he was thirteen. I miss him very much. I finally got another dog, but Ron is buried in the LA pet park, he has his own stone. I found it very hard to lose him.
He was a spectacular dog".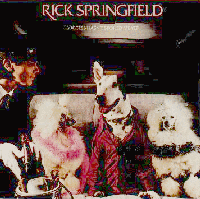 I am glad to see you still use him on your letterheads!
"Ha ha, yeah, you know I have a corporation still named after him, my publishing is named after him and my touring corporation is named after him".

The legend of Ron the dog lives on!
"Yeah!"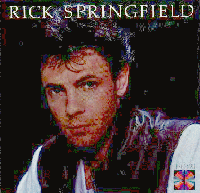 With no rest for the wicked, 'Living In Oz' was released in 1983.
The style took many by surprise, it was harder edged, more urgent and a more personal record. It was also a noticeably tougher looking Springfield, with the fresh-faced teen idol left behind for an unshaven rocker.
Back to the production team of Springfield and Bill Drescher, the album again sold beyond double platinum mark, and gave Rick his fifth Grammy nomination in three years.



How was the style change received?
"I think a lot of the critics didn't get it because they weren't expecting it, but a lot of the audience did. I gained a lot of male fans because of the style of guitar playing on it. But none of my stuff has ever been particularly well received by critics. In fact the second one, 'Comic Book Heroes' is probably the best review I ever got.
So, you know its kinda no big deal to me now, but it hurt at the time.
A lot of musicians' say that was their favorite album, and to me now it still holds up".

I hear 'Living In Oz' used as a benchmark by a lot of people, for a great album of it's time.
"We had a point, where there were a lot of people involved in it. It was the right combination of people. Mitchell Froom played keyboards on it, Richard Page of Mr. Mister sang backing vocals on it.
Bill Drescher and I did the album completely ourselves. I looked at other producers, who I wanted for that album but I thought fuck it, I'll do it myself.
We had a lot riding on it. I was going to use Keith Olsen, but Bill and I had a vision and we went with it".

You and Bill worked most of your albums in the 80's.
"Yeah, I have always been with Bill. He's actually doing the new record with me".

With the Human Touch single, you must have been one of the first guys to release an extended version of a song.
"Yeah, they were just starting to do that in England, and I was very focused on England at that point.
We did it the hard way, we actually did a long version of that song, and cut it down for the album. It was a fun thing to do".

1984 was a year for risks. 'Hard To Hold' was to be his next project, a movie and an accompanying soundtrack. It was Rick's first foray into acting since he left General Hospital in 1981, and his first solo full-length feature film.


The film starred Rick with Janet Eilber and Patti Hansen.
It centered on a performer who was having trouble writing songs for his new album, and combined with personal problems, was creating conflict within the band.
It was a plot that would later prove more true to life than anyone would have wanted to believe.
The soundtrack featured 7 new Rick tracks, including one instrumental.
The lead single 'Love Somebody' became a huge hit, and comprised a new and fuller rock sound.

What made you decide you wanted to do a movie at that stage?
"Probably ego! More than anything! I did like acting but I didn't like it as much as I do now. But I did like it and thought it was a vehicle, to do more.
But a lot of it was ego The script was not as strong as it could have been.
But I thought, I'll do some songs and make it right. But it was a lot harder than that.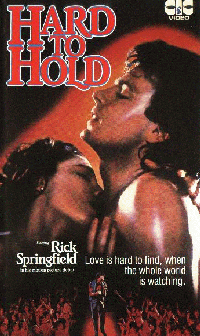 A lot of people liked the album from it.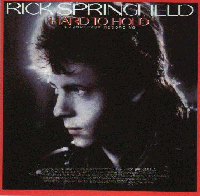 "It was fun to do, and I have good memories from it".

'Love Somebody' was a huge song.
"For a lot of people, that was a real turning point in my writing".

Not well received critically, 'Hard To Hold' the movie is now a hard to find video, while the soundtrack was deleted in 1986.
Thanks to the US based cult re-issue label Razor and Tie, a digitally re-mastered 'Hard To Hold' debuted on CD in 1995.



The musical climate was changing, and so too did Rick Springfield.
With an album technically and sonically far beyond it's year, 'Tao' was unleashed on the world, late in 1985.
It was a stellar departure from anything Rick had ever tried before. The album was much more experimental and complex than many expected.
It featured a heavy mix of guitar, synthesizer, vocal effects, sampling and drum machines.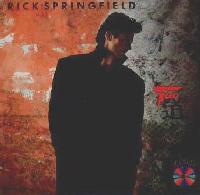 What made 'Tao' so outstanding in it's approach?
"We just had a lot of new ideas. It is probably the one I experimented on the most. Whatever I thought of we tried it. It was just when sampling was just starting, we got really into the drum sampling. But we started on just a BMX. A little BMX drum machine, all the original drum tracks were laid down on that, and then we triggered other drum samples from that.
It was built up track by track".

Tao was layers deep in guitars, sampling and vocals.
"There is a lot going on, you can really hear it. We covered it with a lot of guitar and bass. That is still my favorite album".



It is my favourite record also. Did the critics get it?
"No, they though I was trying to be meaningful, which to me was true, but at that point they were just looking for ways to invalidate what ever I did.
It was no big deal.
But people who hear it get it".

Lyrically, it was also a new Rick Springfield. Noticeably darker and more personal than ever before, the audience was given an insight to the personal battles Rick had been fighting.
One of those battles came to light on 'My Father's Chair'. As a heartfelt goodbye to his father, it was the second song about his father's death, ('April 24, 1981' being the first), and Rick said at the time 'I always wanted to write more, because I certainly felt more'.
The tour that supported 'Tao' featured video images on a big screen, of his father and homeland, displayed while Rick soloed on a grand piano.

Several times you have written about your father's death. That was obviously hard on you.
"Still is. My Father's Chair is probably the song that I have written that has gotten the most attention from individuals, as a really meaningful song.
In the end, that is what I write for, that connection with people".

What was to follow Tao, would be one of the toughest periods in Rick's career. Just as the momentum was beginning to build once again, his career came to a grinding halt. Rick fell into a period of writer's block.

When he did come out of it the album 'Rock Of Life' was the result. It was late in 1988.
Featuring the darkest material in his career, 'Rock Of Life' was a moody, introspective and very personal record.


The band had altered somewhat, although long time friend Tim Pierce was still present. Dann Huff and Alan Pasqua (of Giant) were also on board, as was Jeff Silverman.
The title track was released as a single, and the video was the most expensive Rick had ever made.
The sound of 'Rock Of Life' was much more stripped back than the 'Tao' record, although the high tech AOR sound, and the techniques learned while recording 'Tao' were used again.
The album featured another departure from his established sound, with a dancier beat, and a less hard-edged guitar sound.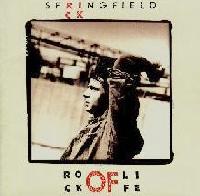 Three years between 'Tao' and 'Rock Of Life'. Writers block?
"Yeah, major. And then after Rock Of Life again".

The songs on Rock Of Life were amazingly dark.
"Yeah, very dark at that point. That's why I took some time off. It was a pretty dark time".

That is something I have always admired about your lyrics, you are very honest in them.
"Yeah I try to be. I don't really have any other choice. Otherwise I don't really have anything to write about! Ha ha.
I have to write about what is going on inside my head. I just have to start there or I just can't go on".

The demons that Rick fought off to write and record 'Rock Of Life' soon returned. Worse than ever, writer's block forced Rick to abandon any further recording. Instead he turned to his other love - Acting.
The next few years proved to be as busy as ever for Rick, with a full workload of acting projects.
In 1989 he filmed the movies 'Dead Reckoning' and 'Nick Knight'.
In Nick Knight, Rick played a cop with an unusual background. He was a vampire! Only capable of working night shift, he was on a quest to make himself mortal, with the help of a friend on the force.
The made for TV movie was a pilot for what they hoped would become a series.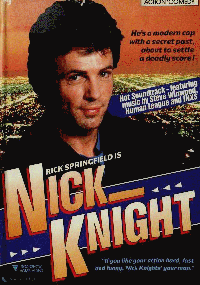 "Nick Knight would have been good, if they had of continued.
It was originally going to go into a series from that pilot, we were ready to go on with that series, but it got canceled at the last minute.
They eventually picked that up.
Indeed it did, but not until two years later, re-written and without Rick.
It was a cheaper version of the movie, but not with the same style. They put a lot of money into the first one.
Some other TV channels were bringing out shows about baby animals and Doctors living in Hawaii, and cowboys, and they found it a little offensive.
They kicked it off air until it was, I guess they thought until it was a little more politically correct!
It's all a crap chute".



In Dead Reckoning, Rick played a psychotic lover of a married woman, who kill's her husband, and even turns on her. It was the darkest role to date for him, and one that he enjoyed most.
"I liked Dead Reckoning, for the character was a lot different for what I had played at the time".



You were one bad dude!
"Yeah, it was very different. The writing was quite good too, which hasn't been the case with some of the acting things I have done. Ha ha.
I am a bit more of a whore with my acting than I am with my music! In fact I am not a whore with my music, but I am with my acting.
I have kinda accepted that!"

So your sacredness is saved for your music.
"I think I am okay with my priorities on that".

There were other movies over the next couple of years such as 'In The Shadows', 'Change Of Place' and 'Silent Motive'.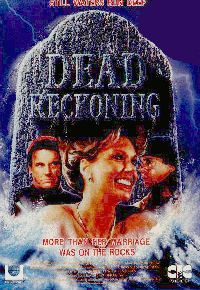 There was also a TV series. His first role since General Hospital that wasn't a movie, 'Human Target' was maybe the classiest show Rick has been involved in. In the style of 'Mission Impossible', it was Rick's character's job to come to the rescue of someone in trouble, and using disguises and high tech gadgetry, he had to save them from the threat. Despite the quality, the show unfortunately only lasted the single season.

"That was a lot of fun. It had a lot of promise. Once again the writing wasn't enough to carry it".

Back to movies, 'With Harmful Intent' featured Rick only in a secondary role. As a musician in a faltering marriage, the tension escalates after a car hits his son, and a plot to have his son killed is uncovered.
Rick also appeared in three episodes of the TV series 'Robin's Hoods', filling in for one of the regulars.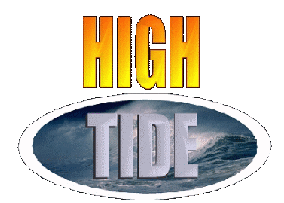 While always writing and recording at his home studio, the block had still not fully cleared. At the same time a new TV series was launched, with Rick at the helm.
High Tide has become the longest running series that he has been involved in, now in it's third series. It is a murder/mystery series set on the beach, In what could be best described as 'Murder She Wrote' meets 'Baywatch'.

Has 'High Tide' been a good experience?
"It's pretty good. I like acting a lot".



Well you sure have been involved in a lot of projects. Even now, you have just finished doing a new movie?
"Yeah, Legion. It's a Sci-Fi thing".

Sci-Fi is a little bit different to what you have done in the past.
"Yeah, it was a different part".

High Tide is in its third season. Is that the most successful thing you have done with TV?
"No, I think General Hospital is still the best-known thing. That is what I am most remembered for as far as acting goes".

This whole time, Rick was fighting writer's block, but always recording demo's in his home studio.
During the early to mid 90's, Rick wrote and recorded an array of songs, but until now they have never seen the light of day.
There were sessions with Jeff Silverman, who helped out on the 'Rock Of Life' album, and long time friend Tim Pierce.
With Pierce, Springfield had the idea of forming a band project with a harder edge sound. Piece called in friend Bob Marlette, and a union was formed.
More than a dozen songs were written and recorded, but a release was never seriously considered until recently, when Sahara Snow was born.



The Sahara Snow record was conceived after Magnus Sodverkist, a long time contact of Rick, had formed a new label in Europe - MTM Music.
He approached Rick at the prospect of releasing a collection of these demos as a record.
Rick agreed, but not wanting to class it as a solo record, or a full studio album, it was agreed the project would be given a band name.

"It was just sitting around and, Magnus from MTM wanted to put it out, so I said yeah".


How does it feel to have a new record coming out?
"Um, I don't know - it's not like it's a solo record though. It was fun putting it together. I had a lot of fun putting it together. I had to assemble it all again, remaster it, and re-mix a couple of things. It was fun doing that, cause I love that part of the process".

The album consists of two tracks from the Springfield/Silverman sessions, eight tracks from the original Springfield/Pierce/Marlette sessions, and two new songs. These new tracks come from two different sessions Rick has been involved in while recording a new solo record.
The track 'Stranger' is co-written with AOR heavy weight Mark Spiro, and is from solo sessions in 1996, while 'Lust' is from the latest 1997 sessions.

The label cut the album down to 12 tracks, from 14.
"Yes it is. What we have left off is 'Why Don't You Dance' and 'Love Receiver'.

Oh no, I thought 'Love Receiver' was hilarious!
"Ha ha ha".

That was a great tune! Lyrically very funny!
"I don't think the Germans got it! Ha ha".

Well I am glad I have a copy of it. Not politically correct?
"Yeah, maybe!"

It has been a busy 18 months for Rick. There have been a number of projects, including staring in the new movie 'Legion', the mixing and re-mastering of the Sahara Snow tapes, and recording the new solo record.
That above everything, is where all Rick's passion and energy has been focused.
With the block cleared, we have back the classic Rick Springfield of old.

Lyrically, how are the new songs? Dark again?
"Err, there is some darkness, but it is not from the same dark place. Ha ha.
It is from a lighter perspective now".

So you are happy with things then?
"Yes, I went through a pretty dark period".

You have had some great ups and downs during your career.
"Yeah I think that's what makes you. I want to be around for a long time, doing what I love to do. I have been through my share of valleys. I am waiting for the peaks!"

For the first time since his solo records in the seventies, the new record features Rick writing, producing, and playing all the instruments himself.
And the lyrics are back to their haunting personal best, with all the angst of the battles he has faced woven into every line.
A small hint of what is to come can be found on the final track of the Sahara Snow record, 'Lust'. It was one of the last tracks finished, just prior to the mastering of the Sahara Snow disc.
It is a new sound for fans to get used to, a stripped back guitar driven pop rock sound, back to the hard edged guitar of Working Class Dog and even Living In Oz.

"It will be out this year. Late this year or early next year.
I may be putting it out on my own label, I'm not sure yet".

The lyrical tone throughout the upcoming record tells the tale of Rick's journey through his career, of the high's and the lows. It is a life-spanning tale of personal glories and regrets, and will give fans an insight never before imagined, even more so, than the lyrics of 'Rock Of Life'.
It is something to truly look forward to.



---
BACK TO MelodicRock.com
c. 1997 - Andrew J McNeice and MelodicRock.com.