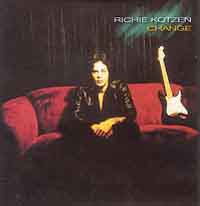 Richie Kotzen: Breaking up is hard to do....


Guitarist, singer and songwriter Richie Kotzen talks about his new solo albumm Change, plus all things Mr. Big and that new Influences & Connections record.


Hi Richie, thanks for taking the time out to answer some questions for me. How has the album been going where it has already been released?
I am very happy about the way the CD has been doing. In Japan we have had 2 TV tie ins. One with the song Change and another with the song Get A Life. I will be touring Japan in September and plan on touring Europe in November. We made a new deal with Frontiers for Europe and they have been doing great with the new CD. Change will
be released in north America on Shrapnel Records within the next few months.

You are an extremely diverse guitar player - has that helped in the
marketing of your name, or hindered as the press doesn't know what category
to box you into?
I can't say if it has helped or hurt. I am who I am. When I made my first CD I became known as a guitarist. As time went on and I made more records I was able to express myself artistically. I think the last CDs change and slow really define who I am as a recording artist. My music has never been considered mainstream and I am fine with that. I am very satisfied making music that I believe in and very grateful to have an audience who accepts these records.

Do you have a style that you personally enjoy playing more than any other?
I have songs that I have written that I enjoy playing more than others.
Some songs work better live than others. I have made a lot of instrumental
music but the songs I enjoy playing most are the ones with vocals.

Do you have a favourite solo album out of al those you have so far recorded?
My favorite CD is most definitely the new CD change but I say that every time
I make a new CD.

Your work in Mr. Big was varied also. The bluesy Get Over It was well received, but I must admit, I though Actual Size is a monster of an album. Does it bug you that the album didn't get a wider release then only in Japan?
No, I knew going in that the CD would be made for Japan. The style of record
Mr. Big made was not something that Atlantic wanted to push in some of the other territories however it did very well in Japan and southeast Asia. As a band member my concern was making the best CD we could for our market and I am satisfied with the result.

Is there any progress on that issue, or is the album too old now to
market/release anywhere else?
to be honest it is not something I have thought about. the band has been broken up for more than a year and there is no reason to believe we will work together again. it is sort of a non issue at this time.

Any idea where I can find that farewell concert on DVD?? It's bloody hard to find and I've had others e-mail me the same thing!
I would suggest taking a trip to Tokyo... I know tower sells it there.

I remember reading comments you made at the time the band split - something
along the lines of "oh no, not again!" How do you deal with such events?
I played with Mr. Big long enough to make 2 studio CDs and several compilation/live CDs. I had a great time working with all the members of Mr. Big and even got to share 2 guitar magazine covers with Paul Gilbert their original guitarist. Over all the experience was quite positive for me but we all felt it was time to move on.

Was this as bad as or worse than the split from Poison? Once again, I thought
the album you did with them was fabulous and was always disappointed there
couldn't be more.
I enjoyed the split with poison much more. a lot more excitement. This break up was quite dull.

Is there much material within the Kotzen vaults that has not been released?
I have plenty of unreleased material but it is not very good. That is why it
never came out...

Let's talk about Change - it's now to be released in Europe through
Frontiers records, you must be happy with that?
I am very excited about working with Frontiers. They seem really into the record and understand the music. I was recently in the UK performing and was surprised to see how many people want to hear the new record. I am looking forward to going back to Europe.

It's another very varied record - how would you describe the music and
songs on this album to someone that hasn't heard it yet?
To me its just a Ritchie Kotzen CD. I don't understand when people talk about my style being so varied but I hear it all the time so it must be true. when I make a CD I write
songs and put them on the disk. this is the result. it is simply a Ritchie Kotzen CD.

And an acoustic version of Shine. What prompted you to do that track again?
My label in Japan wanted something different so we decided to do a version of my song shine with me singing. Since there already was a band version I made it acoustic and wrote a new bridge for it.

And where does the bonus track high come from?
I went in the studio one night and decided to do a live acoustic version of the song.
Frontiers heard it and decided it would be a cool bonus track to add to the CD.

The Influences And Connections project is very interesting - who's idea was it?
I'm not sure... however a large portion of the CD was recorded in my new studio Headroom in north Hollywood. You can see it at www.headroom-inc.com
I know a lot of the vocals were done there. John Waite, Joe Lynn Turner... I got them Keanu Reeves and Bret Domrose from Dogstar to play my song Shine.
I think the idea was to have friends of Mr. Big members play our songs on the
CD so its not really a tribute CD exactly.

It is being released as volume 1 - any idea who might be the subject of
future volumes and will you be a part of those?
I don't really know but if I'm asked and I like the music then maybe...

You actually sing lead on to be with you. Any reason you chose that track?
I wanted to sing something that would be unexpected.

You have a good website set up - do you interact with those that use the
forum very often and do you see the site as an important tool to keep in
contact with fans?
Yes I do post from time to time. I like hearing from the listeners. I like knowing what they think about the live shows and the CDs. I usually go to the site once a month and check out what is going on. it brings everyone much closer.

What's next for Ritchie then? Any chance of a new proper Mr. Big album in
the future?
I would say no chance of a new Mr. Big CD in the near future. I am touring Japan in September with plans to come to Europe in November. There will be a new Kotzen CD next year along with a jazz CD that is currently in the works. I am very excited about this project. I have been speaking with Lenny White about playing drums and doing some co-writes and he has been very positive. Hopefully it will come together.

Anything you would like to add?
Check out my web site at www.richiekotzen.com for future show dates and new news.... thanks!!!