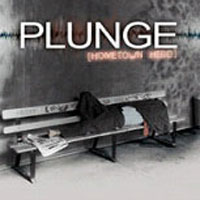 Plunge: Jump into this new band...


Plunge frontman Mike talks about the band's debut album on Atenzia Records and working with SR-71.


Hi Mike....Plunge is a new name on the scene - can you introduce the band to us and tell us a little of the history behind the band?
Plunge is a new name to the scene in Europe but we actually started the band back in 1995 in Baltimore Maryland. It's your typical story where a bunch of kids from the neighborhood with a love for music picked up some instruments and then we were off. When the music bug bites ya, it's hard to shake.
The members of the band have changed a couple of times over the years but the line up we plan on sticking with is: Mike Ruocco - Lead Vocals/Guitar, Mac Calvaresi - Drums/Vocals, Brian Magill - Bass/Vocals and Chris Shucosky - Guitar/Vocals.

For those uninitiated, how would you describe the band's sound and what
song should people check out to best get what Plunge are all about?
Our sound is a really hard thing for me to describe. I feel like we incorporate aspects of bands like Bon Jovi, mixed with a little bit of the Goo Goo Dolls. I guess it really depends on the song you are listening to. As far as a song to capture what we sound like, I guess I would say "Hometown Hero", because that song means a lot to us and that sound is the direction we are aiming towards.

Hometown Hero the album has been on the market in Europe for a few months now, how have you been going promoting the record and getting the new name out there? Our label Atenzia Records has been focusing on print media and the internet to get our name out there. We have also gone to radio with the single "Wasted On Your Love".

Your involvement in SR-71 should also be mentioned - where did you team up
with Mitch?
Plunge used to open for SR-71 in Baltimore (where we are both from) before SR struck it big and we established a friendship then and maintained it over the last few years.

How has that helped you develop Plunge - which has been a long standing
idea for you?
Being in SR enabled me to learn the business from the aspect of a band on a major label, which was and is my goal for Plunge. Also I have had the opportunity to tour quite a bit and meet a ton of cool people along the way.

How many songs did you have written for the debut album and what selection
process did you go through to come up with the tracks you used?
We had written a ton of songs for the record but we all pretty much knew which ones we wanted to go on the record. That being said there were maybe 2 songs that didn't make it on the record but that is the way it goes sometimes. Some songs just don't "Gel" in the studio, so you have to move on.

I must say that I remain a huge fan of Running Away and One More Time. What
was the inspiration behind those particularly passionate tracks?
Thank you for the compliments on those songs. Running Away is a song that I had written about a particular time in my life and career where I felt unsure and alone about where my career was going and who I was working with. One More Time on the other hand is about a relationship I was in and the vigors of trying to make things work out when you know that the relationship in over, Love can be rather hard headed I guess you could say.

It looks as if you have been working the band pretty hard in respect to touring various places. Tell us about that and I'm also very interested in your AFE tours to Japan and Greenland. Tell us about those!
I truly believe that a major part of the success for any band, along with maintaining that success is Touring and establishing a loyal following. That being said I have taken it upon myself to book the band on an East Coast tour hitting every major city we could, along with establishing a relationship with the AFE (Armed Forces Entertainment) who bring entertainment to our troops overseas. We all have family in the military and we were happy to volunteer our services to bring these young men and women a little bit of home, wherever they might be. The first 2 tours we were offered were Japan and Greenland, both of which were equally amazing experiences. Being able to tour and see the world is an experience like no other.

How did you come to be in the position to do those tours? Any more planned?
We do not have any AFE tours booked at the moment but we definitely plan on continuing to tour in the US in the spring and overseas soon.

Has there been a lot of support for the band and album in your native USA?
I know it's a hard market to crack, but your sound is every bit as contemporary as many others doing chart business.
We have had good success in our Hometown of Baltimore and the surrounding areas but we have not broken "big" across the US, but this is what we are trying to do by touring the country and making records.
Are you selling CDs at gigs - how has that worked out for you?
We sell our record at every show; this is working out great and has been getting really positive feedback thus far.

What's the game plan for Plunge during 2005?
Plunge plans on touring on and off all year while preparing to make a new record sometime this year.

Favourite songs from the debut album? What go over best live?
It's hard to say what our favorite songs are; I guess it depends on our mood. The songs that go over best live.... I think I will let the audiences decipher that....

And what's the latest with SR-71? Here We Go Again was a killer album - I
really enjoyed it. I find it disappointing that it hasn't been getting solid airtime in the USA thus far.
Thank You, the music business and sometimes things that have great potential never see the light of day, and unfortunately there is no real explanation why.

Anything you would like to add Mike? Anything I missed?
Not really, you asked some great questions. Thank you for your time!

Thanks for taking time out to do this interview!
My pleasure.