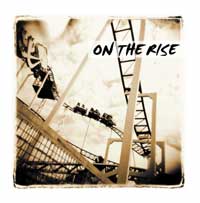 On The Rise: A band well and truly rising in the AOR world.


The duo that is On The Rise - Terje and Bennech talk about the construction of their debut album, which I hope will be acclaimed by many in 2003.

First of all - congratulations on this fine album of yours. It's hard to believe it's your debut album.
Thanks a lot Andrew. We appreciate your compliments.

How did you achieve such a great production sound for this album?
I used a lot of time developing my guitar sound to the songs and completed the arrangements at home before we started to record the album. Eirik Gronner came up with solutions to reinforce it and made a brilliant result by amplifying my guitars once more in the studio (Ravnaberg Studio).
I was recording my own guitars at Bennech's place on a 16 tracks recorder and dropped in and out by the time I was finishing three or four songs. It all ended well and we completed the album with a mix where Eirik did the final adjustments that was needed to make it all sound really good.

Naturally, the production is pointless if the songs stink - which thankfully is not the case on the album. Who wrote the album's great songs?
We both contributed with a lot of songs to this album, and together with Serafino we decided to go for the following order and the writers are :
Beat Of Your Heart - (Terje Eide & Geir Johannessen)
Lift You Up - (Bennech Lyngboe)
The World Of Change - (Terje Eide)
Memories Forever - (Terje Eide)
Pride - (Bennech Lyngboe & Freddy Olsen)
Leaps And Bounds - (Terje Eide)
Running In The Night - (Terje Eide)
Keep Our Love Alive - (Terje Eide)
Stay Away - (Terje Eide)
Sadness Hits Like A Stone - (Terje Eide & D.O.Nilsen)
Two Young Hearts - (Bennech Lyngboe & Terje Eide)
Could Have Been The Last Time - (Bennech Lyngboe & Terje Eide)
Stranded - (Terje Eide)
The Moment - (Terje Eide)

I can hear a lot of great influences in your music - in your own words, what are your influences and why and how have they been included in your songs?
Terje: - My influences in music are Van Halen, Deep Purple, Whitesnake, Bryan Adams, Def Leppard, Ronnie James Dio, Ritchie Blakemore's Rainbow, Journey, John Farnham, Steve Perry, Kiss, Steve Vai, Gary Moore & Toto. I've been influenced by these artists since the day I started to play. The reason why is that they're representing the performance of high quality. I learned by picking up details from records and I developed my own way of singing and playing guitar, and I think that's how the influences has been included in my songs as well. Everybody's got their own source of inspiration. It's been a natural process for me to write the songs on the album. I think it's really nice if someone thinks your music are influenced or even compares your music to well known artists, cause I believe you should take it as a compliment !
Bennech: - In early days my musical influences was Bruce Springsteen. Later on I discovered bands like TNT, Journey, Def Leppard, Bryan Adams, Dokken, Iron maiden, Lynch mob, Toto, Van Halen and some others....

For those that haven't checked you guys out - or are about to - how would you describe the album and the style of your music?
Soaring and immediately hummable melodies, catchy choruses, in your face guitars and all the elements of AOR/melodic rock songs are all together on this album.

How long have you been working on this debut album and it's songs?
It took about 4 months to finish the record in the studio, but the whole process of making the songs started in January 2001. We made a demo and Frontiers signed us in January 2002.

What are both of your musical backgrounds? Other bands? Past histories...
Terje: - I captured the public ear at age 16, as singer, guitarist and songwriter. My musical career began in earnest a year later, through winning a local talent contest.
I later enjoyed a stint with the band Heaven & Hell, a rock institution in Bergen in the 80s. In 1986 I won the Norwegian National Rock Championship on national TV with the band The Heat. I started my own band a few years later called Tripolis. I've spent the past 9 years exploring various musical genres, as well as playing with local artists as a guitarist, singer and backup singer. This capacity landed me a variety of large-scale shows and concerts, backing acclaimed Norwegian artists.
Bennech: - It all started in 1987. After a few years of honing my talents as a singer, guitarist and songwriter, I tried out ideas with local rock bands, both as a live and a recording artist. In 1995, I released my self-financed single "Leaves Of Fall". The entire first edition of 1000 copies sold out in Bergen music stores, and the single enjoyed three weeks on the Hordaland Top Ten. Since then, I've been busy with my own and other's studio work.

What is your philosophy as a band - where to next and what are your plans?
We want to go as far as we can with our music. In the start we were not goal oriented but as time's gone by we've got an amazing feedback, and it really inspire us to go further on. We're in a process where we try to complete the line-up for live performances and our plans are not completed yet.

I heard that a bidding war broke out in Japan over signing this album - you must be very proud of that and the result of the album as a whole!
We're already signed to KING RECORDS in Japan, so I believe the fight is over.

What other artists do you enjoy listening to?
Terje: - Actually, these last couple of days I've been listening to Raised On The Radio by Journey (This is a great production), "Last Of The Runaways" the classic album of Giant (This record won't be forgotten at all, it's another good sounding production), "Big Ones" by Aerosmith and the compilation album "ROCK THE BONES" released by Frontiers. There's some great artists/bands on this record. Looking forward to their releases.
Bennech: - Lately I've been listening to the last compilation album of STAGE DOLLS, and some of the latest JOURNEY records. I'm still dreaming of a JOURNEY record with STEVE PERRY on vocals.

As this band is a newcomer to the melodic scene, how do you view the scene and how could it be improved?
I think if you want to create or even explore a new area of melodic rock, then I believe everyone should have more patience in writing better songs, making better arrangements & use more time on developing a good sound of the productions.
It's better to make one good record and to use what's needed of time to finish it, instead of releasing several half-done records every year. I don't believe in making records in a hurry, but sometimes it's needed to do so if the artist doesn't want to be forgotten. But then it's a gambling. All of a sudden you've got a choice to make, who wants that!!? In the end it's the music and the quality of it that makes the profits and the world go around.

I believe we're in a process that will shape and engrave our creativity as an artist. Such as this moment of amazing feedbacks. It's an inspiration and it will contribute to keep us going and hopefully to write even more good songs in the future. I believe our songwriting will reflect upon our feelings to what's happening right now. I think we'll improve ourselves by going a few steps further on with our songwriting.

How can other artists achieve a production sound and quality similar to On The Rise, with the financial constraints many artists work under these days? What advice can you offer?
We've been so lucky to have such great friends in the business who believes in us and the one in this case who really have been giving away his goodwill and inspiration on this record is Eirik Gronner (The producer).
This has been a very special occasion, cause we all wanted to make a great record including Eirik. If you get the chance to meet such great guys as him, then you're lucky. There's no good advice other than to look out and find the people who believe in your project, that includes the great team at Frontiers as well.

Would you mind doing a track by track for the album - some comments about each song on the record?
Beat Of Your Heart - Terje: - I wrote this one with an old friend of mine. Me and Bennech wanted to put it on the album because of it's catchy groove and good melody. It's a story about having a glamorous life and loosing it, to keep on wanting and hoping for it to return.

Lift You Up - Bennech: - I wanted to write an uptempo song and while I was jamming, I found the lyrics who became the chorus later on. It's a song about the promises we make for each other, but somehow we can't manage to keep.
Terje: - Bennech came up with this idea and I started to work on it right away as well as putting the arrangements together with him.

The World Of Change - Terje: - It all started with a acoustic guitar and a melody I've always wanted to complete. Then I tried to combine it with a rhythm I've always wanted to use. It all came down pretty well. I had some thoughts about the lyrics. Everything that I had in mind came easily down to paper. You know everybody's got their own thoughts and opinions about the politicians and what they've accomplished or not, and it combines the reflections of our history and the natural disasters as well. Writing lyrics like this isn't because you want to change the world, but if it gets the attention and people starts to think then I'm happy.

Memories Forever - Terje: - It didn't take me long to make this song. I even finish doing the lyrics before I finished the arrangements. This is a song about when you've had enough of heartbreaking stories, and then you want to spread your wings and fly. Do your own stuff for a while. Think things over. But when it's far gone, you'll never forget the love that meant something. No one can change that.

Pride - Bennech: - This is a song I wrote back in 96 and it inspired a friend of mine to write the lyrics and the story of himself.
Terje: - We both wanted to make it rougher than the earlier version, and I started to explore different angles on how to settle the right guitar chords. I wanted to keep on going for the policy of "less is more".

Leaps & Bounds - Terje: - This is one of the first songs I made for this record. I felt we needed a song to unite our voices in harmony. Basically I felt like making it rougher, but I didn't do it until we were supposed to record it on the album. Lyrically I came up with the idea of making a point out of the world's scientific eruption. I just had some thoughts about how fast things are going these days. Take your time out and look around. Do we dare !!? We forget to live our lives sometimes.

Running In The Night - Terje: - This is an old song of mine and it's a part of my history/collection as a songwriter. Lyrically it's a about the wars and the fights that surrounds us every day. How hard it is for the young ones to grow up and how to experience the first moment of showing up and to be accepted. It could take place anywhere and this guy has got the guts and confidence, but that's not enough in a world who's not too safe.

Keep Our Love Alive - Terje: - I wrote this song for this album and I believe it's the fastest song I've ever made so far. This is a song about when love is growing, dying and tearing us apart. It's about not giving up a long lasting love by seeking more of the unknown knowledge of each other. It all depends on how much we care about our valuable time together; if we're gonna keep our love alive.

Stay Away - Terje: - In this song you can catch a glimpse of two different styles of music. I enjoyed singing it. This is a song about the guy who observes that time is running by and he feels like not having enough time to do everything that he wants to do, and his reflections upon why we never learn to stay away from all the unnecessary troubles we're making out of our ordinary day of life.

Sadness Hits Like A Stone - Terje: - I wrote it a few years ago and a friend of mine said I had to put it on a record sometime. He wrote the lyrics as well. I started this year to finish the new arrangements. It all went pretty well. Sadness is a part of us all and loneliness is something that surrounds us everyday and do we really care about the ones who's too lonely??

Two Young Hearts - Bennech: - This is the first song I wrote for this project. I came up with some basic chords and a melody where we both contributed to the arrangements of the song.
Terje: - I completed this song with the solo part and wrote some words about the guy who's looking back at the days when he was young and certain things like a certain scent can remind you of someone once very special, at a time when life was easy. These are just some of the things you never forget. These memories do last a lifetime.

Could Have Been The Last Time - Bennech: - Actually I had the plan of making this song as a power ballad, but in the process it became as you all can hear today. This is a story about me and a girlfriend.
Terje: - Bennech came up with this brilliant song. He had some thoughts about the story and it was my contribution to substantiate the story by writing the lyrics and completing the arrangements.

Stranded - Terje: - This song is about a man who's tired of the ordinary day. He wants to break out and realise his dreams to come true. There are always opportunities in life, it's just the matter of believing in it and to grab a hold on those few chances you'll get.

The Moment - Terje: - This is the song of my heart. We wanted to end this record as easy as we could. Without drums and bass. I think it was a nice choice to make. When you've met someone special and it's your love of life, then it's not so much to tell by words but to
listen and to keep the moment forever.

Anything you would like to add guys?
Thanks for all the amazing feedback we've got so far from fans of AOR/melodic rock.

Thanks again for taking the time out to answer these questions!
Just a pleasure.