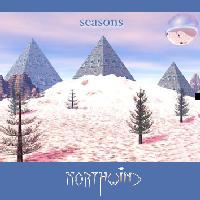 A 20 Questions Interview with guitarist Chris.

G'Day Chris! Tell us all about the band, and the line up?
Based in the North of France 'Charleville Mezizères'near Belgium, Northwind is Franck - vocals, Gilles - bass, Nico - Keyboards, Yannick - drums and me guitars.

How long have you been together? I started with Franck the band on the summer 2000,the actual line up was drafted in september 2001.

What is the best description for the musical style of Northwind? I think Northwind play melodic Heavy Metal mixing old and new influences.

Who did the artwork for the CD cover?
The artwork was made by Mathiew Bennett, based on a idea from Phil Igram from England.

First album ever bought?
I think it was Lovedrive by Scorpions. After some AC-DC, Saxon, Motorhead, Van Halen.......

Biggest musical influence over career?
My favorite band will be forever Thin Lizzy, many melodic bands like UFO, Pretty maids, TNT, Ozzy........and lately Stratovarius.

What other bands have you played in?
Many unknown local bands, in solo and the last one was a French Metal band call Heavenly (Noise Records).

Last album bought and what is on your current playlist?
The last album I bought is Thunderstone, Ozzy 'live at Budokan', on DVD too!

Favourite album recorded or project you have worked on?
The Northwind album 'Seasons'is my favorite one but i still like Dreamland my 3ND 'solo'album with Franck on vocals.

Where do you live and the best thing about it?
I live near to Besançon in the East of France, and there's nothing else to say about it excepting, maybe, good food!

Best live experience - either playing in or witnessing....
One of my best recall is the tour with Sratovarious in 2000, especially in Prague CZ. The people was so cool!

Is music your full time occupation?
I have to work in a store, you know money, always money!!!

Best thing about playing music?!!
To live 100% for my music, travel a lot, have a big guitar and CD's collection!

Worst musical experience?
The recording of the first Heavenly album! that was terrible!

Best thing about the Internet and e-mail?
To be connected with the entire world fans, médias, finding rare CD's and DVD! actually I receive many mails from Japan, Brasil.... it's fantastic!!!

Biggest personal loss as a result of doing what you do (music)?
Money is the only personnal loss résulting of music actually but I play with passion so, I'm happy!

Biggest gain as a result of doing what you do?
The biggest thing is probably the meeting of varius persons especialy pretty girls (ahahaha!), producing songs that people would enjoy.

Best piece of advice ever given?
Don't stay on your own! go and try to find the way of succes, but stay humble.

Favorite track on the Northwind album?
Masquerade.

Next project planned?
We are waiting for the first part of the Dio concert in Paris (Sept 30), we will play at the next Z Rock festival in Germany (Oct 5), we have some news stuff for the next album and we hope we could make a lot of shows after this.
Many thanks for this interview, I hope my English was ok!