Over The Edge: Mickey Thomas - The voice of Starship returns.
Mickey Thomas talks a little about the Over The Edge project with Fabrizio Grossi, life in Starship and placing a modern twist on the AOR sound.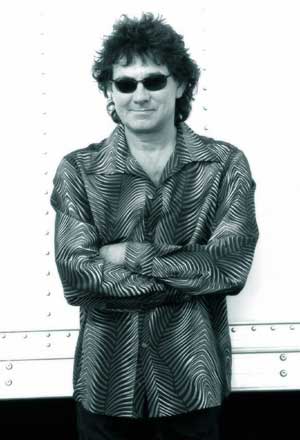 First up-congratulations on a great and lengthy career-you must be very proud of the body of work you have produced.
I'm very proud and I feel lucky and blessed. I've been so fortunate to have unique influences and associates in my career. Everything from Elvin Bishop to Grace Slick.

Let's jump straight to Over The Edge project. First of all, you signed to Frontiers for an album some time ago and at that time it was for an album under the Mickey Thomas/STARSHIP moniker. Can you detail the events of the time between signing and commencing work on OTE and why that project name was selected?
I was originally signed to a solo album. I wanted to do something a little more modern and original. Serafino Perugino from Frontier's really wanted me to do something a lot closer to the 80's sound of STARSHIP. In the end we compromised on the special project CD "OTE" = 80's melodic rock with a modern production.

The concept of the singer picking tracks with Fabrizio supplying the much of the music has been done a few time by Frontiers, but none better than this project. What elements make it as strong as it is-besides the obvious choice of your great vocals?
Fabrizio and I had a great chemistry right from the onset. We were fortunate to have some great songs to choose from, and great writers working for the project.

A few tracks were custom written for the project-did you have any personal input into those?
Yes, Jack Blades & Neal Schon wrote "One World" and "Surrender" for me. After we started the project Jack and Fabrizio then wrote "Over The Edge" and "Glory Day." I just suggested what kind of songs I thought would round out the project.

How about the songs that you picked out yourself-how many were offered to you-how many did you like/not like and what attracted you to the songs you did pick?
I was offered many songs for the project. All good songs but I have to pick the ones that touch a special chord in me. I like to choose songs that I wish I would have written. I chose the 10 songs on the C.D. from a list of about 75-100.

Let's take a look at a couple of the tracks in particular - I love the version of (Thief) I'm Falling even more than the original! That's a great sound for you I think.
I think "Thief" is a song that gives the C.D. a modern touch. It's a great melody and it gives me a chance to explore the lower range of my voice in the verses.

Forest For The Trees is already a bit of an Aussie classic thanks to TaxiRide, what attracted you to a more modern and heavier sounding track?
How was it working with Steve Lukather on that track?
Again "Forest For The Trees" is a modern sounding song and that is what attracted me to it. I've been trying to do something with Steve for 25 years and this song seemed like the perfect vehicle. Steve was great as always. He's also one of the funniest guys you'd ever want to meet. Very clever.

You state that Glory Day is your personal favorite track. For me it was the hardest to like initially, yet one of the most rewarding tracks to listen to in the end. What makes the song special?
I like the fact that the song does grow on you. It's not a song that jumps out at you. The more you listen to it the more the song takes shape. I love the contrast between the verse and the chorus. It's also my favorite back ground vocals that I did on the C.D. I also think this song will be a great stage song.

The Jon Cain ballad is also something special isn't it?
As I understand it "Eyes Wide Open" was supposed to appear on the last Journey album. For whatever reason it was decided not to put it on their C.D. and that was lucky for me. I feel the song is as good as anything Jonathan has ever written and we know what a high standard that is.

Fabrizio is obviously a talented fellow-how do you look back on your experience working with him?
Fabrizio is very motivated and has boundless energy. He was so instrumental in organizing and recording. He kept the project moving and we never lost momentum. He's also very good at producing vocals and is a real diplomat. I can't wait to work with him again.

Given the initial time frame getting this project off the ground, can you see yourself doing another Over The Edge record and if so-when?
Now that we have found our sound and our system for production, I think we should definitely do another OTE record in the near future. Also other projects as well.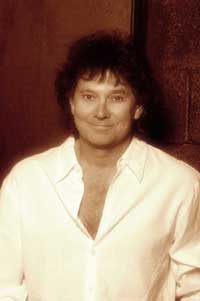 xx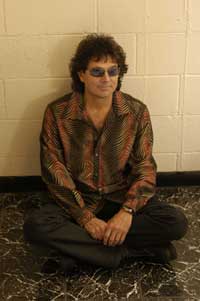 xx

If we could divert to STARSHIP a little-the band has a complicated history-where does it lie right at this point-what's the lineup and is there a recording future for the band?
I reformed the STARSHIP in the mid 90's with a new lineup of musicians. At this point the band is more focused than at any point in its complicated history. It's the best group I've ever been in. We're all on the same page and the camaraderie is great. We play about 75 gigs a year, mostly in the U.S. and we can't wait to tour Europe.

You are doing a lot of touring-like so many other bands, there is more money in touring than recording. How are you finding audiences in 2003/4?
Our audiences are wide ranging. We get everything from teenagers to 50 year olds. I think we're getting close to having no generation gaps in rock music.

I always found Starship's best tracks were the album tracks that received little publicity. Was the band hamstrung by the very commercial hit singles, or is a hit single a win-win situation, given the financial rewards?
I agree with you. Some of my favorite tracks are the ones that receive little attention. I don't think we were hamstrung by the hit single so much as by the long history of the band. Because of the association with Jefferson Airplane and the music of the 60's, any commercial success we achieved in the 80's was viewed by some critics and older fans as a sign of selling out. I'll personally take the hit singles because that more than anything has allowed me the opportunity to have a long career.

Do you keep in contact at all with the guys of the 80's Starship line-up, such as Grace and Craig?
I don't keep in contact with former members. There's really no bad blood. We just all have very different interest and live in different places. I do have a close and personal relationship with the former manager of Airplane/STARSHIP, Bill Thompson. We keep in touch and he keeps me informed of what everyone's up to.

I really enjoyed Starship's work with Mike Shipley - I though tracks such as The Burn and the Love Among The Cannibals album to be on the verge of further greatness. Why don't you think the momentum of We Built This City and Sara continued through that era?
"Love Among The Cannibals" is my personal all time favorite STARSHIP album. I think it still holds up today. I think there were a number of factors why the album was a disappointment. It was the first album after the departure of Grace Slick. There was some backlash from the string of hit singles. Also right after the release of the album we had a serious crisis in the band involving a violent fight that prevented us from touring and promoting the album. It was a huge disappointment but it's still my favorite.

STARSHIP did make a recording recently the Latest and Greatest release. Can you tell us a little about that? Who approached you to do it-was it a good idea and how did you approach reworking the originals?
I just thought it would be exciting to go back in the studio and re-record all the STARSHIP classics after having performed them for 20 years. The songs had evolved a great deal and I thought it would be interesting to capture the evolutions on record. I guess it was a good idea but it was not well promoted.

It was released in Europe - why no USA release - or could one be possible at some stage?
I don't really know why it was not released in the U.S. I don't think there is the possibility of U.S. release at this stage.

And that all said and done - what's next for you Mickey? What's next on the horizon for yourself and for STARSHIP?
More new recordings. After my experience with "OTE" I'm ready to release all sorts of new projects. Also more touring, hopefully in Europe.

Anything you would like to add to anything above and is there a message for fans you have?
I'm so encouraged by the response to the new C.D. I want to thank all of you for your loyalty and support.