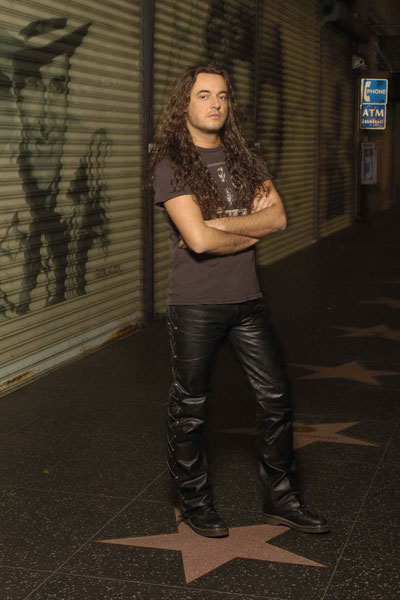 Michele Luppi: The Los Angeles Project.


Italian metal/rock vocalist Michele Luppi goes melodic for an AOR project with Tommy Denander and Fabrizio Grossi. Some interesting tracks are covered and in this e-mail-turned-feature interview, Michele discusses everything behind the project.



Well Michele, the Los Angeles CD has been in stores for a little while now - how have the sales been?
Frontiers Records seems to be very happy about it! I know some countries are doing better than others but honestly sales aren't my main concern; no matter how many copies we'll sell, we want to be sure the people will enjoy our work "deeply and completely". Fist of all Music should be perceived as a form of Art and we have to be sure our efforts will pay back the loyalty of every melodic fan who decided to buy "Los Angeles". I'm pretty sure that if an Album is good it will continue to sell over the years, it takes time to realize the full value of any record… And I have faith…

Where did the idea for the project first come from? Did Frontiers approach you with a plan?
Yes. A couple of years ago Mario DeRiso came to see me live in Naples and since then we kept saying that when times allowed we would have worked together. We've been known each other since '98 but at that time they were starting out and I didn't have the balls to strike!
Actually, "Strive" (my first solo Album) could have been released by them but our schedule didn't match so we couldn't find an agreement. About a year ago Fabrizio Grossi (who's also produced and played bass on "Los Angeles") called me asking me if I wanted to sing on a Melodic Rock Album with Tommy Denander and Frankie De Grasso. I knew some of these guys by name but I wanted to "check" the original versions first… Right after I've listened to "I Must Be Blind" (the very first song I've recorded on the Album) I said yes! I'm glad I took this chance and finally worked with one of the biggest AOR labels of all times…

Were you aware of the team behind the CD at the time, or did you get to know them as the process of the album recording took place?
When I joined this project Fabrizio, Tommy and Frankie were already in. I eventually realized I've been very lucky to get to work with these people; they're all amazingly talented, well known and down-to-earth in spite of their experience; they really made me feel part of a great team and free to do "my stuff" without any limits; Especially Fabrizio gave me a lot of freedom and trust and I'd like to thank him so much for that.

How did you find dealing with the recording of an album over long-distance, or did you fly to LA to record in person with Fabrizio?
It takes a lot of trust and respect to work like this… The strange thing about this record is that it's been recorded all over the world: Los Angeles, Stockholm, New York and Fabbrico. As always, I've recorded all the vocals on my own in my home studio like I did for all my previous Albums. I like to work alone on my vocals… Actually I have to do it this way because my Vocal Sessions are way too long for any sound engineer to stand! Too many tracks! It would cost me a fortune to record my works somewhere else… Anyway, I'm glad the result seems more like a product of a band instead of a "Featuring Album", even though that's what it is. Internet can be a very cool thing…
We all recorded and produced our own instrument and sent the files ready to mix to Fabrizio. When "Los Angeles" was almost done I hadn't even met the other guys! We finally did at the NAMM show last January, and since I was there Frontiers Records booked a photo session with the best Rock-Photographer of all, Mr. Alex Solca. Somehow things got better and better along "the making of process", I'm sure that's because we all worked to give the best performance also respecting the nature of the songs and the new "vibe" we all wanted to achieve.

This I think is the most melodic of a record you have made to date. How did you enjoy the chance to sing in this style over a  heavier approach you normally would use?
Is it really? Thank you, I appreciate that. You know what? I didn't change anything on my style, really. Over the years my vocal approach got heavier and heavier, that has nothing to do with the songs I'm singing. If you listen to "Stream Of Consciousness" you'll realize how "light" I was 4 years ago. My attitude on "Los Angeles" is much more "powerful" than the one I used in that Vision Divine Album even if this one is pure AOR…
I really love Melodic Rock as well as heavier stuff. Maybe following stereotypes is much less risky than "make yourself at home" and be yourself all the time but I don't care... Also, I've always tried to be a little different… I like to be "The Rocker" among the people and "The Person" among the rockers, you know what I mean? Life, heart, love is all a matter of balance and in someway I take the responsibility to make things stand still on the wire and not hung by a thread! You've got to push your music to the next level if you can, respecting the past, looking at the future but focused on the present, the way I perceive my vocals. Am I revealing myself too much?!? Hahaha!

I have read a lot of reviews of the album - most are high in their praise for your lead vocals. It seems you really hit the mark on this factor!
Thank you for saying that! I'd lie if I say I wouldn't care. I take my job very seriously and when I read good reviews about my performance, well, I'm very happy about it. I'm so glad people liked my singing, I take my vocal sessions very seriously and when a new record is out I try to read as many reviews as I can. I feel very lucky to be able to sing with such fantastic players and have full support by Frontiers Records. My main concern while recording was to be ME all the time and give the songs more pathos, not only pushing my voice as loud and clear as I can but also adding huge walls of Background Vocals; they should not drown myself but actually sustain my Lead Vocals. You have to be very precise every time you add a new track, just like when you build a castle with cards and you lay a new one on the top of it…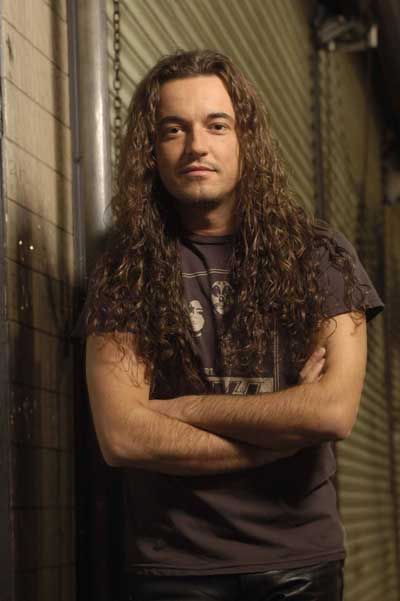 xx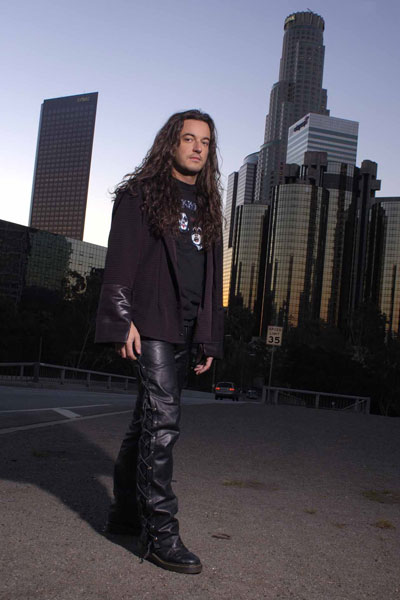 If there has been any negative in regards to the album - it has been to do with the production sound of the album - Fabrizio has a distinct style and sound. How do you respond to that?
As I always do… I've read the review on your website. What can I say? Everybody has their own vision on how a song should be… You can dress up with broken jeans and be cool because it is cool for most of the people… But you'd still wander in broken jeans! All I can say is that as long as you take your ship wherever you want you're a winner… Whenever you compromise for any reason you lose.
If I was the producer of "Los Angeles" I would have made some different choices… But who wouldn't? Maybe the future is to give separate tracks to the fans so they can mix the whole thing on their own! I'd love that! Some producers treat each song the same and all the tracks are pretty much like chapters of the same book… There are others who like to create a "New World" for each song… Who's right? Nobody… Remember that projects like this are not a result of a single mind… The chemistry created may work better for some songs than others.
Honestly I'm quite happy about the master. There may be a couple of songs where guitars are too edgy but you can't call that a mistake… I've learnt not to argue with producers because basically I'm one of them. If they go too far from my prospective I'd fight like it happened before… This is not the case. Making a record is like giving birth to a baby; it may hurt but in the end everybody should be happy!

I'm hoping there will be a Los Angeles 2 at some point - has this been discussed?
And if so - might you use Fabrizio again, or chose a different team?
I guess it all depends on sales. So far people love the Album (I can see it by all the mails I get every day!) and, again, sales are pretty good… I'd say yes but I don't know when! I surely hope there will be a follow up! For what concerns the other matter… Well, I have no idea! I'm not "the leader" of LA, I'm just the singer. It's up to Frontiers… I think Fab is a fantastic bass player and has his own-and-recognizable style as a producer, whether you like it or not. It would be nice to add some people this time instead of changing the producer! I like him, really. We'll see…

Let's talk about some of the songs from the album. Did you pick any of them yourself, or did Frontiers send you a list of songs they felt would suit the concept of the album?
We've been given those 12 songs. Some of them sounded great and some others needed "a special treatment" in order to make the Album sound as "a whole". I find very challenging "improving" a song (from my point of view of course) and give it some "extra life". Honestly, I really have no idea why they pick those songs instead of others. All I know is that once you decide you should go all the way with no regrets, and so far I have none. I think the "how" is what made this Album so special comparing to the "what". We're talking about songs written by masters like Richard Marx… To me it's like painting a beautiful girl; if she's really good, you can either boost her beauty or ruin her with your touch… I hope we didn't exaggerate with lipstick and silicon!!!!

What was the prerequisite within your own mind that each song should have? Why did this set of songs appeal most of all?
I think a good song should be sung and played everywhere from your room to a big Arena. I didn't listen to Guns 'N Roses 20 years ago but over the years, playing their songs I realized how good some of their songs are. Some AOR tunes don't sound good enough live and to me that's always been the lack for this kind of Music: When you rely your performance on too many things like "Big Choruses", many layers of sounds, "Pomp Arrangements" and stuff like that you have to deal with the fact that the bigger the picture is, the easier you'll find mistakes and recognize "pixels"!
Sound is a "bad beast" to deal with and I've leant how to get rid of "accessories" and focus on the essential. I always try to imagine the song "stripped" (just acoustic guitar and Vocals) and see if the song, the melody and the lyrics are worthy. Probably the reasons we like and/or appreciate a particular song are quite personal, regarding our backgrounds and the emotions related. Well, I thought the songs in "Los Angeles" were great even though the original arrangements and the whole attitude were too "light" and "sweet" comparing to the ones we wanted to use…

To a couple of the songs specifically - I Will Carry You was a terrific choice for you! Why this song?
Because… It was on the list they gave me! Maybe when they selected the songs I was already on their mind, who knows?!? I'll tell you a secret about this one… I had no idea this would be the opening track for "Los Angeles" until I've listened to Gregg's Intro. Here's the thing. The main Chorus was too alike an Italian Pop Song sung by an Artist I really can't stand… I had to add big walls of Vocals to hide and I ended up changing the part so anybody wouldn't relate "When You Think Of Me" to that other song I hated! That thing pushed me further and to my big surprise this song became one of the best on the Album! In Italy we say "not all the bad things come to hurt you…"…

I'm also a huge fan of the Night Ranger song Last Chance. That moody vocal fits your mold perfectly. Yes?
You're too kind! Thanks! Actually this is one of those songs where you try as hard as you can to do a decent job and after that you end up hoping you didn't screw up the whole thing! I had to raise the key a bit 'cause I couldn't reach those low notes in the right way… I'm a violin, not a cello! Hahaha! Just kidding… Seriously, I'm satisfied on how the songs ended up. There wasn't much to change on this one… The "West-Coast-American-Yeah-Sunset" attitude in my DNA helped a lot!

Measure Of A Man is a perfect way to close out an album - one of my favourites. What are your thoughts behind this tune?
I totally agree. I liked this one since the very beginning! The Chorus got stock inside my head for the whole recording session!!!! The chords changes and the melody give this song some magic you can't quite buy at the market, for cheap at least! Tommy's Guitar solo is just great, it can really dig you deep inside… I thought most of the people would rather pick up as the favorite one some more direct songs like "I Must Be Blind" which I also love very much… The fact that you like "Measure…" means there's still people out there that go beyond the first listening and try to find new emotions every time… Thank you.

Do you have any other favourites I haven't mentioned?
Sure, today I'd say "When You Think Of Me", "Run" and "Caroline".

Any songs not recorded on this occasion that were left off...but you would still like to sing?
Oh man, too many! Maybe I would rearrange a pop song and make it AOR or pick up some albums people seems to have forgotten… Maybe songs like "Reason To Live" (Kiss), "When The Love Is Over" (Shy), "Under One Condition" (Winger) would have been great on "Los Angeles", don't you think?

Of course we must mention the cameo appearance of keyboard legend Gregg Giuffria! I've seen from your own words already that this was a huge honor for you?
Yes. It's unbelievable. Before I became a singer, I've been a "full-time" keyboard player for quite a while. Keys have been my first love. There weren't many keyboardists to admire back then… I wasn't into Hammond Organs so Lord has never been an influence for me. Only Gregg Giuffria, Geoff Downes and Mic Michaeli got my heart while I was growing up! I used to have a picture of Gregg hanging on the wall playing with House Of Lords, my favorite band from '88 to '93… I also recorded a version of "Love Don't Lie" on my first demo tape called "The First Seal" back in 1990! I've learnt and played all his songs from Giuffria and HOL Albums, "copied" all his presets and sounds… He was the one and only for me. Frontiers made me an incredible present by asking him to join this project! When Fab told me he chose "Los Angeles" to make an appearance and that he actually listened to it and enjoyed my voice, well, I was blown away! Even in my dreams I wouldn't believe there would be a record with both of us on, no kidding! I hope to meet him in person some day and thank him for the amazing Music he wrote… His style is one of a kind, everybody knows that.

I (and many others) have stated that Gregg only appears on 1 song - the brilliant intro. But apparently he is on 3 tracks? What are the other parts he plays?
He also plays on "Caroline" and on "The Other Side"… If you go back and listen I bet you'll find him!!! I'm pretty sure these are the songs he played on even though nobody told me exactly… I've just figure it out!

I must also ask you about your days in LA at VIT. What is the most vivid memory for you there?
I remember me talking with Kenny Kerner about Kiss for hours... I was also asking him questions/advices all the time and he made me laugh a lot while I was there! Awesome guy! He told me so many funny stories about the making of "Kiss" and "Hotter Than Hell"… He was the one who received the demo from the band back in '73, can you believe it?

You also worked there with Robin Randall?
And the sad and untimely passing of Robin's mother and songwriting partner Judith Randall was a terrible day.
Robin was my basic-keyboard teacher… Since I could already play keyboards well enough, our lessons ended up talking about her "friends" and the songs I knew she had something to do with! It was amazing, I wasn't aware she knew personally all the singers and players that I've always admired! On one of the test @VIT I sang and played James Christian's "Love Should Have Brought You Home" without knowing her mother wrote lyrics for that Album… She probably thought I was kidding but I really had no idea of who she was until then!
Whenever someone passes away it's a tragedy. Life can hurt you too bad sometimes but I believe that our spirit never dies away. It may sound naïve but that's what I think. I'm sure there's something after we're gone and that thought keeps me sane, otherwise why bothering trying to sing in tune if someday we won't be here anymore to enjoy it? I've never met Judith in person, only sent a couple of faxes 10 years ago… All I can say that she wrote some songs that will be stuck in my heart forever.

To Vision Divine - what is happening there Michele? Time I think would be right for a new album, being that progressive metal is getting far better exposure and sales than AOR!
You're right! The fact is that our latest Album, "The 25th Hour" has just come out! We're about to tour Asia and South America; we're so excited about it! It seems our last 3 records went very well over there. By the way I didn't join them just for a bigger exposure; I was sure I could melt my Melodic Style to those powerful guitar riffs… It worked, proving that Melodic Rock fits in every kind of Music… As I always say, AOR is "A Certain Way to play/sing Music", not just a brand…

Just on the subject of sales and flagging fortunes of record labels...where do you see the industry heading currently? Is making such albums as Los Angeles a dying art?
No way! The value of any kind of Art is priceless. If you follow the mainstream you ain't going to succeed! I strongly believe if you really love something, you're willing to give your heart for and try to improve it day by day, many will follow YOU.
What you sell or do has to be good, real, true and perfect. Good sales are all a matter of time and just one way to judge success… There are millions of brands of cheese but they make the best one in the whole world called "Parmiggiano" 20 miles form where I live. You know why? It's not a matter of luck, believe me; There's a tradition, a research going on and there's no other brand that can compete with it!
You wanna know where the industry is heading? Probably all the standards are going to rise a lot, everybody is more and more exposed to Music comparing to 20 years ago and that's a good thing. CDs are going to be more or less a souvenir to go and see bands, and, unless you add some extras like a DVD and stuff like that they will be given away just like flyers…
I only hope that making records won't become only a matter of promotion just like printing personal cards and that there will always be people like Kip Winger, an Artist who's able to create wonderful pieces of Music in the best possible way no matter what. That's the people we should admire most. He's the one I admire most. By the way, regarding "sales, success and the price of Art", can you tell me why all CDs have the same price? That's strange if you think about it… Some of them should cost 5$ and others 50$! Wouldn't you pay big bucks for a brand new record you already know it's great? The Artist should decide the prices of his/her works, not only calculating expenses! What about all the sweat and tears he/she shed to make it sound the best?!?

Who are your vocals heroes?
There are so many for many reasons… Kip Winger, Richie Sambora, Glenn Hughes, David Coverdale, Robert Plant, Seal, Paul Stanley, Eric Martin, Joey Tempest, James Christian, John Payne, Gino Vannelli, Gene Simmons, Mark Slaughter, Richard Marx, Todd Howarth… I'm sure I forgot lots of them…

And what is next for you?
Right now I'm recording the first Mr. Pig Album. I'll produce the whole thing and I can say it will sound heavier than "Strive" and/or "Los Angeles"; it will be a mix between Whitesnake, Europe, Kiss and Dream Theater! There will be 12 original songs and a very special version of Bee Gee's classic "Staying Alive"… I'm sure this Album will be a nice surprise for many Hard Rock fans…

Anything you would like to mention or add to the interview?
I only want to say thank you to all the fans I've met on the web and on the road. You've made my dream come true and I will always respect that! Remember, all you say and do, no matter how important you think it is, it affects people, yourself and me. Let's be honest and support the best Music of all… AOR!!!!

Thanks for your time!
You're welcome! Thanks for your support!