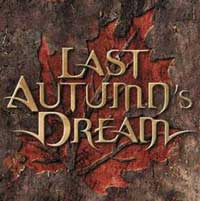 Last Autmun's Dream: A dream come true.

Mikael Erlandsson and Andy Malecek talk about the new "supergroup" project that seesm the guys team with the trio of Ian Haugland, Mic Michaeli and John Levén from Europe. Both guys were asked a set of questions - some involving the LAD project were the same, some different, so the interviews are posted one below each other.

Mikael Erlandsson:

So Mikael, it has been a busy year for you. Your solo album and now Last Autumn's Dream. I am impressed with the album - how did the idea to form this band get started?
It started as an idea during performing my solo-songs live.. all songs we played
were more like , " hard´n´heavier " in the same time my record - company in japan
had the same idea to put a "band-feeling" into my songs, so , my management and the company and i put this dreamband together......

And where did the name come from?
The name came up as an idea from the brilliant company in Japan (the name was too good to reject) ha ha...

How long did it take to get the line-up together? I must say that I think it's a great combination. How did you meet and hook up with Andy and the boys from Europe?
A couple of seconds, they all thought that this project would be great fun. I use my management here in Sweden, and my record company in Japan to get in touch with the boys - for me it's like a dream-team...

I don't have the writers credits here, but who wrote the songs and when were they written?
"Again And Again "," Talk To Me "," The One" , "Goin´ Home" ,"Doin´ Time" and "I Never Let You Go" were written by myself and Andreasson/Wassenius .. A team in our own studio here in Gothenburg , Sunday music during last spring..."guardian angel " is a "crystal blue - song" written by Thomas Lassar .. The rest of the songs is written by the great German songwriter Rick Wrightman , excellent tunes !!!!

Where was the album recorded and how long did the process take?
In Stockholm , Berlin and Gothenburg , took about 1,5 months.

Where did the bonus track for Europe come from - was it recorded in the same sessions for the album?
Yes, at the same time.

The concept behind the music was to take your voice in a more rocking direction. How did you feel about that over the softer AOR of your solo material?
I'm use to it, because of my live performances (much harder and heavier live).

Was it fun to stretch the voice to the requirement of this album?
Of course! - I loved it!

Was the aim fulfilled? I enjoyed the couple of heavier tracks the best and would love to hear you go even further like this - are there plans for further LAD albums?
There will be a follower album, that's for sure. And it's a promise it will be more "edgy" than this one .. I have already a couple of songs.

Is there a lyrical theme or message throughout this record?
No! It's just songs... it's up to the listener to decide if there's a secret message ... he he he!!

Are there any plans to play live in support of this release, either in Japan or Europe?
Hope so - we'll see how it goes.

What are your favourite moments of the album?
When Andy have his moments - like the solo part in "Goin Home" whoooaah!!!

To anyone that has yet to hear the album, how would you describe it?
80´s rock meets 2004!!!

Tell us about your solo career - I really enjoyed the 2003 solo album - what are your current solo plans?
What can I say, I write songs almost every time I have a free spot left in my schedule... I have like 50-60 songs in my bag for the future ... he he, let's see how this LAD - project turns out to be. Keep that question open...

Do you have a favourite album from those you have recorded?
"The 1" and "The Gift" are my pearls.

How is life in Sweden as a working musician? Do you enjoy the rock music community there? It seems very strong.
It's amazing how many great talented bands and musicians we have here. I must say that I feel very blessed for having this opportunity for making albums when so many out there just earn to have a huge career....

Is there any other projects or albums you would like to make, or people you would like to work with in the future?
My dream, since I was 12 years old and heard the band ELO for the first time,
was and still are, to work with "the master of music" Mr. Jeff Lynne ..it's good to have a dream , though.

And is there anything you would like to add?
Just wanna say that I'm so thankful for doing this......
Thanks very much for taking the time out to answer these questions for me!
You're welcome!



Andy Malecek:
Hi Andy....great to hear you back on the recording scene. It's been a few years now since the demise of Fair Warning, what have you been doing between then and the start of this project?
I needed some time off. I was taken ill in 2000. And after I recovered I sort of wanted to do nothing but play the guitar, meet some friends and maybe play some gigs with bands that were very different from FAIR WARNING. You see, Helge and Ule preferred a very loud set-up for the stage when we toured. I couldn't see why it had to be that loud on stage, let alone for the PA. They would use ear plugs, I didn't. So I wanted to be in some band again for a change that played with and listened to each other much more on stage. So I joined, it might sound funny, a local Country band that played almost entirely acoustic. That was fun for a while but soon enough I started writing material again, mostly instrumental, and trying to pursue my dream of a solo album. While looking for a singer for that I was introduced to Mikael and we founded Last Autumn's Dream.

Do you miss the days of Fair Warning?
Yes and no. Back in the early nineties joining this band really was a huge step forward for me. It brought me to daylight and allowed me to share an enormous success I had never experienced before. On the other hand despite the long time we were together I only made real friends with some of the band, Tommy Heart for instance, who also lives in Berlin. Also I couldn't by far contribute to the creative process of the band as much as I wanted to. At a certain point the time had come for a new path to follow. One that is much more my own.

How did the idea to form this band get started?
Well, here I was, recording solo material all by myself when Fair Warning's last record company, Marquee Records in Japan, sort of knocked at my door wanting to know what I was up to at the moment. I sent them my solo stuff. They liked it but suggested to ally with a singer they had long signed and who had been very successful up to that point in Japan as well. That singer was Mikael Erlandsson. We exchanged demos and soon decided that we wanted to meet each other. The record company was delighted and so we met and locked ourselves away with a guitar and a piano. That's when that real "Last Autumn's Dream" feeling really was born. After I returned to Germany we kept contact over the phone and continued working.

And where did the name come from?
At first there was just this kind of melancholic air that emerged when we exchanged ideas. Strangely, we felt most comfortable with this kind of moody and mellow tone. So when the time came up to find a name, many people volunteered to suggest names that would capture this air. In the end it was Marquee again who seemed to have the best intuition and empathy for the whole thing and they suggested "Last Autumn's Dream" and we sort of said in unison "That's it!" And when you listen to the album, despite some real tough stuff like "Talk To Me" or "Break the Chains (Of Destiny) there are more moody songs and ballads on it than on any Fair Warning or Mikael Erlandsson album before.

How did you meet and hook up with Mikael and the boys from Europe?
Meeting Mikael seemed to spark an instant synergy. For me the time was ripe for a thing like this to happen. So when our demos had shaped into a semi-presentable form, Mikaels long time producer, Ulf Wahlberg, who seems to know each and everybody in the Swedish rock scene asked the Europe-guys Ian Haugland, John Leven and Mic Michaeli over and played the stuff to them. And they said: "We're on!" What more can you ask for?

I don't have the writers credits here, but who wrote the songs and when were they written?
Mikael had very melodious and catchy song ideas which only weren't arranged yet. So we decided to keep the credits where they belong, the one who had the original idea. I started working on arrangements for his songs and at the same time to work on some singable material with my producer in Berlin Rick Brightman, because there would have been an imbalance of my instrumental pieces and Mikael's songs. Out of that the very heavy guitar oriented "High Up" evolved.
When finally the set for the album was to be assembled the record company was hesitant about my instrumental pieces. So Rick, with whom I work very closely together, jumped in and provided some really cool ideas. I enjoyed working out these songs very much. Mikael liked it and so our stuff kind of coined the album to an extent as well.

Where was the album recorded and how long did the process take?
It's funny how things sometimes fall into place. Ulf Wahlberg's studio seemed to be the best place to go. He is in Stockholm. But Mikael has his own studio in Gothenburg which he specifically set up to take his time and work out the vocals in perfection. I myself felt most comfortable in Rick Brightman's studio and so we thought about a way to combine the best of three worlds (pun intended!). It required more communication between every party involved and a good deal more discipline but it worked out. Torbjörn Wassenius, Mikaels producer in Gothenburg, carefully collected the stacking layers of the songs and the first one he finished mixing was "Break the Chains". He put it on his server, we listened to it and it blew us away!!! From then on we went even more nose to the grindstone…

The feel of the album isn't too far removed from Fair Warning, is that how
it was planned - is that your natural style?
In a sense you can't help being influenced by a band you had your mind about for such a long time. Fair Warning's music has some great moments. And in being a part of it I learned to look for these moments in the future in my own career. With Last Autumn's Dream I resumed that search and have found moments that would have never been possible with Fair Warning.

Did you have a lot of interest from European labels? How did you come to
chose Frontiers?
The Frontiers Deal went rather quick. It was basically one call from Ulf and FRONTIERS left no doubt that they wanted it and fast! For all I know FRONTIERS is the label to go to in Europe if you do Melodic Rock. Have a look at their roster, it's impressive.

Are there any plans to play live in support of this release, either in Japan or Europe?
When we hit the LP-charts in the first week in Japan we really felt quite an itch to go over there and rock some places. I have some fond memories of tours in Japan and I'd love to go back there with my own band. But we had to look at it logically. You can't really play a headlining show with one album's material. On the other hand supporting acts are generally not customary in Japan. So we decided to keep it back until after the next album which holds for Europe as well.

What are your favourite moments of the album?
Hmm, I love listening to the thing in one gulp actually. It has this round feeling that let's you enjoy each song and then look forward to the next. But ok, there is this beautiful mellow-melancolic yet immensely strong building-up ballad by Mikael "Going Home". It's the last song on the album and it kind of sums it up really. A guitar magazine in Japan went so far as to transcribe my solo from that song which made me really proud. "Again and Again" is up to become our very own AOR hymn per se and is our no.1 radio song at the moment. It's a very catchy song which opens up the tracklist.
In between these two ends you have the broad rocking "Break the Chains (Of Destiny)" thundering through your speakers which contains some long developing solo passages which I particularly enjoyed playing. The same goes for the heavy rocking "High Up" that during the solo parts becomes also very melodious. That's the great thing about Melodic Hard Rock, see, you can combine the two worlds which can make a song so much richer as a whole. "Never let you go" is my favourite Westcoast-like tune and, well, "Blink of the Eye" is simply such a round kind of thing, that it makes me smile every time I hear it. That one is also played on the radio a lot.

To anyone that has yet to hear the album, how would you describe it?
This album combines all the colours of mid-autumn leaves. Sad, angry, overwhelmed, reminiscent, desperately lonely and deeply touched. It opens up the path to all these emotions because here they are being melted into music…

Do you have a favourite album from those you have recorded?
Apart from this one I guess it has got to be FAIR WARNING's debut album back in '93. We were all working together closely in the studio, had a great producer and everybody was inspired by the many ideas we had and our plans for the future.

Is there any other projects or albums you would like to make, or people you
would like to work with in the future?
Well, I used to have more ideas about that before I met Mikael. That encounter however showed me that some great things in life can happen seemingly by chance an unplanned. So I guess I keep on working and see what happens. However I am really glad to have found Rick Brightman as a producer and writer. He can get me back down to earth again when I'm too carried away and at the same time he surprises me with his excellent ideas ever so often. That's a rare thing too.

And is there anything you would like to add?
Ok so to all you young guitar players out there: start playing and practicing hard while you're young, 'cause you might not have so much time to do so later on!!

Thanks Andy!