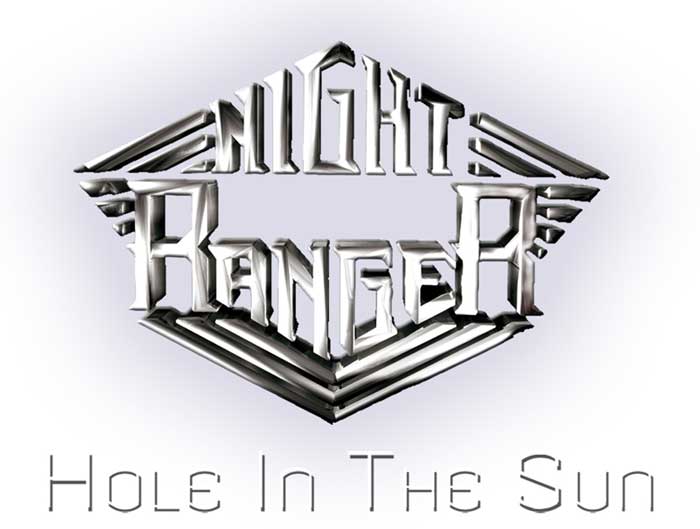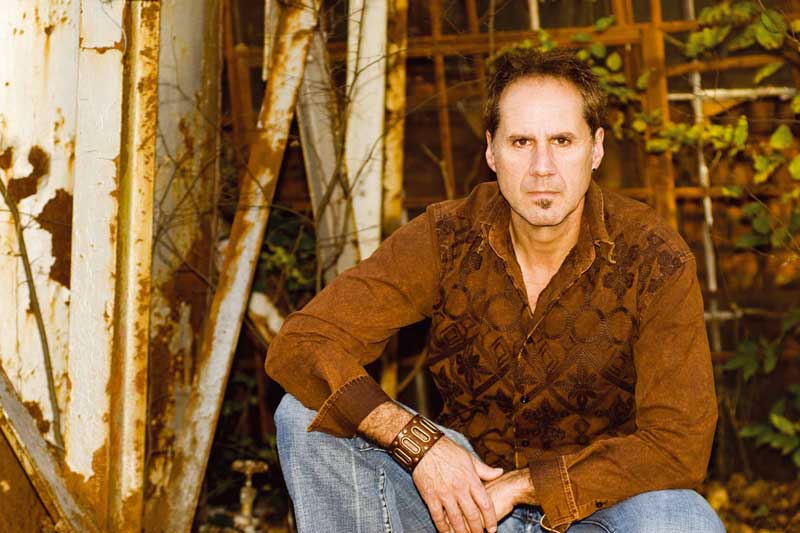 Night Ranger Part 2: Kelly Keagy.


Night Ranger drummer Kelly Keagy talks about the new Night Ranger album and also his new solo album I'm Alive, plus working with Jim Peterik and his new project Scrap Metal.


Hey Kelly, good to talk to you again.
Hey Andrew.

What did I catch you in the middle of?
I'm working on the Scrap Metal band because we've got our first gig up Connecticut in a casino and we're gonna film it so we've got all these details we've got to take care of. Just, you know, learning everybody's songs and it's quite an undertaking. Then I'm doing interviews for this album of course and trying to get ready for touring and stuff like that. Both for myself and Night Ranger included.

I can't believe it's only your first Scrap Metal gig. You seem to have been doing that for a while now.
Well we started out like a year ago last March. We thought we were gonna have more gigs than that buy we were all so busy. We couldn't really pull it together. Plus we didn't have anything to promote; no records or anything like that. We still don't, but at least now, after we get this gig done and the film shot we can edit the DVD and get into proper form to send out to agents and stuff like that.

Gotcha, Ok, so it's a promo thing for you. Will you sell it?
No, I don't think we're gonna sell it, but who knows? It may end up being a pitch for TV, you know, so we're just gonna have two different spins on it. We'll have one for promos and maybe one to sell for a possible TV show or something.

Oh, I like it. Interesting. Is this the show with Eric Martin coming up to quest as well?
Exactly, it's Eric Martin and Mark Slaughter, Gunnar Nelson, me and also Matthew Nelson is gonna be part of this because he knew the songs. He's playing bass so he's kind of filling in for our normal bass player.

Ok, that's a pretty cool line up you've got there.
Its fun man, but right now we have about six songs going but we haven't finished the recording of it and we haven't finished anything yet. We've kind of got it in the process but we've got it on hold because we've been working on the live thing.

Will you do a record this year?
You know, I think we're trying to do a record, but we don't have any labels interested. Basically it's demos. Just demos to maybe pitch to a record company.

Well it's a great lineup that's for sure. I love the Nelson brothers.
Oh it's fun man and it's such a rockin' lineup too. I'm telling you it just really smokes. We did a free show for the Tin Pan South series here in Nashville last year in March. That's like a four or five day symposium and we played at this rock club. It was just great. It was kind of like everybody playing each other's songs and playing their rendition of how they thought it should be played. It was cool man. Everybody stepped up to the plate and learned the stuff. That was fun doing that and we had Chad Sanford, I don't know if you know him.

Yes I do.
He's a songwriter here. He wrote Missing You and some for John Waite back in the day. We had a lot of guests so it was really fun.

Wow, that's very cool. You are a busy, busy man. I've got so much to ask you, but before I jump into it Kelly, I just want to ask you about something. I don't know if you've been on line today Kelly, but I reviewed the album yesterday and put it up there.
You know what, I've been gone most of the day and I haven't checked it. I'll check it though; I'd love to see what you think. What do you think?

I love it.
You like the record?

I love the record. I absolutely adored the first album and I really think this is a very nice companion piece to it.
I kind of wanted to take a stop forward growth wise, you know. That was the thing I wanted to do. I kind of feel like I'm not the same person as I was, not only when I made my first solo album but also with Night Ranger back in '82 through '88. Then when we got into the '90s we tried to show as much growth as possible too so I'm kind of continuing that vibe. I just want to see if I can have a nice blend of a little bit more modern sounding guitars but also still melodic melodies and great lyrics.

There are some absolutely great songs on there and you've definitely got the modern vibe on a few which is cool but like you said it's kept melodic. I've given it a really good review and I hope people read that.
I really appreciate that. Thank you. Thank you so much.

That's alright mate.
You know, I always make records for people that I think might appreciate it but I try not to think of terms of "I'm gonna write a hit song". I just write songs, and you know some of them get thrown out. There were three or four that didn't make it; they just weren't there. I just think there's nothing like a good melody and a good story line to make it great.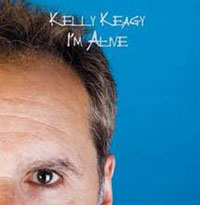 I'm gonna ask you about a couple of the songs. There just a couple of my favorites. I love I'm Alive, and Jack Blades said to me 'I wish I had written that song.'
That's so nice of him. You know, I brought it in for Night Ranger. You know the whole idea Andrew, is that Jim had this idea. He had written Eye of the Tiger for Rocky back in the '80s. He had run into Sylvester Stallone when he went to a TV show in Chicago said Sylvester said 'I'm doing another Rocky movie'. Jim came back after that interview and picked me up at the airport when I was going up there to write with him for I'm Alive. He said, look I just ran into Sylvester, he's doing another Rocky movie, and I have this idea so let's set down and write it. First of all Jim said "I have this idea for a song for you". It wasn't written so we had to write it. It was this whole thing of like, 'I'm still here after 25 years'. I thought wow, I sort of like that idea but then when we got into the middle of the writing session we though this was gonna be perfect for the new Rocky movie. It can be sort of like the Kelly Keagy coming of age song as well but it could be for the movie too. So we actually wrote it thinking in terms of a movie soundtrack. So I think we captured it pretty well.

Oh, it's got a big sound.
It's got a huge sound and Jim tuned his guitar down and we were like that's it, you know. Then there was like a one string little riff in the front and I thought man, that is it. The whole idea of like rising through the ashes and trying to make sense of you life after trouble, hey, it sounds like me. (laughs)

Sounds like me too mate.
Anybody can relate to it I think.

Absolutely, very much so. I like the thumping drum beat.
I really had a good time recording those tracks.

Huge drum sound. Jumping straight to World Before and After. That's another absolute smoking track.
That song, you know, was kind of difficult to cut because we don't normally play certain beats like that. So it was kind of tough but at the same time we were thinking in terms of that song as just broken relationship stuff.

What about the end there? Was that live in the studio? Was that Jim on guitar because he's smoking?
Yeah, man that was Jim and I. We cut everything with just guitar and drums to get the basic track. Then we built the tracks from there. So that was just Jim in his studio, you've been to his house haven't you?

No, I've never been to Chicago…yet!
Well he has a control room where he's got the gear and then he's got where he cuts the drums and stuff. Then he's got this window and he just stands in front of that window and plays guitar with headphones on and watches the drummer play while you're cutting. So there's that whole live like on stage vibe that we have when we play these tracks.

It sounds live, it really does.
Yeah, it's exciting because you've got the guy standing there in front of you like when you're on stage you really get that vibe. You're looking at each other and you're just like cranking away at these tracks. You know what Andrew that was my idea on this album. I wanted to get a live feel. I didn't want it to be too 'studioized'. I wanted to go in there and play that track and get it in one take or two takes and keep it. If you make a mistake just continue on. Keep it going instead of doing so many overdubs and it starts to sound really studioized. There are some tracks on the album where we did want to produce like Everything I Need in a Woman, the big ballad. We wanted that to be like a symphony you know.

I love the live feel of the album. It really does come through.
You're getting me all worked up talking about it. (laughs)

It's an exciting record to listen to. You get to the end of it and you feel like you need a rest.
Yeah man, that's what I want to hear.

My favorite records are the one where you can't play again. Some things you just go, well I'll play that again, but when you get to the end of this one you think, I need a rest.
You need a rest from it. (laughs) One thing that's happened with me is that I keep rediscovering the songs that I'd kind let go for a while. You always listen to the first four or five tracks you know, but then you find that there are different kinds of textures and moods when you get to the end of the album.

I like that you've got thirteen tracks. It's a nice long record without fillers there.
That's nice. I love hearing that.

I must talk about When Nobody's Looking. I think that's one of the more commercial songs I've heard you sing.
I think you're right. Jim and I wrote that way before we actually started to finish this album. It was on one of the first tracks we ever wrote and we were performing it with the World Stage band, one of Jimmy's gigs like a year before we cut the album. We just had it in the World Stage set before we even had a concept for this album. It was just such a rockin' track man and what we were trying to think was like 'what would Keith Moon do' on the verses with all the riffing with the drum fills. Of course you know no one can even touch Keith Moon but it was like looking in terms of playing more drumwise on the riffs in between the verses. That was fun, really fun. I didn't really get the chance to open up as a drummer and that's why this album's really fun for me because I did get to play a lot more.

I thought your first album was like that but I think this is even more so. I think there's even more drums on here.
I thinks there's more drums, exactly, it's like, 'what, you think this guy's a drummer?'. Nah. (laughs)

You know, not too many drummers make solo records.
I know, I know. Tommy Lee made a pretty good one didn't he?

Yeah, he's a pretty diverse musician himself.
Exactly, and he plays guitar like I do. Man I wish I played guitar like that guy in the Foo Fighters though.

Oh yeah, he's good isn't he?
Yeah, I like him. Have you seen them? Have they played down there?

They have actually played down here. I haven't seen them but they have played in this country.
Man I'd sure like to play down there.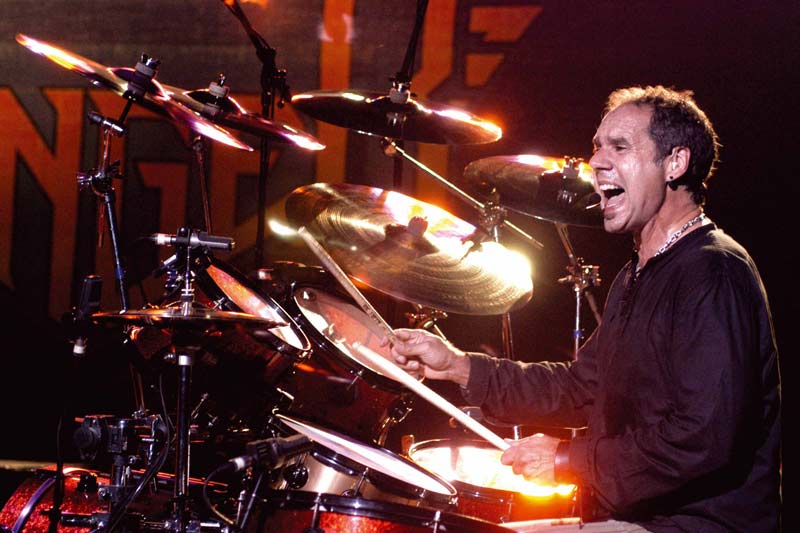 Talking about influences and things like that, Stolen and Blink of an Eye are sort of like a one two hit of modern rock.
You know I did want to take a little stab at my idea of modern. One thing I like about what's modern today is the guitar sounds. The tuning's different, you know, and there's such an edge to it; such urgency to it. The urgency is in the guitar and in the vocal and I've always liked the kind of angst sound in the vocals. Early '90s had a lot of that and I was really attracted to that. You know, I can't write music like that, but I can be influenced by it. That's what I was trying to do.

I think that makes a nice mix because I think some of those bands can forget what the melody is, but in Stolen there's a lot of melody and emotion in there.
Yeah, that's really cool man.

Any other favorites from the album Kelly?
You know, I liked the little tip of the hat to John Lennon on Reimagine. We wrote that song from an idea that Michael Lardie gave me. He played me this idea when we were first writing for Night Ranger and I immediately started singing the melody that Michael had in the keyboard in the verse. I showed it to Jim and said this is a really cool thing and I played it to him and Jim immediately just jumped on it. So we sat down with just an acoustic guitar and wrote the song. Basically all the songs are written that way. Then we started to embellish it with electrics and keyboards. Yeah that little tip of the hat with Reimagine was one of my favorites and then that last song called One or Half a World Away.

Half a World Away, I like that a lot.
It was when all these bad things were happening like the tsunami, tornados in the south and hurricanes, earthquakes in Afghanistan and Iran, and we were just like what is going on with the world? You know when the earthquakes happened in San Francisco I went there and tried to help as much as I could. It was in the late '80s, I think 1989 and I just remember how people that had a lot of money, had made a lot of money in their lives, they were out on the street. They were sleeping on the floors of the elementary schools there in San Francisco. And I thought to myself, God man, this could happen to anybody. So that's what that whole idea was. Even though we live 5,000 miles away we still should be able to relate in some way to help each other make it through hard times. That's what we were thinking with that song.

Great sentiment. Great sentiment. Are you going to get to play any of these songs live Kelly? Obviously you might do a couple in Scrap Metal.
Yeah, I really hope so but I think that I'm gonna have to do some solo appearances. I did do one on Dec. 28 here in Nashville. I did a show at what is called the 12th Importer. It's a showcase club here. I played a show and I did I'm Alive and Blink of an Eye. Those two songs totally rocked live. We had a great crowd and they were just so responsive to those two songs. Lynn Hoffman, from VH1, I gave her a copy of the record and she immediately snapped back and said Blink of an Eye, I love that song, it rocks. I love it because you're talking about a girl who's growing up and needs guidance by her parents but at the same time he parents aren't trying to tell her what to do but just tell like in that song Wild World. (sings 'Oooh baby baby it's a wild world)
We were trying to say kind of the same thing, like things change quickly. Just be ready to make that right turn and adjust, swerve and get out of the way, you know what I mean. That's what happens in life. Things come at you and you just have to be ready for them and you can make it.

I hope you do some solo shows.
I would love to. I have a booking agent looking into me do some dates in Europe right now.

Good, Ok.
So I'm really hoping I can get over there. I'm not sure if they'll be electric or acoustic though Andrew because I'll just have to see what the offers are and if they'll be good enough for me to have a band. Here's my idea. Tommy Denander could help me put a band together there. He says he has a bunch of smokin' players that would love to play. Then of course I'd love to do some of Tommy's songs. He's got some really good songs. He's gonna be here pretty soon, this month actually.

Yeah, that's right.
I'm gonna hook up with him and we're going to have some conversations about this. Then I might fly over there, rehearse with his band for like maybe three or four days and work up a set.

Great idea.
You know we'll do some old Night Ranger songs too. And maybe some songs from Time Passes and I'm Alive, you know two or three songs from each. We'll have us a rockin' set man. That's my plan and Tommy says 'I'm up for it' so that was what I was thinking I might do to promote the record. You know, hell, I've got two records out over there and people are wanting to see what it would be like live. Of course I love to go with Jim. He's got a new record coming out. So maybe we'll do a combo show with Tommy and Me and Jimmy and Jimmy's new record.

You could do the Kelly Keagy all stars!
Oh man, wouldn't that be great. Like the last one we did.

That's still one of the best gigs I've ever seen.
Oh man, that would be great. I remember Kevin [Chalfant] was sick though so we couldn't rehearse with him. Who was on that? We had Brian Bart, Gary Moon, the guitar player from the Storm.

Yeah, Josh.
Yeah, Josh Ramos, Jim Peterik…oh my gosh, what a show.

Yeah that was just killer. I've got a video bootleg of it. Somebody filmed it from the crowd.
Well put it up on YouTube. (laughs)

The quality's ok, but wow that was just such a…
Sounds like hell though, right?

It's ok, it's bootleg, you know.
I'd love to see that.

What a great show that was. You should think about trying to do something like that.
Well, you know what, maybe that's the way to go. Then we could all do each other's songs and just have a blast with it.

That was just so great. And the band that came in, like you were second to last and the band that came in to headline just had no hope in hell. (laughs)
(laughs) Well, you know what, I'm sure they were really good. I think it was Ten wasn't it?

Yeah, it was Ten.
Well, you can't compete with 20 years of hit songs, I mean come on. If I was those guys I would have said listen, can we play tomorrow. I'm not feeling too well and I've got to go back to the hotel.

Half the crowd left, you know. I was talking to people afterwards back at the hotel. They were like, nothing could top that.
I mean Ten was great. They're an amazing band.

Yeah, of course they were. That was just such an electric set you guys had.
There were so many hit songs in there. It was like and hour and a half of every song that you remember from the '80s and early '90s.

It was great, it was amazing.
We need to hang out again. That trip to Liverpool was too much.
Wasn't it great? We had a ball didn't we? We should do that again man. We should go up there. There's a possibility I might be going over there to do the Fantasy Camp in May.

Oh, you're doing one in the UK this time.
They're doing one in England. Then they're gonna fly up to Liverpool and have the last leg Battle of The Bands at the Cavern club.

Oh no, great stuff.
Isn't that amazing? So they're gonna do everything at Apple Studios. They have like 12 bands together with amateur musicians. You rehearse them and they learn two or three songs pretty well, there just cover tunes. Well some of them are original too. Then they have a battle of the bands after about four or five days.

Great stuff. I hope they do that.
Wouldn't that be fun? I'd love to be at the Apple Studios. I want to sit back there in the corner where they had Ringo's drums and feel the vibe.



I reckon you could too. (laughs) Listen, I'd like to talk Night Ranger too if I can.
Sure.

Jack sent me the record. Well, Frontiers actually sent me the record yesterday so I Hell, I don't know what to say. This wasn't the Night Ranger album I was expecting.
The Japanese love it.

They're a little more open minded. I really like most of it. There's a couple of things I don't but most of it's amazing.
What are some of the things you don't like?

Well, the first five or six tracks just knock my socks off. At the moment I'm just struggling with the last four. White Knuckle, Revelation, Being… Revelation's still pretty good and so is White Knuckle Ride, even Wrap It Up.
Some of the stuff, Whatever Happened is amazing, but I never would have imagined Night Ranger singing it.
Exactly, we wanted to kind of push some boundaries with the pop stuff. That song really feels like it could be on the radio.

Well, it's an Avril Lavigne, Kelly Clarkson kind of thing.
Exactly. That was exactly what we were trying to achieve with that Andrew.

Well you did it and I can imagine it on the radio.
We wanted to see if we could get anybody to actually turn their heads and go yeah, that sounds like now.

Yeah, absolutely it does. Even Drama Queen as well.
Dream Queen, yeah, no kidding. Brad brought that tune in and he actually sent it to me and I worked on some of the drum parts here at home. And I thought wow man this sounds like Alice in Chains or something. He's like really into the kind of harder stuff. We let him rum with it man because we really loved where it was going.

There are guitars everywhere on that song.
It's amazing man, those guys played great on the record. They play their asses off.

It's a big guitar record, isn't it?
It sure is. We had a lot of time to live with it too. We took our time. We used to do that when we would go to do records. We would cut the first basic tracks then those two guys would be wood shedding for a month on the guitar parts. Well we gave them many more months than that. We gave them like six months to work on the stuff and hone those parts and keep coming up with stuff. It was great. It was nice to have that much time.

Rock Star a great tune as well. That's another modern rocker.
Isn't that great.

Good attitude. I think I like the bridge better than the chorus even.
Oh, no kidding. I love that. You know what, that bridge does have a really good melody in it.

It's a knockout melody. I love it. Tell Your Vision is obviously a rocker from hell.
The first one right off the top, yeah,

Yeah, that's heavy.
The first one, yeah. You know we were thinking in terms of like Audio Slave and stuff like that.

(laughs) I'll bet you the label wasn't though.
The way I was singing was kind of like the way Chris Cornell would sing. You know, his throat popping out and his veins on is head, just delivering that message man.
I can't help it man. I have to grow or die.

Absolutely, what a thumping drum beat in Gonna Hear From Me.
Oh man, Gonna Hear From Me, wasn't that great? You know what I did? I went in there and I put in extra toms on there for that intro. Just to make it like a marching band. I wanted it to be like when I was in high school and march with a hundred people and the drum section alone would be like 25. We would all be playing the same cadence together and I wanted it to be like that.

And it sounds like it.
It's like kong-ka-ka-kong, kong-ka-ka-kong, like a big marching band coming down the street.

A lot of vocals on that track. It may be the heaviest song Night Ranger's ever recorded.
Rock Star or Tell Your Vision?

Actually those three, even Gonna Hear From Me. Very heavy.
Yeah, Gonna Hear From Me. We always try to put a shuffle kind of tune on there. Our roots are really, when you think about it, in the '60s and '70s and like that. So we always try to put a feel like that on the record.

Frontiers wanted me to kind of do a track by track commentary to sort of introduce the record to people. I think they want me to soften the blow a bit. I think people are really gonna dig this.
They're gonna hate it. No, I'm just kidding.



No it's, like there are people that define Night Ranger by only your first three records. Yet, this is your eighth and the last four haven't been anything like the first three. What do you think of that?
I think the reason why we like to change like that is just because we're just not the same people as we were in 1982. There's just no way that any of us is going to stay the same. So when we come together musically we reflect all that growth and maturity. And it's the things we hear on the radio, in the records stores and on line. We take in all that stuff. We're like sponges. We like to soak it up and then we regurgitate it back out as some form of music that we love. And relating to each other like that.

Jack said he didn't think you could make a Seven Wishes again if you wanted to.
Exactly, that's the thing. Some of those records, I listen to them, and I can't listen to them anymore. I listen to them with appreciation, but some of the songs on there, other than the hits, I can't even go there. I mean, on the second record there's a song called Why Does Love Have to Change and I love that record. That was a total kick-ass record. Now I think Why Does Love Have to Change is like Tell Your Vision now, only 20 years later. It's just the instrumentation sounds a little bit different.

Well it's very contemporary. The first listen to the Night Ranger album I went 'hell, that's not Night Ranger'. Then the second or third time it was like, hang on, there's a little bit of Night Ranger there. Then a little bit more and a little bit more.
You know, one of my favorite songs that I really enjoyed was Fool In Me, that kind of acoustic and we added bongos and it's got that kind of tribal thing to it. We just sort of built that track out of an acoustic guitar and that was it.

You're singing a lot on this record.
That's what we wanted to do. We wanted to split the vocals up and stuff. We started out doing that early on, but the record company always wanted to have a focal point, which was like Jack or me singing that song, but never the two of us. We thought, you know what, we both sing so well, let's really try and see if we can interpret each song and have a different point of view vocally.

You swap back and forth a lot of the time don't you?
Yeah, we wanted to do that and see if we could pull it off and still make the message be clear.

Oh yeah, it's great and big harmonies in the chorus.
And then big harmonies with Jeff and Brad coming in and singing with us.

Not a lot of keyboards on the record though.
Not a whole lot, no. Michael, you know, he engineered everything and as we built the tracks we kind of put the keyboard in where needed and he was fine with that. There were certain songs where there were keyboards, like a couple of intros that definitely had keyboards. But if you listen into the choruses, the choruses get really big and it hard to find room for both, but there all in there playing. It's just that the sound gets so big in the choruses that you can't really hear the keyboards, but they're in there.

Well they add to the texture don't they? If you took them out you might miss them but they're not obvious, of course, except on There is Life, which is a great ballad.
There is Life was such a great song to write because we were just thinking we kind of wanted to write another piano ballad like Sister Christian or like Sentimental Street. Then still reflect a relationship song, but then just open the chorus up and have it he like look, this is how things go in life.

Yeah, wonderful song. What else about the album? I don't know. What do you think? You say the Japanese love it. They're a little more open to change.
They said they really liked it because it was a great hard rock record.

It is a hard rock record.
They're pretty happy with it so far. I haven't done any interviews with them. I know Jack might have already. And I haven't talked to anybody from the record company yet, but I think that was the consensus, that they were really happy with it. I'm looking forward to going over there and playing. That would be a pretty easy trip for you wouldn't it Andrew? You could come over there and tour with us.

Hey, I'd be there tomorrow mate.
Wouldn't it be fun?

I would love to go on tour and see a few shows. I've never seen Night Ranger live. How sad!
Well, you know, we're gonna have to do something about that.

I know. But you know what? It's only about 8 hours north of here, but the air fares are ridiculous.
Wow, unbelievable. Why is it so expensive?

I don't know. Leaving Australia anywhere is expensive. Because we're like 8 hours to the first stop, you know.
I heard you were having some terrible wild fires down there.

Yeah, in Tasmania here also, but it's mainly in Victoria. A million hectares, which a hectare's obviously a couple of square miles, but a million of them of them have burnt out so far. But we had 50 millimeters of rain two days back so we're looking pretty good now.
Well good, great.

So, back to seeing Night Ranger live. I would love to see that.
Well hopefully we'll be able to run into you that way Andrew. It really a fun show, we still have a great time playing. We have a ton of energy just like we did back in the '80s. We're not aging, you know, we seem to still keep our youth when we get on stage. We get so excited. That would be really fun if we could somehow arrange that. We've never played Australia.

I know.
I wish that was something we could have done in the past.

Yeah, nobody's will to put their money where there mouth is, and of course I haven't got any money, so….(laughs)
Ah man, too bad that some of the promoters wouldn't bring us over but you have to make a lot of money over there for it to make sense because it takes so much to get there.

Exactly. It's so far to come and that's why I have to sort of rely on being in the right place elsewhere to see other shows.
Yeah, have you gone to Europe to see any shows?

I normally go for the Firefest show once a year but that's about it at the moment.
I'm gonna be in Europe with Jim in August.

Oh yeah, Ok.
I'm doing that Belgium festival.

I was just talking to Jim just before Christmas and he said you were going to be doing the World Stage show there.
Yeah, I'm gonna do that with them and we're gonna do some songs from the new album we think. I'm not sure we haven't talked about it. He's due to come down here in a couple weeks. We're gonna have to start talking about that because we both have albums out over there and I'd love to be able to do a couple songs from each record.

Well we'll try and run into each other somehow, somewhere.
I hope so Andrew. Keep in touch and if you need anything from me, you know I appreciate your support by the way.

Oh absolutely. Anytime, you know, it's only too easy when you love the music so much. When you're not into it it's a little bit harder. But I've been a Night Ranger fan since Seven Wishes, so it's a great pleasure to be able to help out.
Well, you know we always appreciate it and if there's anything we can do for you just give one of us a call and we'll be happy to oblige.

Thank you mate, I appreciate that, but hanging out in Tokyo would be nice, but….(laughs)
(laughs) Yeah man, do want me to send you over some chicken wings or something from here in Nashville?

Either that or a very sturdy canoe.
Oh there ya go. Oh man, well take care and wear your life jacket.

Yeah, will do.
Good talking to you buddy.

Yeah, you too Kelly.
Ok, we'll see you, bye.