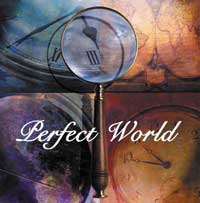 Perfect World: Fabrizio V.Zee Grossi and Kelly Hansen unite for a perfect union.


Kelly Hansen - The Hurricane and former Unruly Child vocalist talks about what drew him into the idea of recording an album of cover tunes, not to mention what's in the future for Hurricane.

Hi Kelly, It's been a good few years for you - albums with Unruly Child and Hurricane both in stores and producing the Ramos album.
First up - how did you get involved in the Ramos project in the first place?
I got a call from Michael Robinson who was doing some work for Frontiers. We had worked together on the Robert Fleishman Project.

Do you enjoy the production side of things over performing?
They are just two sides of the same coin, I like them both.

In your opinion, can an artist do both and remain objective?
Of course, but the artist has to be at least smart enough to know he has to pay attention to the danger of losing perspective.

With Perfect World, you have teamed up with Fabrizio V.Zee Grossi - he comes with an excellent reputation - how did you enjoy working with him?
We had a good time but we did most of our work remotely. He would send stuff to me, I would work on it, and then I would send it back.

How about the team behind Fabrizio - did you work with the making of the album from the start, or add vocals after the fact?
Serafino from Frontiers came to me with the songs and put me in touch with Fabrizio, we worked out the keys of the songs, they are all cover songs, then we did the back and forth that I mentioned earlier.

I will happily let you know I think the album is great and continues the high quality output we expect from you! What was the concept behind making the album?
Well, Serafino asked me to do a record of cover songs, and after I listened to the songs, I though it would be fun to do. But contrary to what I've seen written, I wouldn't call it a "Solo Record" because I didn't pick or write any of the songs.

The album is still classic melodic hard rock but has a slightly modern touch - musically and production wise - is this where you are as an artist in 2003, or were you trying to do something a little different?
I was just fulfilling this concept that Serafino brought to me. He wanted to do an album of cover tunes with me singing.

Fabrizio seems very good at adding subtle modern touches here and there without throwing the listener into some place unfamiliar. Do you agree?
I thought he did a great job and he was easy to work with.

Can you tell us where the songs came from and when they were written?
All of the songs are cover songs, some of the original artists are: Natalie Imbruglia, Liane Rhimes & Jennifer Page.

It really is a fine album - how do you keep you voice in such good condition?
Fortunately, I have the luxury to sing on a particular day or not. If my voice feels a little rougher than another day, I can choose to sing on a song that might benefit from that tone. Over time you learn a myriad of things that keep the voice in shape, but I like my voice to have a little more mucus rather than to be too dry, so I don't worry about eating dairy etc. As a rule, I don't like some of the traditional "rules" that some singers & vocal instructors think are so important.

You have included one well known cover - an interesting choice and a great result - Just Like A Pill by Pink - it suits your voice perfectly. What inspired you to tackle that song?
Actually, we had an arrangement of a song that wasn't working, so we "Just Like A Pill" as a last minute replacement.

What are you personal song favourites from the album?
I have to say that this really was Serafino's idea of a group of songs that he thought would sound great redone in a different way and I agreed, I enjoyed singing all of them, but I wouldn't choose a favorite.


What's in the future for Hurricane? There was talk of a release of a archive live album. Is that still happening?
Well, we're still trying to negotiate terms, but sometime these things drag on. But we're trying to make it happen.

And how about a new studio album? Liquifury seemed to be very well received, can you see another album happening?
That is a possibility, if it all comes together.

And are you personally working on any other projects you can talk about?
I'm in negotiations for some movie music productions, and doing some co-writing and co-producing some artists here in L.A.

How did you enjoy singing on the Styx and Journey tribute albums? Best performances on the albums I thought.
Nothing else lined up as far as tribute albums are concerned, but I liked doing those and I tried to be faithful to the spirit of the originals.

How's the music business in LA 2003 compared with LA 1983 and also 1993?
'83 was a time of great growth and experimentation, '93 brought the previous era to a halt with the introduction of Grunge and the beginning of the end of the "free Radio" era. Now the music scene is in a difficult time with downloading causing an uproar in the traditional music industry. Time will tell if fresh minds can create new concepts to enable artists and labels to still make money without sacrificing quality.
Thanks Andrew!