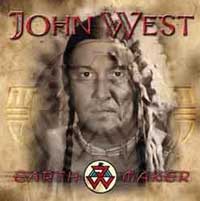 G'Day John,
Congratulations on a fine new solo record. Earth Maker is your third solo CD - how do you compare it to the other two?
Quite different actually. A new line-up, heavier sounds. Lyrical concept album.

Two questions there - how did you set about writing for the story within this CD and what drew you to this particular story line?
I had it come to me in a dream. I have Native American background, so it is very important to me.

How long did you work on the lyrics and the music for Earth Maker and also, how long did the recording take?
The whole thing took about two years to do.

The record, while retaining the concept, is quite musically diverse. You have classic rock, modern heavy metal and traditional hard rock elements, not to mention a couple of epic tracks! Do you have a preferred style for writing?
I don't want to limit myself to any one style. That is the whole point in doing a solo album for me.

What about the band featured on this release? How do you know the guys?
I've met and worked with all of them in the past on different things. Mike and Bobby are new friends of mine. I really wanted the best heaviest band I could get.
And everyone has to be a good guy too. Cool people are very important for me to work with.

Would you mind offering a few comments on each song from the new CD?
· Soul Of The Beast
Chris and I wrote this heavy blaster. Great opening tune.

· When Worlds Collide
Features a keyboard "duel" between Vitalij Kuprij and Andre Andersen. Classic John West style vocal!

· Sleep Of The Dead
Modern, heavy ,killer!

· Stand, Sentinel
The epic song here. Lonnie Park and I crafted this 8 minute masterpiece. With some of the best Chris Caffery solos ever recorded by modern man!

· Life
Deep heavy.. Metal Mike all the way!

· Warrior Spirit
Groove sandwich!

· Mystic Wings
Ballad anyone? Scorpions wish they had this tune..but no! We do!

· Love Is Pain
Ain't it the truth?

· Earth Maker
Title track. Very heavy and majestic ala Lonnie Park meets JW.

· Soul To Soul
Piano ballads are becoming my trademark at the end of the album. a nice going away present for the listener! :)

You work with an all European line-up with Royal Hunt, how does working with an American crew compare with the Europeans?
Different kinds of beer.

You have an extensive resume already - do you get a lot of cool fan feedback?
Absolutely. I am getting 2,000 hits a week right now on my website.
www.johnwestmusic.com see naked pictures of me there! (just joking)

Working with Artension, Royal Hunt and solo - do you mentally change your approach with each project, or is does each one merely offer a different personality of John West?
I sing to the style of music that is there. I love each one for different reasons. And each is a side of my style coming through.

Do you prefer working on your solo projects - where you have full creative control - or within a band environment like Royal Hunt?
It is nice to be in a touring band. That's important to me.
I wouldn't want to be stuck in a studio all the time.

The Mission CD was a fantastic release - did you guys have a target in mind when heading into the studio to write and record that album? It seems as if everything was prefect on that album!
Oh, yes. There are no mistakes on a RH album. Everything is planned out in advance. Comes out really cool that way! Andre has the big vision for Royal Hunt.

What's next on the agenda for Royal Hunt?
Probably a new album sometime. We are resting after touring, and releasing the "trilogy" of albums (Intervention, Mission, The Watchers) over the last year and a half.

And what's next on the horizon for John West in general?
Chris, Lonnie and I are preparing for a Japanese promo tour. We leave this week. Unplugged shows, TV, radio appearances, that kind of thing.

Going back a bit, I really first heard of you through your appearance on the Cozy Powell album. Excellent vocals. Have you a favorite side project/guest appearance out of the ones you have done?
Probably that one. Cozy was a real gentleman. Great drummer, great guy! RIP

Any plans to get your albums out in the USA? Solo and band projects? It seems you have great European coverage and I was wondering about other areas.
Most of all my stuff has been released in USA over the years. I don't have a deal yet for Earth Maker, but it will come soon.

Thanks for your time John, all the best for the future. Anything you would like to add?
Thanks a lot, and keep up the good work. We appreciate everything you do!

Cheers John!