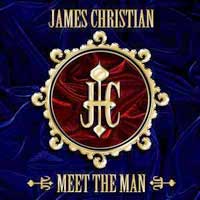 James Christian: Meeting the man again....


James Christian talks about his new solo album, a follow-up to the highly regarded Rude Awakening CD.


James, Meet The Man comes several years since your last solo album. Earlier in the year the House Of Lords album was released - what else have you been up to in the time since Rude Awakening was released?
I have been very busy during that time. I have gotten married and I am now a father of a beautiful little girl. I have also been producing music for other artists. So 10 years goes by rather quickly.

Meet The Man features songs from your vast catalogue of music - a choice was obviously made to record tracks demoed in the past - where any newly written tracks included, or are they all from the catalogue?
All are from the past catalogue. There is so much great material that was never recorded and really deserves it place on a CD.

Why look back in the first place? What was the criteria for a song making the final cut for this release?
The reason why we look by is to take a glimpse into one of the greatest eras of music ever. Why listen to old Led Zeppelin, or Beatles. We see bands re-recording old songs all the time. That really shows an appreciation for the music I grew up with.

Were there any songs that didn't make the cut you were hopeful of including?
No I will leave that for another CD. There is much more material that I have done in my career that I would like to see on CD.
Does this mean I will never write anything new? No. I have plenty of ideas for new material, but I still have a desire to get the material from my past out there. It's so important to me.

What time frame do these songs come from?
A span of 12 -15 years. That seems like a lifetime but it also feels like yesterday.

Can you offer a comment on each of the songs:
After The Love Has Gone - This was done a Bruce Gowdy's studio with Chuck Wright and myself. We did this song so fast that I was not sure if was even a good song. I realized after I heard it years later that it was actually very good.

Know You In The Dark - I did this song for Judith Randall as a demo at Curt Cuomo's studio. I hated the demo as I thought the recording was very poor. I thought the song was good and that is why I recorded it.

Surrender Your Love - This was the last song I chose. Someone gave me a CD about three years ago when I was producing a Shanghai CD. I did not listen to it till just this year. There were about five very good songs on the CD. I felt this was the best of all of them. The writer was Rick De Paoli.

Meet The Man - One of my favorite songs. This is a track that my wife Robin Beck found for me. I glad she found it.

End Of Time - I recorded this song originally for an artist named "Pata". He is very famous in Japan. I wanted to re-record it for my CD as I really loved the song.

Love Looked Into My Life - Very nice song by both Judithe & Robin Randall. A thoughtful ballad.

Leave Well Enough Alone - Another one of my favorites. This song was written is a females key and although I could have brought it down a few keys, I wanted to keep the energy of the song so I left it up there.

Strong Enough - Written by Stan Bush. Great songwriter. One of my favorite songs I did with HOL was "Love Don't Lie"

You Should Be Blue (All I Could Feel Was Blue) - I thought this was an interesting track when I did the demo. I always thought that with a heavier band track it would pop out.

Circle of Tears - Another Judithe & Robin Randall song. Those girls could really write. I am fortunate to have had their input.

Hold Back The Night - This song should have made it onto an HOL CD but never did. It was written by Lanny Cordola, Chuck Wright and myself. I think it was one of our better songs. What a mood it has.

The House Of Lords album was recorded in LA, while your vocals were recorded in your studio in Florida. The same again with Meet The Man. This time with producer Fabrizio V.Zee Grossi involved. What did you think of the idea for Fabrizio to handle the music, leaving you only to worry about the vocals?
I never worry about vocals. I know I will be able to accomplish what I set out to do. There is no difference by me being in their studio or mine. I don't punch-in a lot so once the record button is pressed, I sing the song through. Then after I have three or four tracks, I put together the best performance. I can do that myself.

How do change your thinking and the way you work to create an atmosphere that will reflect the energy of the songs when only working on half the project yourself?
Well even if I was with the whole band in the same place, I would still be in the vocal booth by myself. I have a great imagination. Getting inspiration is so easy to do when I am singing.

Do you put some degree of faith in the team at the other end to do justice to your performance?
I have faith in talented people. I listen to their work first and then let them do their job. When I am asked to do a session for someone. I appreciate the same courtesy.

Dare I say it - could one afford to do such a thing based on your life outside music and the costs of gathering everyone in one place?
The costs are insignificant when you realize that most musicians have their own studios. We have a luxury that was not available 15 years ago.
Then we were ripped off royally at 100 dollars per hour in most studios. Now with technology the way it is, we have do our tracks in the comfort of our homes. You still have to have some talent mind you.

What is the difference in the scene now, compared to when House Of Lords broke through and also when your first solo album came out?
When House Of Lords broke it was a wonderful time for music. Fans were coming out to concerts in record numbers. Great music was being recorded and most musicians generally had some real talent. Things today have gotten much better but there was a period from 1990 to maybe 1999 where some of the garage bands should have never made it out of the garage. Now we are seeing much more quality in the musicianship, vocals and songwriting.

I know you have a wealth of unreleased tracks still sitting in the vaults - is there any chance more might see the light of day - even as possible Internet released tracks for willing fans to purchase?
Yes I have many unreleased tracks that go all the way back to Jasper Wrath.

What's next on the James Christian calendar? Another solo album in time?
Right now I am working with Robin Beck for her new Frontiers CD. It will be a great one.

Yeah, I had heard Robin may record a rock album next! I do like her Wonderland release!
I happen to love the Wonderland CD. Again, I am a believer in strong songs. Every song on her CD is quality songwriting. My only regret is that the record company was actually living in "Wonderland" I can hear them now. I "Wonder" how we should promote this record? They never did.

Any possibility of working with House Of Lords again?
I love the HOL boys and would work with them anytime.

You work long and hard in the studio - do you miss performing live at all? Is there any chance that might still happen again one day?
I love performing fist and foremost. If the opportunity arises, i will be there.

Anything you would like to add?
Yes Andrew, I would like to say that although you were very hard on my performance on the last HOL CD, I still think that people like yourself are responsible for keeping MelodicRock music alive and kicking. I do appreciate it.

Thanks for not kicking my ass James!