Jack Blades: 20+ years later – a solo album!


Jack Blades is always a good interview - interesting conversationalist and of course there is always a dozen projects to talk about at any given time. This is my forth official interview with Jack and he remains as entertaining as ever - talking about his current passion, a new solo album.
Thanks as always go to Ron Higgins for transcribing the interview for me.
How are you Jack?
I'm great, Andrew. How are you

I'm good, thanks.
Wait a minute. My wife is really upset with me right now.

Oh, is she?
No, it's okay. She's not upset with me anymore.

What have you done?
It's okay. I haven't done anything. How are ya?

Working hard, mate. Working hard. And you? I've just got off the phone with Eric [Martin].
He told me you were going to call him today.

He said you were swapping stories.
Yep. We're swapping stories as it were.

He tells me you guys are working on something. That's very good to hear.
Did he tell you what it was?

Not really. He said he couldn't really yet, but he just said you two were working on something for a Japanese…
Yeah, it's a pretty big thing in Japan so it's going to be pretty fun.

I'm pretty impressed to hear that. I think you two should've worked together long ago.
Oh, yeah. He and I, we're friends and it's like, we're going to have some fun here.

Absolutely.
It's going to be a fun time, man.

Good on you.
So I've got this new solo album out.

Yeah, let's talk about it.
Well, it's actually not coming out until next month.

It'll take me that long to get the interview done, so I thought I'd talk to you as early as I can then I can take my time getting it ready.
Beautiful. Beautiful.

It's not what I… let me be polite; it's not what I expected.
What did you expect?

I don't know what I expected, maybe something like the first Damn Yankees.
With like what?

…or a little bit more Night Ranger like…..I'm not sure.
Really?

Yeah. Some of the stuff on there is like the Shaw/Blades, I can see that, you know, straightaway, and that's great, but there's a couple of… you experimented a little bit there too, didn't you?
Like on which songs?

"We Are The Ones" and "On Top of the World", that was a far out track.
Oh, I fuckin' love that track.

Do you really?
I love the lick.

It's a big heavy track….
It's pretty beastie, yeah. I love the fact that it's so… it's all the guys in Night Ranger, but it doesn't sound anything like Night Ranger.

Are you serious?
It's all the guys in Night Ranger. That's Jeff and Brad, and me and Kelly.

No way.
Yeah.



That does not sound like Night Ranger.
Well, that's what I'm saying. That's why I love it.

Wow. Okay.
I wanted us to be on this heavy, heavy track that doesn't sound anything like Night Ranger.

Yeah. It doesn't. I'm surprised.
Yeah. I really like that.

Yeah. And "Who You Wanna Be", I thought was another different kind of track for you.
Yeah, you know what? I wanted just to… I'm such a Zeppelin fan, that I wanted to do like trippy, far out, weird, different things, and when you have a solo album, why not do something like that.

Okay.
I mean I though the melody and the verses were very Jack Blades <starts singing>, you know what I mean? And then the great sort of Zeppeliny <sings guitar riff>, you know what I mean? I just love it. It was really, really fun. And then that's Brad playing the solo, that really outrageous part. That's Brad Gillis playing on that.

Is that right?
Yeah, yeah. We just had a ball doing it. You know when you have a solo album you get to stretch and do things so you're not confined to this little box or world that everybody has put you in. And I think a song like "Shine On" is so Damn Yankees like. I mean "We Are The Ones" really was written with Damn Yankees in mind and that was one of the songs that was going to be on the Damn Yankees record.

Yeah.
I just love that. I think it's great. It's just kick ass stuff. Then "Sea of Emotions" with Neal and me doing it.

That's a great song.
That's a blistering solo on that.

I think what really…
I'm sorry you don't like my record.

No, I didn't say I didn't like it, Jack. What I'm saying is a couple of the songs… There's some classic stuff on there, don't get me wrong. I think I was really surprised to hear such a varied record.
Well you know what, I've been writing so many songs and I have so many things, and if you're not, if you can't do what you want to do on your own solo record, then what good are you.

Yes. Okay.
Because a song like "Someday" <sings>, is so Jack Blades as well as "Shine On" is so me, and of course like "Don't Want to Be Alone Tonight" is like a big ballady Jack Blades song.

That is possibly my favorite song.
Yeah, Neal and I just love that. Neal and I wrote that together.

Did you? That's a killer song. I'll tell my other favorite…
And then there's a song like "Sometimes You Gotta Have Faith"

That is another favorite.
That is so my attitude in life. That is so me. Sometimes you've got to believe in something greater than self, sometimes you've got to believe in something bigger than yourself, you know what I mean.

Now that song I could hear on radio.
Well that's what I mean. Did you hear "Nature's Way"?

Yes.
That's always, when I was growing up that was always one of my favorite songs by this group called Spirit, which was a '70s LA rock band, right.

Yes.
That song was always one of my favorite songs and I think it's even more timely now because it's Nature's way of telling you something is wrong, and with Tommy and I doing it as a duet, I think we just kicked ass on it.

Yeah. I think probably my favorite song on the whole album is "To Touch the Sky".
Oh, I love "To Touch the Sky".

Man, that has got melodies going everywhere.
I know, isn't that great?

That is a great song, and your vocals on that are just fantastic.
Well thank you very much. I was really proud of the fact that Neal and I wrote that. I told Neal, I said "Damn Neal we should've been in a band together. I told you that."

Absolutely.
Yeah, let's quit fucking around. Look, I'll show you <laughs>.



There still needs to be a Schon/Blades album, you know that?
Yeah, forget Shaw/Blades it's Schon/Blades. <laughs>. But I love Shaw/Blades too, man.

Oh, I do too. I still play that record all the time.
Yeah, that's a good one.

Your album - I like some parts and there's some of it that I still need to live with because it is just so different.
Which ones do you have to… which ones do you think are so different? Like "On Top of The World"?

Oh "On Top of the World" is really… I really haven't gotten into that one yet, but hearing you talk about it helps me go back and…
And then Jeff Watson played this blistering, blistering lead in it he just fucking went for it. It was insane. That's the lead that's on there. That was the first take and it was like, fuck, that's it Jeff. That is it. We looked at each other and went, "Wow!"

I can't believe that's all the guys from Night Ranger.
That's Kelly, that's Brad, that's me.

I loved "Sea of Emotion". I love Kelly's line in there. It's good to hear him singing.
Yeah, I wanted to put Kelly in the bridge there.

Yeah, he's a great bridge singer isn't he?
Oh, he's just wonderful at that. And then how about Warren… that's Warren DeMartini playing the solos on "Shine On" and "We Are the Ones".

Is that right?
Yeah, that's Warren DeMartini playing those. In fact, it's Warren, he wanted to play acoustic guitar on "Who You Wanna Be" because he was always a big Zeppelin… he's a huge Jimmy Page fan and he's playing all the acoustic guitar playing along all of the verses of "Who You Wanna Be."

Okay.
And that's Warren playing all of that, and then that's Warren playing a bit of the solos on "Don't Want To Be Alone Tonight".

Yep. I love that ballad. It's such a great ballad.
Yeah, that's a killer one. On "Who You Wanna Be", I said, let's just do an outside sounding song that'll just be this spacey… you know, let's just stretch, let's do things we would never do like backwards drums like that break in the third verse. In fact, in "Who You Wanna Be", you know what I did, I played a different bass melody in each verse.

Is that right?
I have never done that before. I've never had the freedom of being able to do that, and I was so excited about that. It's like when McCartney did "With a Little Help From My Friends", each verse he plays a different bass line, you know what I mean?

Yeah.
The first one was <sings example>, then the next one was <sings> and then the next one was <sings>, you know what I mean? Each verse in "Who You Wanna Be", I play a different bass line in the verse. I had so much fun with that song. And then Warren playing the acoustic guitar and then that Zeppeliny like chorus riff <sings>. I love riffs, man. I'm a riff kid from way back. I grew up listening to English riffs like Cream and Deep Purple and Led Zeppelin. That's the music I grew up on.

Yeah, I can see some of that in the record for sure.
Yeah, yeah. That's the stuff I grew up on, man. And I wanted to have in "On Top of the World" the most heavy, obnoxious most raunchiest fucking straight in your face heavy, heavy track with all the guys from Night Ranger playing. Just to show… just to be able to do that so it doesn't sound like a cute little pop song.

That's not cute, that's for sure <laughs>!
You know what I mean?

Yeah. I do.
And the bridge on "On Top of the World" <starts singing>

Well you're helping me understand it a bit better which is good. That's what the interview is all about.
That's what interviews are all about.

That's what it's all about. "Someday" is another great ballad. That could be on radio, couldn't it?
Exactly. "Someday" is a great track, kind of a mid-tempo…

And Tommy Shaw is on that as well I presume?
Yeah, he sings the backup chorus there with me. Absolutely.

Fantastic.
How about "Shine On"? Do you like "Shine On"?

"Shine On" you know, it's really funny, I didn't enjoy it at first, and then I finished the record and I was walking out of the house singing "Shine On" and I'm thinking, "that's a sign of a really good song."
"Shine On" is… I really just love that track.

Yeah, it's infectious isn't it?
Yeah, totally infectious and it's Michael Cartellone and Tommy and me. It's just great.

Now you recorded that for Damn Yankees. Did you totally re-cut it for this?
Completely re-cut it. In fact, some of that stuff on there is from the demo that Tommy and I originally did of the song.

Is that right?
Yeah. It was so good. The demo that we did was so good that we put some of it on there.

Yeah.
Some of the choruses and stuff.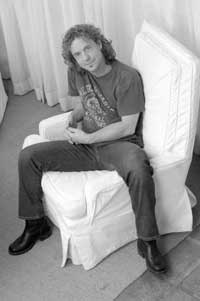 Okay. How many tracks did you record for this album, Jack? Did you put everything on there that you recorded or is there some stuff that didn't make it?
No, I put pretty much everything on there that I recorded.

Yeah? Okay.
Plus that bonus track for Japan. Which one did I put for a bonus track?

Yeah, I saw that the other day.
Oh, <starts singing> "I will catch you when you fall…"

I haven't heard that track. What sort of style is it?
Oh, you haven't heard that one?

No.
Oh, that's a very bizarre track too.

Is it? <laughs>
A great chorus and the verses are really different – really strange and different. Kelly played the drums on it and we did this break in the middle of it, it was really fun. You know what, man? I had fun with this record.

It does sound like this is your record. It sounds like you've just gone, "Screw everything, this is what I want to do, and I'm doing it."
And you know what? I think you'll find fans loving it.

I hope so, Jack. I really do because we want another one. And then we want another one after that.
Right.

So you've got to keep at it.
Keep it rolling baby.

Yeah. What about Night Ranger? Let's jump to them.
What about them?

Are we going to have a new record this year, please?
I don't know. We just came back from a nice tour of Japan.

Yeah, first time in a while.
We had a great time.

I heard good things.
We had great, great shows.

I don't know why you didn't come down to Australia afterwards with Nevermind.
Too bad. But you know, we're actually talking to record companies that want us to do an album for them in Japan.

Good.
We'll have to see what happens.

Yes, please.
Would "On Top of the World" be an example of what's to come, or just traditional Night Ranger? Ha, ha, I don't know. I think the guys might think that's too heavy.

Yeah, probably <laughs>. But it's good to do it and have some fun with it, right?
It's good to do it and have some fun. I mean it's like an Audioslave track or something.

Yeah.
It sounds like a Rage Against the Machine lick, I love that stuff.

It sounds like it. I just remember listening to it and… I'm going to have to listen to it as soon as I hang up because…
Now you'll understand it more.

Well I hope so, yeah. I do. I do. Night Ranger. That's good. I heard you filmed some dates. Is that right?
Yes, we filmed three dates in Tokyo so there might be a DVD coming out.

Yes, please.
My friend John Kalodner wants to release the DVD.

Oh, great.
He's with Sanctuary Records now.

Yeah, I heard that. I was just talking with him not too long ago. I did a nice interview with him. I like John.
He's a great guy. He loves this record. He wants to release it.

Good. I was going to ask if there's a U.S. release planned.
Yeah, there probably will be a U.S. release. [Update: Yes, there is…it's due in April]

Good.
And he has Tommy Shaw and I doing a record.

Really?
Yeah, a record of our favorite tunes from the '70s.

Are you serious?
Yeah, I'm dead serious.

Wow.
Tommy and I are going to start doing it January and February and just knock it out.

Under the name Shaw/Blades?
Yeah, I don't know… or just Jack Blades and Tommy Shaw or whatever. It's going to be our favorite, like Seals and Crofts' "Summer Breeze", maybe "California Dreamin'", maybe "For What It's Worth" by Buffalo Springfield, maybe "Bus Stop" by the Hollies, maybe, you know, things like that.

Okay. In the acoustic vain?
No. In the regular just rock and roll vain.

Like "Shine On" or like Shaw/Blades kind of style?
I don't know. Whatever the song needs to have.

Really? Okay.
Yeah.

Shaw/Blades was a pretty unplugged album, so not necessarily like that?
No. Not necessarily like that at all. We were even thinking about doing Three Dog Night's "One" <starts singing>.

Ah, that's a great song.
I know. Think of all our favorite songs. Like Rod Stewart did all of those like '30s or '40s, or whatever it is…

Yeah!
We're thinking about doing all the songs that we grew up with, that all the people our age will absolutely just remember and love.

Fantastic.
Yeah, we're really excited.



Good. So we've got Shaw/Blades coming up, we've got possibly a Night Ranger DVD and hopefully an album.
Right, and we've got a Jack Blades solo CD.

We've got Jack Blades coming up…
Very good. And then we've got this special thing that's very secret. The big Japanese group.

Yeah, you've got that going on.
That Eric and I are going to be involved with and doing.

Wow. Holy cow. What a year coming up.
And we're putting together possibly a tour right now for May through June of Night Ranger, Ted Nugent and Styx in the United States.

That needs to be done.
And in the middle of Ted's show, Tommy and I will come out and maybe play 5 or 6 Damn Yankees tunes.

Hello. I'd love to see that show.
Wouldn't that be great?

Maybe we can get that down to Australia or something.
Wouldn't that be great? That's the kind of stuff that I'm talking about.

That'll be a good show.
Yeah, so we're really excited about that.

Okay.
A lot going on, man.

Fantastic. What else? Geez.
Oh, and I wrote that song that I co-wrote with my son on my CD. I love that.

Oh, absolutely.
"Breakin It Down".

Yeah! I love Colin's album.
Colin's got a good album doesn't he?

Did you see the review I did for it?
No.

Yeah, I gave it 92%.
No way!

Absolutely. I'll email it to you.
You've got to email it to me directly.

I will, and I'll send you the link as well. I gave it 92%. It's a killer album.
Oh, I'd love to see… please, email that to me.

I will. Connoisseur sent it to me. No, you sent me the promo a long time ago.
I think so, yeah.

But I bought a copy myself directly from Connoisseur's web site.
Beautiful. Beautiful.

It's just a great album.
He just got back… he was touring all this past week in… what's today, Monday? He was touring all last week, he came home for 3 days from Japan and then went right to the East coast and played some shows and did radio shows and did a whole bunch of stuff. He just got back Saturday night.

He's having fun?
Oh, yeah. He's loving it. He's going to have a good year next year too.

Yeah?
It'll be a good year for the Blades boys. <laughs>

Yeah. It sounds like it.
A lot of work for the Blades boys.
I've got one son who works for Doc McGhee – McGhee Entertainment.
Yeah, he's an assistant at the management company there.
So he's down there in Hollywood in the middle of all that stuff all the time. With Slipknot and KISS and Hootie and the Blowfish and everything else.

Fantastic.
And you've written a couple of other things for Frontiers too haven't you?
Yeah.

Mickey Thomas… I'm looking forward to hearing those. In fact, I've heard one track that you and Neal wrote.
Which one?

"One World".
Oh, you did?

Yeah. Frontiers sent me an MP3. Great song. A very Shaw/Blades kind of style. Very Journey, actually.
Very sort of John Waite, actually. It's a very cool song. I liked it.

Will Colin do another record next year?
I hope so.

Fantastic. And you produced that, didn't you?
Yeah, I co-produced it with Noel Golden.

Yeah, who's Noel worked with before?
Matchbox Twenty, Edwin McCain…

That's right.
Those kind of people.

Damn Yankees? I supposed you've got so much going on you probably don't have time for Damn Yankees.
We're kind of just doing… we're going to put this… if this tour comes down I think that'll generate a lot of interest in the Yanks.

Yeah, definitely.
It'll make it… I just want to… I just talked to Ted three days ago in fact and he's telling me how amazing… that he's written some great songs, some great licks. He's got some great shit going on.

I loved his Craveman album.
I know. Craveman is great. I think I wrote a song with him on that.

Yeah, you did. It's a great rockin' album.
"Crave". We wrote "Crave".

He's an insane human being. <laughs>
He's a great guy.
He'll be the Governor of Michigan before you know it.

That's something I'd like to see.
I'm not sure I would.

Gun issue laws for everyone.
Yeah, guns for everyone!

Fantastic. So what else? Anything? You shot the video for "Shine On" haven't you?
We shot the video with Tommy and I in the video and I think it's going to be actually on the CD. You put it in your computer and play it.

Yeah, I think that's a cool thing. I think more people need to make videos these days.
I think so, so they can get that and there's a reason to buy the CD and not just burn it.

Exactly. I think it's a great thing and you've done a little interview for it as well I hear?
Yeah, I did a little EPK interview on it too. So it's very cool.

Yeah, that's a good thing. What do you think about the whole industry?
I think it's an exciting time right now. I think it's changing. As soon as they figure out what's going on, and we figure out how to keep people from stealing music and all that stuff, I think it's going to be good. I think music will always be around, man. I think you'll always want to hear music. And we've just got to figure out different ways to do it. We've just got to figure it out. Once it gets figured out, it'll get figured out. Then once it gets figured out, it'll get changed again.

Exactly.
That's the way it is. We just have to figure out this whole thing to keep people from stealing. That's the problem.

Yeah. It's too easy for them isn't it?
Yeah, it's just too easy and people don't think anything of it. They think their music should be free. They think, you know, you spend half a million dollars making a record and they should get it for free. It's very difficult because nobody wants to… in the beginning when that became popular, it's like, they should've stopped that in the very beginning, but the record industry was so stupid that they decided to do nothing about it and now they're reaping the rewards.

Exactly.
But it's the same thing with movie guys. You think Spielberg is going to spend $200 million making a movie and let people just download it for nothing?

Well they're next aren't they? They're the people on the chopping block next, aren't they?
Right, right.

The internet can be a good thing and it can be a bad thing as well.
That's right.

It's a shame that some of the record labels think that anyone on the internet is a pirate. That's a shame.
Yeah, yeah. They just don't get it.

It could be like what I do. I positively promote music. I thought that would be a good thing.
You're a pirate?

I'm not a pirate!
I know!!

I'm going to upload your CD to my site and give it away.
<singing: Give it away, all, give it away, all>
There you go. All right, mate. You got it?

I absolutely got it. Thank you, sir.
Okay. And if you need anything else, call me, email me, let me know…

All right. I'll do that.
Thank you, mate. .

Thanks, Jack.
Cheers.