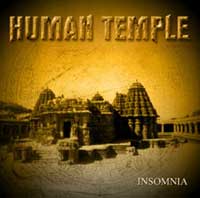 Human Temple: Breaking through for their debut album.


Finland's Human Temple talk about their debut album Insomnia and what else they get up to.


Human Temple's debut album is in stores now. Are you happy with the result?
- Yeah. We took our time working on the tracks, and I think you can hear it.

When did the band form and how did you guys all know each other?
- I've been in various bands with Petri (drums) ever since we were really young, and you could say that they were all sort of early versions of HT. The first official Human Temple line-up was formed in 1998. The other current members weren't in the band back then though.
First to enter was our bass player Harri, from the cover band SEX A.M., guitarist Jari used to be in my solo band too and I've known keyboard player Tony for years.

What bands were you in prior to Human Temple?
- I have had a solo career since 1995, before that (and during all these years) I've been in many hard rock groups, but none of them have released anything.

What are your personal influences as far as music goes?
- The first one was Kiss, "Heaven's On Fire" video made a big impression. Then came all the others… W.A.S.P. Mötley Crüe, Whitesnake and Rainbow. Later came Firehouse, Danger Danger, House of Lords, Talisman, Baton Rouge, Pink Cream 69; there are so many good bands. As a singer I look up to Geoff Tate, Coverdale, Jeff Scott Soto, David Readman, Jorn Lande and Roy Khan.

What are your favourite ever albums from the past?
- Queensrÿche: Operation Mindcrime, Whitesnake: 1987, Kiss: Crazy Nights, WASP: s/t, Talisman: s/t, Baton Rouge: Shake Your Soul, House Of Lords: s/t.

How would you describe the music of Human Temple to those that don't know
you yet?
- Nice, melodic, very much in the eighties' style. The kind of music we grew up with.

Where did the band's name come from?
- I saw a poster in a doctor's office, in which there was a man full of needles, with every part of him separated to pieces. He kinda looked like a puzzle or a labyrinth…and then it hit me: "Human Temple". Every part of a man is like a room in a big house…

You are part of the Finnish rock scene. How would you describe this scene to others from different areas around the world?
- Although the mainstream is dominated by Idols winners and Popstars, there's a lively rock scene too. A few bands are doing great overseas as well, The Rasmus and Nightwish for example. Metal in general is quite popular. It's still hard for bands on smaller labels to get airplay or publicity though.

How did you work on getting a record deal?
- We actually recorded the album before we had a deal. There was interest, but nothing concrete, so we went for it by ourselves. Then we sent the finished tracks to the companies which had showed interested in our early demos, and to some other labels. Three companies offered deals, and in the end we chose MTM.

How do you work on songwriting - what's the band's preferred method?
- I myself like to work at night, it's the time when the best ideas come. I put some lyrics or melodies to paper or a tape, and then we all together build the songs in our training place or someone's home studio.


Janne - can you tell us and those into your rock music about your very
successful solo career? Can you describe the music you have performed as a
solo artist?
- It's quite different to the hard rock of HT. The lyrics are in Finnish, and it's musically more traditional finnish dance music or pop. Some of the songs on my solo albums could be re-arranged as hard rock songs though, especially some of those big ballads.

What about this covers band you are involved with?
- It's called SEX A.M. and we are kind of a "funband". We mix up all kinds of classics and Finnish songs. Sometimes we do our own, sick little versions of those great old songs. On the road we always have a very, very good time.

Do you get to play live very often as Human Temple and do you have any
shows planned for the near future? You did play some shows with Urban Tale
didn't you?
- We don't get to play live too often, but hopefully that will change. At the moment we have a gig lined up for 22nd of September, it'll be our first show in Helsinki. The location is a club called Stella Star. If there are changes or more gigs confirmed, they will be announced on our website www.humantemple.com.
The Urban Tale shows didn't happen for one reason or another.

Is there one thing you would realistically like to achieve with the release of this album?
- I'd like to see us touring around the world or at least do some gigs in Europe, maybe Japan…

What advice would you offer to other new bands that are looking to write good songs and secure a record deal?
- It takes a lot of hard work, lots of hours practising, and writing…but don't give up your dreams, and believe in yourself.

Guitarist Jari produced the album. What are the necessary and key ingredients to ensure a great sounding record?
- Well Jari might be the best one to aswer this…I think the equipment is pretty similar everywhere in the world these days, so in our case the key ingredient is Jari Salo's talent as producer.

Any artist you would really like to work/write with if you were given the chance?
- There's so many…James Christian, Jeff Scott Soto, Mike Slamer, Steve Lukather, Nikki Sixx, Dennis Ward, Mutt Lange, Max Martin…a very hard question, I have to say.

Do you have plans for the next album yet and how do you think that will sound?
- We have a lot of good songs ready for the next one, and I am anxious to start working on them. I promise that it'll be even better than "Insomnia".

I always ask if there is anything you would like to add to finish up?
- Of course it would be great if everyone reading this would take the chance on a new band and buy "Insomnia"! Hopefully we can see you on tour somewhere out there one day!

Please plug your website. Where do fans find/contact you
- www.humantemple.com is our website. You'll find the email addresses there, and a discussion forum where you can drop us a line if you feel like doing so!

Thanks for taking time out to answer the interview questions. Best of luck
for the future!
- Thank you for your support, Andrew!