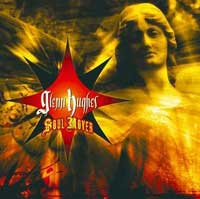 Glenn Hughes: The Soul Mover Speaks.


Glenn Hughes talks at length about his soullyfully rocking new solo album, Iommi Hughes, that live DVD and a bunch of other great stuff!

This is a MP3 Interview in 5 Parts! I hope you enjoy the concept - it allows the lengthy interview to be placed online quicker than waiting for a transcript to be typed out.

Highlights of the interview include:


"The last 10 years ... it's been a nice little ride, now let's get serious.

What's missing for me is that I wanted to start focusing on what makes me tick. I want to make records now for the way I will be remembered in 10 years time.

I made a lot of records, what I did with From Now On…Feel…all different…that was a guy figuring out what I really want to do.

It's all me (style changes) – it takes me quite a while to feel comfortable in my own skin.

I'm really happy with the focus of what's going on right now….I'm allowing myself to have fun with my music now. Labels that want me to be one dimensional – no – I'm going to do what I want to do. I gotta be me.

This is the best record I've done – personally – in my mind…that's the way I feel. As an artist, I stand behind this record.

My life since I have been sober is not about music. I blew a million dollars up my nose and made it back. It's about making artist statements that will come through the music and the touring I'm about to do.

Although I am writing, I don't see myself recording anything this year. When Tony and I's record comes out, we want to tour behind that.

Deep Purple for me was pretty average – I'm writing better songs now and signing better.

I don't want to make too many u-turns, I've been blessed to be able to write in so many styles. I feel comfortable in all of it and that's kind of a curse in some regards.

I could do a 180 in 18 months time and do a ballad album…cause we all know I'm crazy!!

This new Iommi record…what we have here is one hell of a focused record. This is Iommi's best work. Riffs, songs…just blow your mind type stuff. I told Tony it was his best work since Black Sabbath.
It's one hell of a record….and when you here it you will know what I'm talking about.
The DEP Sessions was well received, we call that the appetizer for what's coming.
The whole rock industry took a shine to us working together again.
I'm going to do at least 80 shows solo this year and Tony and I will tour the world on this record.
It's an album for me that will compete with Velvet Revolver and Audioslave.
I couldn't sing live though…From 1976 to 1991 when I got sober, I did altogether no more than 40 shows….that's a crime for an artist like me who loves to play live.

(Regarding Deep Purple) - People talk about the Purple Mk3 getting back together. I would much rather do a thing with Tony than get together with 4 or 5 guys I don't even know! I don't know who Jon Lord is and Ian Paice and Richie Blackmore….I barely know who David Coverdale is.
I was in a band with these guys – we were all ego's and high or drunk or whatever, pretty much…I don't know who these guys are.
I saw Purple 4 or 5 months ago…I went backstage and I had no idea who these people were….no connection whatsoever….so I wouldn't look forward to that.

(Regarding the new Russian project with JLT) - The songs were written in the 80's, so they are more akin to a lighter Purple Mk3, meets Joe era Rainbow, in a Russian way! That kinda Russian vibe! Very melodic, kinda light…it will serve its purpose in that market. It was great to work with Joe again.