DANNY VAUGHN
mm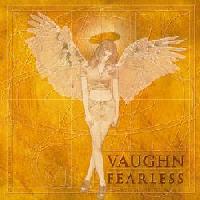 Good to talk to you again Danny, how are things in your part of the world, post Sept. 11. Everyone's Ok I hope?
There were some worries initially as Michael and I both have some friends and family in the Police, Fire Dept., and medical professions, but we have been fortunate in that respect. Things are still very strange over here. Lots of paranoia and tension. But I guess we have joined much of the rest of the world in that respect.

The second Vaughn album was released just prior to that unfortunate date - has this set back the sales and/or promotion of the album in any way? Over shadowed it as such?
I'm sure that it has affected things but it seems like such a small worry compared to everything else. I'm hoping that this acoustic solo tour I'm going to do in February will get my head back on music by reconnecting with my friends.

To anyone that hasn't bought the album yet - what can you say to convince them to take a look at it?
I of course, can't recommend it highly enough!!
Ummmm... it's got a really pretty girl on the cover! I don't really know. If you have liked the music I have been able to make in the past then I don't think that Fearless will let you down. Some folks have said it's my best work yet. I'll leave that for others to decide.

What have you been doing musically since the release of the album?
We were able to do a very good tour of England just as the album was released. Of course, very few people were familiar with the music then. On that tour I did a different encore each night of an acoustic version of an older Tyketto song and it got a really great response. It had been our plan to come back and tour Europe in February but we've had a few set backs. Not the least of which was Sept. 11. I know that none of us has felt like even playing our instruments very much for a while. As always with me, I go back to music to heal myself, so I got the idea of trying to do an entire acoustic show by myself to try and get me back on track. It's a difficult challenge and I've been rehearsing with a lot of excitement about it. Then, we'll bring the whole band back in spring or summer to follow it up.

Are plans underway for writing and/or recording of a third album yet, or is it way to early?
Whoooeeee! Don't rush me yet! We recorded a couple of the live shows on the last tour and one night in particular the band was on fire so I'm hoping that we can turn that into a live cd. I'm not a big fan of those, but it's something people have been asking me to do for quite a while. I'm also tinkering at home with some recording ideas for an acoustic EP or something. You never know.

Have you managed to reach the fan base of Tyketto successfully yet, or is the word still spreading?

I think that it's still spreading. We haven't even touched America yet and I know there are a lot of people out there somewhere that remember us. Slow and steady wins the race, I guess.




What can fans do to help?
Buy 100 copies apiece! No, seriously, our fans always give it such an effort. They e-mail radio stations, they tell friends, it's all a word of mouth proposition right now. I count almost every step forward that Vaughn has made in the last 2 years as being down to the efforts of our fans.

You have just announced a solo acoustic tour - can you tell us some details about this?
Well, I'm planning on doing songs from my entire career including Waysted and Flesh And Blood and I'm never going to do the same set twice. I'm hoping to keep it very intimate like a VH1 storytellers show. I would love to interact with the audience and talk a little about whatever they want to talk about and perhaps get into a give and take with some musicians about writing and performing. I'm also hoping to have a fan or two come up on stage and play with me on a song. Eventually, I'll put that out on the web site and invite people to write in and tell what they play and what song they might like to do with me. I'm hoping that I'll get enough of a response to have a person each night. It could be a disaster, but it could be great as well.

There might be some that say, oh no, why is Danny solo? Is this bad news for the fans of Vaughn?
Not at all. This is something that I've always wanted to try and I've finally built up enough confidence in my guitar playing to chance it.

And some of the tracks you are lining up to play?
I will probably know almost every song I've ever recorded and just see what the audience wants to hear that night. I'm also planning on playing one song each night that nobody has ever heard. Either a song that I wrote in the past that never made it onto a record or something recent that hasn't been played for the band yet. I write a lot of acoustic material just for myself with no intent of ever recording it and I may play some of those to see what people think.

Any such dates planned for the USA?
No plans, I'm afraid.

Do you think that your move to embrace European and Japanese audiences has help prolong your career?
I don't think it was a "move" so much as simply going where people were interested in what I was doing. I have always been blessed with a fan base in Europe and Japan that goes back to the Waysted days and it never ceases to amaze me that these good people have stuck with me.

Looking back, is there anything that you would have changed/done over?
Probably, but I've found that looking back puts a major crick in my neck so I try not to do it anymore. ;-)

Haha! What's next for you and the other guys when you get back from this tour?
We have been invited to play a festival in Belgium in summer and there are some other outdoor gigs being talked about as well as a full band tour in spring that will take us to Germany, Holland, Belgium, France, and maybe a few other places as well as England.

And anything planned over the Christmas period? Family and friends?
Going out to see my family this year and spend some time with my squeaky, new nephew.

Ok mate, that's about it - anything you would like to add?
Just a simple thanks to the fans, and to magazines and web site like yours that provide so many musicians with a chance to be heard. Amy and I want to wish all of you peace and joy for the holidays. Let's hope that the awful events of this year have also managed to remind us that we are all related and can all spread a strong positive message that will outlast the messages of the bad guys.

Cheers for that and take care...talk to you soon...
Happy Christmas Andrew!