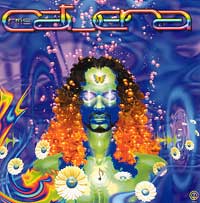 Chris Catena: A stellar line-up for a stellar debut.


Chris Catena pays tribute to the music of his life - classic hard rock - but not only that, many musicians he has admired over the years have come along for the ride. What a star packed debut! I talk with Chris about the album, it's songs and how it works for him being an independent artist.


Hi Chris, Your debut album Freak Out is available now, but we need to do some work on letting folks know who you are.
First of all, how did you get started as a musician?
I AM SON OF A GREAT ITALIAN TENOR. I HAVE GROWN UP WITH THE MUSIC IN MY FEEDING BOTTLE!

I HAVE ALWAYS BEEN IN LOVE WITH MUSIC SO I STARTED FOLLOWING MY FATHER IN HIS TOUR IN THE VARIOUS OPERA HOUSES AND SINCE THE BEGINNING I WAS ATTRACTED BY THIS GLITTERING WORLD.
THEN MY SISTER MANUELA AND MY BROTHER GIANNI, OLDER THAN ME, INITIATED ME INTO THE LISTENING OF ROCK MUSIC. MY SISTER WAS IN LOVE WITH DIFFERENT KINDA MUSIC SUCH AS THE POP HITS AS WELL AS THE ROCK HITS OF THE TIME, THE GLAM OF SWEET, SLADE, T REX, DAVID BOWIE.
MY BROTHER WAS A GREAT LISTENER OF SOLID ROCK SUCH AS DEEP PURPLE, GRAND FUNK, LED ZEPPELIN, URIAH HEEP, BAD COMPANY, B.O.C BUT EVEN PROG, FOLK, PUNK AND OTHER STUFF SUCH AS GENESIS, KING CRIMSON, WOLF, CURVED AIR, KRAFTWERK, GONG, RAMONES, GEN X, DAMNED, SEX PISTOLS, TELEPHONE, KLAUS SCHULTZE, VAN DER GRAFAND OTHER STUFF.
I HAVE BEEN LUCKY TO HAVE SOMEONE TO GUIDE ME INTO THIS MUSIC WORLD, THE REAL AND GOOD ONE, KEEPING ME FAR FROM BEING SWEPT AWAY BY THE SHIT COMING OUT FROM THE MARKET OF THAT TIME....MY BROTHER WAS READING A LOT OF BOOKS ABOUT ROCK HISTORY AND MY SISTER A RADIO SPEAKER AT THAT TIME. THEY WERE DEVELOPING A VERY GOOD MUSIC CULTURE.
SO I GROWN UP PROUD OF MY FATHER'S OPERATIC WORLD BUT IN THE SAME TIME I STARTED BEING INTERESTED EVEN IN THE ROCK STUFF.

What were your personal influences in your youth and have they changed today?
MY RANGE OF ACTION INTO THE MUSIC WORLD HAS ALWAYS BEEN LIKE A RAINBOW. DIFFERENT COLOURS TO MAKE ONE AND UNIQUE THING AND AS EVERY COLOUR TONE DOWN IN ANOTHER ONE, SO EVERY DIFFERENT KINDA MUSIC TONE DOWN INTO ANOTHER, CREATING A BASIC AND IMPORTANT CONNECTION TO REACH THE GENERAL PERFECTION OF THIS MUSICAL RAINBOW.
IN MY COMPOSITION PROCESS I ALWAYS TRY TO CREATE SUCH CONNECTIONS, I ALWAYS TRY TO CREATE A CROSS OVER AMONG THE VARIOUS SORTS OF MUSIC. SO I CANNOT LIVE WITHOUT LISTENING TO OPERA BUT IN THE SAME TIME ROCK IN HIS DIFFERENT FORMS...FROM HEAVY TO PSICHEDELIC...GIVE ME THE GO FOR A BRAND NEW DAY...WHILE THE FOLK OR JAZZ AS WELL AS THE FUNK CAN COLOUR THE MOOD OF A PARTICULAR MOMENT.
ANYWAY ROCK OF THE SIXTIES, SEVENTIES, AND EIGHTIES IS MY FAVOURITE! THE MUSIC OF TODAY CAN DEVELOP THANKS TO ITS ROOTS. ONLY THROUGH ITS ROOTS MUSIC CAN MAKE ITS STREAMS STRONGER.

For those that have not yet heard your music - how would you describe it?
A MIX OF HEAVY, FUNK, BLUES AND SOUL. ....THE SWEET AND SOUR....I CALL IT FREAK 'N' ROLL.!! ;-)
IT CAN BE GOOD TO LISTEN TO IT DRIVING IN THE TRAFFIC AS WELL AS DRIVING ON A HIGHWAY OR SIMPLY GOOD FOR A COOL HEAD BANGING IN YOUR ROOM WITH YOUR FAVOURITE RACKET AS GUITAR..... ANYWAY I THINK IT'S A GOOD WAY TO SHAKE YOUR BOOTY. HAHAHA

This is your debut album - have you been a part of any other albums or bands in the past?
I HAVE RECORDED A SELF PRODUCED EP WITH MY PREVIOUS ITALIAN BAND "Dr. U" , AN ITALIAN PROJECT INFLUENCED BY THE MUSIC OF PEARL JAM, SOUNDGARDEN, STONE TEMPLE PILOT. IN THE LATE EIGHTIES I SIGNED A DEAL FOR RECORDING THE ALBUM OF MY FIRST BAND, "SILVERZ CAT", A CLASS METAL PROJECT. ONCE WE GAVE THE MASTER TO THE LABEL, IT CLOSED FOR BANKRUPTCY AND WE LOST THE DEAL AND THE MASTER!

How long did Freak Out take to write and record?
MANY SONGS HAS BEN WRITTEN DURING THESE LAST TEN YEARS, SO MENTALLY WE CAN SAY THE ALBUM HAS BEEN PARTLY CONCEIVED DURING THE NINETIES BUT I STARTED TO RECORD IT ON 2001.

You have chosen an interesting path - signing a distribution deal for the album and releasing it yourself, rather than signing it over to a record label completely. Why did you chose this route?
SIMPLY BECAUSE BAD EXPERIENCES OF THE PAST CAN LEAVE REAL DEEP SCARS ON YOUR SKIN AND THESE SCARS STILL HURT.
I WANTED TO PRODUCE A MASTER I COULD HAVE BEEN THE OWNER OF, WITHOUT LICENSING IT EVERYWHERE.
I HAD THE RIGHTS TO USE IT ACCORDING TO MY OWN DECISIONS. I PREFERRED TO KEEP THE CONTROL ON THIS CD. SO I GAVE IT IN DISTRIBUTION TO FRONTIERS FOR VARIOUS PLACES BUT MY PRODUCTION COMPANY IMR, KEEP THE ROLE OF LABEL. THIS IS REALLY IMPORTANT FOR ME PSYCHOLOGICALLY. I FEEL MYSELF AND MY WORK MORE PROTECTED EVEN IF, OF COURSE, THE EXPENSES ARE BIGGER AND THE RESPONSIBILITIES MUCH MORE.



I compliment you on the album and especially how many great guest artists you have featured on the album. How did you go about getting those that are featured, involved in the album?
THANK YOU FOR THE COMPLIMENTS. THE INVOLVEMENT STARTED GRADUALLY. I WAS RAPPED BY THESE DIFFERENT PROJECTS OF TRIBUTE BOB KULICK WAS PRODUCING AND IN MY MIND WAS GROWING THE WILL TO CREATE A PROJECT LIKE THIS BUT WITH MY OWN SONGS!!!
I GOT IN TOUCH WITH PETER KNORN (VICTORY BASSIST) WHO WAS MANAGING AT THAT TIME GLENN HUGHES. ...HE WAS REALLY KIND TO INTRODUCE ME TO THE VOICE OF ROCK...THE REST WAS SIMPLE. HE LIKED MY VOICE AND ACCEPTED TO RECORD A DUET WITH ME.
MY SELF ESTEEM GROWN UP AND I WENT ON TRYING TO GET IN TOUCH WITH MY FAVOURITE MUSICIANS. FEW OF THEM ACCEPTED, OTHER WERE STILL AFRAID TO FACE AN "UNPROFESSIONAL ITALIAN MUSICIAN" IN HIS CRAZY ADVENTURE.....AND QUIT FROM A POSSIBLE COOPERATION.
I HAD TO FACE A LOT OF PREJUDICES......AH ITALIANO, SPAGHETTI AND MANDOLINO...NO HE CANNOT DO A GOOD METAL ALBUM SO WHY TO BE INVOLVED???

Let's talk about some of the guests and maybe you could comment on how you worked with each artist and how their contributions were recorded.
Glenn Hughes - lead vocals on Freak Out Tonight - HIS VOICE IS AN INSTRUMENT IN HIS HANDS. HE CAN DO WHATEVER HE LIKES WITH IT. SIMPLY A GREAT PERFORMER.

Jeff Scott Soto - lead vocals on What You Gonna Do When Your Love Is Gone - NICE AND FAST. PROFESSIONAL AND EASY TO WORK WITH. HE CAN ADAPT HIS VOICE TO ANY KIND OF SONG. YOU WANT METAL, HERE WE GO, YOU WANT FUNK, I GIVE YOU THE FUNK !

Kelly Simonz - guitars - I MET HIM IN ANCONA, ITALY. HE WAS SUPPORTING THE HUGHES AND TURNER PROJECT TOUR WITH HIS BAND. I WAS SIMPLY SWEPT AWAY BY HIS INCREDIBLE GUITAR PLAYING. WOW. I WANTED TO SPEAK WITH HIM ASKING FOR TO PLAY ON MY ALBUM AND HE AGREED. HE GAVE A REAL BRILLIANT PERFORMANCE.

Stevie Salas - guitars - STEVIE IS SIMPLY GREAT. HE HAS THE GROOVE!!!! I THINK HE IS A JIMI HENDRIX OF OUR TIME .

Bernie Marsden and Micky Moody - guitars - I SHARED A VERY COLD END OF AUGUST WITH BERNIE HERE IN ROME. HE CAME WITH HIS ORANGE LES PAUL, THE ONE HE USED TO RECORD "READY AND WILLING". I WAS SOOOO EXCITED TO HAVE HIM IN THE STUDIO AND WHEN HE STARTED THE RIFF OF SWEET TALKER I PUT ON MY KNEES IN REVERENCE. HE HAS THE MELODY IN HIS HANDS AND COLOUR ANY SONG WITH EASY BUT INTENSE CHORDS.
MOODY IS A REAL MAESTRO OF THE SLIDE AND I HAVE WRITTEN THE INTRO OF "FOLLOW ME THINKING TO HIM"

Tony Franklin - bass - A FRIEND, A REAL GOOD MAN AND A GREAT PROFESSIONIST. A PERFECTIONIST...ZEALOUS.

John Taylor - bass (the Duran John Taylor??) - YES, OF COURSE, THE BASS PLAYER OF DURAN DURAN. I HAVE ALWAYS BEEN IN LOVE WITH THIS BAND AND IT IS A GREAT HONOUR TO HAVE HIM ON MY ALBUM. ANOTHER GUY EASY TO WORK WITH.

Virgil Donati - drums - I WAS REALLY EXCITED TO HAVE THE MONSTER OF THE SKINS, ONE OF THE BEST DRUMMER IN THE WORLD PLAYING THE SIMPLE FUNK OF "GETTIN' TIGHTER". IT HAS BEN AN EXPERIMENT FOR ME. FOR ONCE HE HAD NOT TO PLAY A PROG METAL PIECE FULL OF BREAKS, STOP AND GO, DIFFICULT PASSAGES .

Tommy Aldridge - drums - SIMPLY ONE OF MY FAVOURITE DRUMMER OF EVER

Chuck Wright - bass - ANOTHER GOOD FRIEND OF MINE WITH A GREAT SOUND !

Bruce Kulick - guitars - HE HAS BEEN THE LEAD GUITAR OF MY FAVOURITE BAND OF EVER, KISS!!! WHAT TO SAY MORE ? A DREAM CAME TRUE

John Lawton - vocals - A GREAT PERFORMER ! A SIMPLE MAN AND AN UNDERRATED ARTIST. HE IS REALLY IN A STATE OF GRACE ACTUALLY. I STARTED TO LOVE HIS VOICE LOOKING AT THE FILM OF BUTTERFLY BALLS WHERE HIS PERFORMANCE IS SIMPLY SUPERB.

I CANNOT FORGET THE CONTRIBUTION OF DOUG WIMBISH FROM LIVING COLOURS, AL KOOPER YOU CAN HEAR PLAYING THE PIANO IN SONGS LIKE "YOU CAN ALWAYS GET WHAT YOU WANT" FROM ROLLING STONES, OR THE ORGAN IN "LIKE A ROLLING STONE" FROM BOB DYLAN OR IN THE JIMI HENDRIX EXPERIENCE ALBUMS TO NAME A FEW, THEN ERIC SINGER FROM KISS AND ALICE COOPER, MYRON DOVE FROM SANTANA AND MENIKETTI, DAVE MENIKETTI, STEVE FERRONE, MARKO PAVIC, VIVIEN LALU, DANIEL FLORES, VITALIJ KUPRIJ AND MANY OTHERS PLUS MY ITALIAN MUSICIANS WHO GAVE A REAL MATURE PROOF OF PROFESSIONALITY SUCH AS YURI ROVERI, DAVIDE SPURIO, MAX SPURIO, ALEKS FERRARA, MARCO CAPASSO, PAOLO PATRIZI, MAURO MUNZI....AND MY SOUND ENGINEER, MR RENE' UBACKS.


xx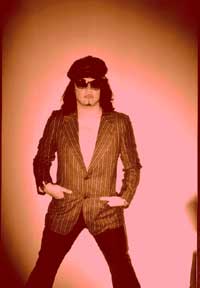 What an honor to have such a line up!
A REAL HONOUR.

How hard is it to act as your own producer?
IT HAS BEEN A PLEASURE 'CAUSE I HAD THE CHANCE TO MAKE MY OWN CHOICES AND ARRANGE THE SONGS ACCORDING TO MY IDEAS AND FEELINGS.

English is not your native tongue, but your diction and vocal pronunciation is fabulous. Where did you learn such good English?
AT SCHOOL !!! BUT I HAD TO USE IT FOR MY WORK AS MUSIC MANAGER IN THE OPERA AND CLASSIC FIELD. IT'S ABOUT 11 YEARS I AM USING ENGLISH FOR MY RELATIONSHIP WORLDWIDE. EXPERIENCE IS THE BEST SCHOOL!

How hard is it to sing/record in a language you were not born into and make it sound like you were?
FIRST OF ALL I AM PROUD OF WHAT YOU SAY!!!
IT'S REALLY AMAZING ! I AM A PERFECTIONIST AND I HAVE TRIED TO TAKE CARE A LOT TO THE PRONUNCIATION. ANYWAY ENGLISH IS THE BEST LANGUAGE FOR ROCK MUSIC. EVERY WORD KEEP A REAL MELODIC SOUND IN IT AND GIVE A SORT OF ROUNDNESS TO EVERY SINGLE NOTE AS WELL AS CREATES MORE HARMONY AMONG THE DIFFERENT PASSAGES AND MAKE 'EM EASIER. ACCORDING TO ME ENGLISH IS FOR DEFINITION THE LANGUAGE OF ROCK !!

Have you taken singing lessons at any stage in your development?
NO, BUT I HAVE OBSERVED A LOT MY FATHER AND HIS COLLEAGUES. THE WAY THEY USED THE DIAPHRAGM, THE WAY THEY COULD FIND THE POSITION, HOW THEY OPEN THE MOUTH AND TAKE THE BREATH. I DEVELOPED MY PERSONAL TECHNIQUE.

Are you happy with the final result of your album?
NO, IT COULD HAVE BEEN BETTER SIMPLY BECAUSE I AM AS MENTIONED ABOVE, A GREAT PERFECTIONIST BUT I EVEN KNOW I CANNOT SPEND 5 YEARS IN A STUDIO BEFORE RELEASING AN ALBUM. SO I HAVE DECIDED TO STOP AND TAKE IT EASY. NOW I LIKE IT MORE THAN WHEN I WAS GOING TO RELEASE IT.

Who are your favourite 5 vocalists of all time and why them?
PAUL RODGERS, DAVID COVERDALE, GLENN HUGHES, LOU GRAMM, FREDDY MERCURY…IN THE ROCK FIELD BUT I CANNOT DENY I AM REALLY IN LOVE WITH STEVIE WONDER AND GINO VANNELLI TOO.

What might you do differently on album number two?
WHAT I WILL FEEL IN THAT PRECISE MOMENT. WHO KNOWS? I AM A REAL FREAK GUY. I CAN CHANGE TOTALLY MY STATE OF MIND WHILE IN A STUDIO. SO YOU BETTER WATCH OUT GUYS 'CAUSE NEXT TIME I CAN EVEN GET OUT WITH AN OPERATIC WORK OR A FOLK ALBUM...VOICE AND GUITAR HAHAHA

I presume you are already writing and working towards another album?
MY MIND IS CONSTANTLY AT WORK. IN TRUTH I WILL RELEASE AN EP WITH OTHER SONGS PREVIOUSLY UNRELEASED AS WELL AS FEW COVERS AND A COUPLE OF VIDEO CLIPS. IT WILL BE IN THE SUMMER. PLUS I CREATED TWO DISCO VERSION OF THE SONG "FREAK OUT TONIGHT" REMIXED BY A SWEDISH COUPLE OF DJs "THE FLOWER MOUNTAININC"...YOU CAN LISTEN TO THE CLIPS ON MY WEB SITE.

Do you have any advice for new artists that are just making a start and are wondering how and who can help them?
YOU ARE LUCKY PEOPLE. WHEN I WAS A 16 YEARS OLD BOY STARTING TO SING I REALLY DID NOT HAVE ANY GOOD CHANCE TO EXPRESS MYSELF PUBLICLY. ITALY WAS A REAL BAD PLACE TO PLAY ROCK MUSIC FOR THE ITALIAN BANDS... THE CLUBS WERE JUST A FEW.
THE RECORD LABEL WERE DISORGANIZED AND ALWAYS LOOKING FOR STUPID DREAMERS TO USE TO STEAL THEIR MONEY WITH THE EXCUSE OF HELPING 'EM TO RELEASE AN ALBUM. TODAY WE HAVE INTERNET ...MANY THINGS MORE CAN BE DONE EASILY. TODAY A BAND CAN EVEN PUBLICIZE THEMSELVES THROUGH THE NET. A BAND CAN PROMOTE ITSELF THROUGH A WEB SITE AND THROUGH A SIMPLE DOWNLOAD OF A SONG ...THE IMPORTANT IS NEVER TO GIVE UP AND TO HAVE THE COURAGE TO GIVE A TRY.

Are you planning nay live dates to support the album's release and who might be featured in your band if so?
OF COURSE I AM PLANNING TO PROMOTE MY ALBUM LIVE. I AM SELECTING MUSICIANS TO DO IT...IT HAS TO BE A GREAT BAND WITH A GREAT SOUND. ...TOP SECRET!

Do you have anything you would like to add Chris?
I DID THIS RECORD FOR MYSELF. I NEVER THOUGHT TO FOLLOW THE TREND OF THIS NEW CENTURY TO SELL MORE CDS. I SIMPLY PUT MY PERSONAL LOVE FOR THE MUSICAL ROOTS WHICH STILL GUIDE AND INFLUENCE THE SCENE OF TODAY, IN MY SONGS. MY ALBUM IS A REAL TRIBUTE. SO IF YOU LIKE THE VINTAGE SOUND AND THE GENUINE APPROACH TO MUSIC, THIS ALBUM IS FOR YA!...

Now, very importantly - where can people buy your CD if they are interested?
GO IN MY WEBSITE AND WITHIN ONE WEEK YOU'LL FIND A SECTION WITH INFORMATION HOW TO BUY IT. ANYWAY THE EUROPEAN DISTRIBUTORS IS FRONTIERS. I AM DEALING WITH FEW DISTRIBUTORS FOR USA AS WELL AS A COUPLE OF DEALS FOR JAPAN. IN AUSTRALIA THE ALBUM IS DISTRIBUTED ALWAYS BY FRONTIERS THROUGH A LOCAL PARTNER AS WELL IN CANADA.

Thanks for taking the time out to answer these questions for me!
THANKS FOR THE OPPORTUNITY YOU GAVE ME. THIS SITE IS ONE OF THE BEST AND PROFESSIONAL IN THE NET!

Best of luck in the future Chris.
THANKS