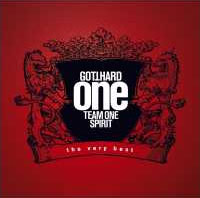 Gotthard: A new team in 2004.


Gotthard Interview with Steve Lee by Sven Horlemann - from the Bang Your Head Festival 2004



At the Bang-Your-Head Festival in Germany (read the review here) I had the chance to talk to Steve Lee from Gotthard right before their concert. We did the interview in German, so what you are about to read is my translation.

Thanks go out to Frank Süpfle to make it happen.


MelodicRock – Hello Steve, I would like to know the actual status with in the band. Last news is you have a new band member. Also 'Human Zoo' marks a new era for the band because it was the first time Gotthard worked without Chris von Rohr (mentor of the band since the beginning).

Steve – Well I have to say that the 'Human Zoo' tour was the best tour we ever did. After 14 years of Gotthard rocking the world me and the band are very proud on what we achieved. You know that being in such a kind of business you have your highs and lows, but until now each year we were fortunate enough to get the band another step further. We also stick to our original music style. Of course we also like to experiment.

'Human Zoo' as an album was more rockier, after some more melodic releases we had. Still we had our signature ballads on 'Human Zoo'. After the 'Human Zoo' tour we had to discuss within the band some problems we had with our management, with people outside the band. So first of all we had to "clean our house". I have to say that now we are pretty much on the right way. We have a new management, we have a new guitar player – Freddy…


MelodicRock – … Freddy (Laurence) is known as a member of CHINA …

Steve – … yeah, Freddy was with China and did work with a lot of bands since then, therefore he his very professional. Mandy Meyer did want to release a solo record, also we had some discussions about the musical direction…

MelodicRock – … is he more into the melodic, the softer style?

Steve – I would say yes. You know, he is a great musician, but he always kept to himself. Like living in his own world.

MelodicRock – And Gotthard is a team…

Steve – That is right, the four original members of us are a team for more than 14 years now. Freddy will take part on the current tour and our activities throughout this year, and then we'll see. Generally Gotthard are the four of us plus Freddy.


MelodicRock – It seems to me that he is the right player for Gotthard.

Steve – Well I have to say this is the 3rd concert we do with him. I have to admit I am deeply impressed with him learning about 30 songs in 2 weeks. We had our rehearsals, and it felt like we've been playing together for a long time.

Funny thing is, that Freddie knows Marc from his time with China, so there you have another instant connection. OK, with much lesser hairs now… (laughs). At least it is fashionable these days.

What I really like about this band is that right in your heart you have to feel it, and have the right attitude. Gotthard is not so much about fashions and what to wear. With Freddy we have fun on stage, and this is most important.

MelodicRock – If you are looking to bands like Harem Scarem, short hair without doubt is no problem these days.

Steve – Yeah, I know them. Though hard rock is conservative, if you are into the sound, music should come first.

MelodicRock – What I recall from the press in criticizing the 'Human Zoo' record is that they didn't find it as hard as they did expect it. After listening to it myself I have to say that the production certainly is a melodic rock, radio rock style, but the songs have more drive and a more rocky attitude.

Steve – You can hear that this record was written in rehearsals. This is not a studio recording. Gotthard always worked on the songs like a band should – rehearsing them together. In the studio you only have to press the record button and capture the song. It is like checking the songs out in a live environment. This certainly takes more time. I am really looking forward on the new songs.

MelodicRock – As far as I know there will be another release finishing your record deal with BMG International.

Steve – First of all there will be a 'Best Of'. With ballads and rockers. Then we plan to head to the studio in September, working on the new album. I think it will take some time to have the album ready. We want to take our time. You know, quality take its time. That is very important for us.

MelodicRock – When I am thinking of the Swiss rock scene, names like Krokus, China and of course Gotthard come to my mind. Leaving the underground aside, these three names are mile stones in the melodic rock world wide.

Steve – I think there is a simple reason for this. A lot of Swiss people who want to become successful are singing in one of the 4 Swiss dialects or Italian. Most of these people are lacking the courage to use English as their musical language and try to succeed on an international level. A lot who tried this were laughed at …


MelodicRock – … reminds me of the Scorpions in Germany …

Steve – … absolutely. Right in the beginning of Gotthard we had the same discussions with people. We realized from the beginning if the music comes from the heart, there are no boundaries.

MelodicRock – That is something that impressed me from the beginning. Your international level in the studio as well as on stage. Seeing you live and Hena (Habegger the drummer) giving the songs such a drive, making you compete successful with all the other international acts…

Steve – Yeah Hena was on the musicians institute in the USA. Acutally James Kottak (ex-Kingdom Come, ex-Warrant, Scorpions to name a few) was his teacher. We did meet him in the USA. The original drummer had physical problems so we were looking for a new drummer. First we did want to have James Kottak, but he declined because of scheduling problems and recommended Hena, who just finished his studies and by the way was also a Swiss.

MelodicRock – The first albums all were very straight forward, groovy. Still you don't want to be like AC/DC, staying limited to one style. Kind of the Survivor syndrome (hey I like all the bands, ok!). So the break was possible with your record 'D-frosted', an acoustic and orchestral album that was different. Did you plan on that?

Steve – Yeah we did. After the first three hard rocking albums we wanted to do something special, using acoustic guitars etc. I have to admit we always did a little bit what others already had done. So we wanted to make an unplugged record. And we were lucky. 'D-frosted' was the album that put us on the top of Swiss music scene.

But not in all countries. Japan or Germany for example are much more into the harder songs, so they were not very happy about the album.

Next came the big question: Are we going to do another hard rock record or shall we take the softer approach? Of course then we did 'Open', a record were I still like the songs very much. But I am not so happy with the production. Today I feel it is too much a pop production. Sound wise we achieved a better result with with the next album 'Homerun'.

MelodicRock – 'Eagle', I love that song!

Steve – You like that? That's interesting. Well then you are happy to know that a lot of the new songs will be in this direction.

MelodicRock – Oh, that would be great! When I listened to the Anthrax concert I was overwhelmed with the audience reaction. I was wondering why, and the answer seems to be simple: they got hook lines, and people love to sing along.

Steve – Absolutely.

MelodicRock – Someone once said that whatever style you are playing, if you can play a song on an acoustic guitar and make the people feel it, then it is a good song.

Steve – You are absolutely right. The way I see the 80's rock genre starts all over again, you can feel that people like to hear those songs again. People love to hear melodies, and when the band is right …

MelodicRock – … and the voice is great …

Steve – … of course the voice is a big part of it. If you have a great band but a not so great singer, then you have a problem. I believe the voice you get from god, and everything else is discipline and working on it.

MelodicRock – I feel that classic rock is coming back. Not meaning some old dated music but bands that still put out very good albums with new songs. Do you think you are part of this trend?

Steve – I would say that a lot of songs we did write fit perfectly in this genre. Not all, but some. We are heavily influenced by the bands of the end of 70's, beginning eighties. Being the oldest in the band, I grew up with Deep Purple and Led Zeppelin and still hear them today.

Man, we had the chance to be playing 5 shows with Deep Purple in France. There you see that they still love to play their music. They have a lot of fun playing on stage. After the 2nd show Ian Gillan came up and said we should play 'Hush' because they liked the Gotthard version so much. That was very cool. The French fans did receive us very well, by the way. Deep Purple are really gentleman's of rock'n'roll.

MelodicRock – I remember interviews with Steve Morse complaining about the song announcements of Ian Gillan, because he has a hard time understanding what he says. Also in rehearsals, with their British accents, sometimes everybody is laughing only he didn't get the joke. Is this something that could happen within Gotthard too? You also have different languages spoken by the individual band members.

Steve – Ha ha, Freddy comes from the French side of Switzerland, Leo is from the Tessin, so he speaks Italian, I speak everything a bit, but my main focus would be in Italian. Still it sometimes is a bit chaotic having 3, 4 languages in your head all the time.

During the interview you might have noticed that sometimes I am looking for the right words. Maybe I got it in English or Italian, but I am looking for the German expression. But after all this time we got used to it.

MelodicRock – Looking in the future, what feelings do you have regarding Gotthard?

Steve – To be honest, 5 months ago I was a little bit uncertain on how things will develop. As I told you we changed a lot of things like our management, Mandy Meyer left the band and for some months we didn't know what the future will bring.

We knew that we wanted to proceed as a band musically and on a business level. We had people involved were we were not convinced with the job they had done, financially spoken. We were disappointed. To break up was the best decision.

Today I am much more convinced that this band has a great future and will make a great new album. Even if you are in the late thirties, if it is in your heart you can still rock'n'roll.

Overall you have to have fun in what you are doing. This is the fuel to the machine. We have so much fun going on stage and play rock music, this is the most important thing for us.

MelodicRock – You mentioned the business aspect. Duff McKagan (Velvet Revolver) at some point wanted to understand the accounting that has been done leading up to the royalties he got and started to study accounting. He said that his knowledge was very helpful for the Velvet Revolver negotiations because he understood every aspect of the negotiations, which also earned him some respect.

Steve – Actually some in the band have learned to understand the accounting. This is when we found things we were not very happy with. It is amazing what some of the people earn with what you do as a band. Whatever, we look into the future now and things look promising. We wanted our freedom to decide what to do next, and not some legal battles. In Switzerland some people tried to make it a big topic, talking about it in the magazines.

MelodicRock – In Germany I didn't hear something bad about you separation from the old management.

Steve – I think there was something in the internet. But in the internet also someone wrote that Gotthard split up. Maybe these were some envy related issues, I don't know. We didn't say something about it. We thought it best to come back right on stage and prove them wrong.

MelodicRock – Steve, anything else you want to share with MelodicRock.com?

Steve – We will also play in Athens in August, you know. This is very cool. Just a small 20 minute concert, more for the Olympic teams there.

I'd like to say that we will be back in the studio in September, beginning next year you can expect a new record. There will be the 'Best Of' album, but this doesn't mean this is the end of Gotthard. It is merely a conclusion of a contract.

MelodicRock – Are there some bonus tracks for the 'Best Of'?

Steve – Oh, we got lot's of bonus tracks. I won't go into details now, but there will be the Olympia song we did for the Swiss team on the album.

MelodicRock – Steve, thank you for this interview. It was a pleasure talking to you.

Steve – Thank you too, Sven, and take care.